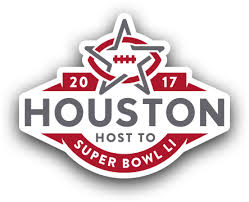 Super excited that our favorite hometown NFL team is headed to the SUPERBOWL! Sadly, we didn't get picked in the lottery for season ticket holders, so we'll be watching the game at home with friends. But the good news is, we can sort of tailgate at home with great food and we get to see all those fun commercials!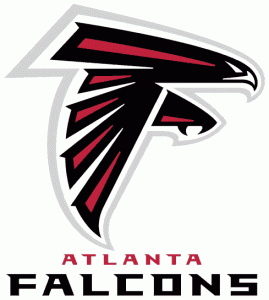 VS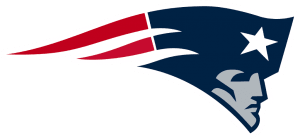 MENU:

SALTY:
BEEF BRISKET SLIDERS
LEMON PEPPER CHICKEN WINGS
CHEESY BACON SPINACH DIP
SMOKED GOUDA CHORIZO DIP
CHIPOTLE SALSA AND CHIPS
THE BIG SALAD

SWEETS: GERMAN CHOCOLATE BROWNIES

DRINK DU JOUR:
THE DIRTY BIRD
BEEF BRISKET SLIDERS
(Adapted from Rachel Ray)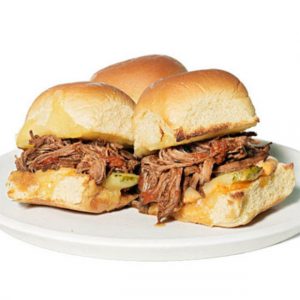 rachelray
1 flat-cut beef brisket (4 lbs.), trimmed
1 1/2 tsp ancho chile powder
Salt and pepper
1 1/2 tsp EVOO
1 can (12 oz.) cola
1 can (14 oz.) fire-roasted crushed tomatoes
16 small potato rolls or 8 potato sandwich rolls
1/2 cup chipotle-flavored mayonnaise
4 small dill pickles, cut on an angle into thin slices
16 thin slices swiss cheese
Heat a large, heavy skillet over medium heat until hot, about 3 minutes. Meanwhile, pat the brisket dry, cut into 6 equal pieces and place in a large bowl. In a small bowl, mix together the chile powder, 1 tsp. salt and 1/2 tsp. pepper. Drizzle the EVOO over the meat and toss to coat. Sprinkle with the chile powder mixture and toss again. Add half of the meat to the hot skillet and cook, flipping once, until browned, 7 to 8 minutes. Transfer to a large, lined slow cooker. Repeat with the remaining meat.
Pour 1 cup cola into the skillet to deglaze the pan, scraping up any browned bits with a wooden spatula. Pour the cola mixture and tomatoes into the slow cooker. Cover and cook on high until the meat is tender, about 6 hours. Wash the skillet.
Transfer the meat to a plate and let cool. Pour the juices from the cooker into a 1-qt. glass measuring cup and let stand until the fat rises to the top. Skim the fat from the juices and discard. Pour the juices into the cleaned skillet. Bring the juices to a boil over high heat, cooking until reduced by half, about 15 minutes. Shred the meat with 2 forks. Add to the skillet; toss with the juices and remaining 1/2 cup cola. Season to taste with salt and pepper. Cover to keep warm.
Preheat the broiler. Open the rolls but do not separate, then place cut side up on 2 baking sheets. Spread with the mayo. Place 2 pickle slices on each roll bottom. Lay a slice of cheese, folded lengthwise, across the entire roll. Broil the rolls, 1 sheet at a time, until the cheese melts, about 2 minutes. Repeat with the remaining sheet of rolls. Using tongs, transfer the meat to the buns. Fold up and serve.
BAKED LEMON PEPPER WINGS
(Adapted from The Wicked Noodle)
4 pounds chicken wings
1/4 cup vegetable or canola oil
1/4 cup butter, melted
2 TBSP Lemon Pepper seasoning
Preheat oven to 400F.
Toss chicken wings and oil. Place wings on a wire rack set on a baking sheet, taking care not to crowd wings. Bake for 50-60 minutes or until golden brown and crispy.
Remove wings from oven. Mix melted butter and lemon-pepper seasoning and brush liberally onto wings (stir butter mixture as you go to make sure you have plenty of seasoning for each wing).
Place on platter and serve immediately.
Be sure your sheet pan has sides to catch the grease! If you use a flat pan that has no sides, the grease will drip onto the bottom of your oven and cause it to smoke.
CHEESY BACON SPINACH DIP
(Adapted from damn delicious)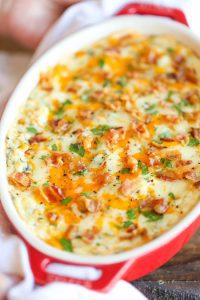 damndelicious
6 slices bacon, diced
8 oz cream cheese, at room temperature
1 cup sour cream
1/4 cup freshly grated Parmesan
2 TBSP mayonnaise
1 TBSP Worcestershire sauce
2 cups baby spinach, chopped
1 TBSP fresh chives or 1 tsp dried chives
1 cup shredded mozzarella cheese, divided
1 cup shredded cheddar cheese, divided
Kosher salt and freshly ground black pepper, to taste
2 TBSP chopped fresh parsley leaves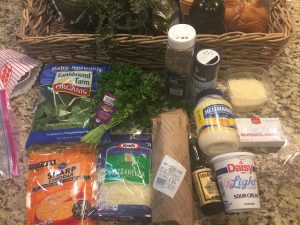 Heat a large skillet over medium high heat. Add bacon and cook until brown and crispy, about 6-8 minutes. Transfer to a paper towel-lined plate. Alternately you can cook the bacon in the microwave, and then drain on paper towels.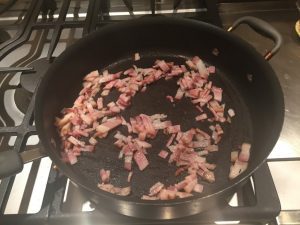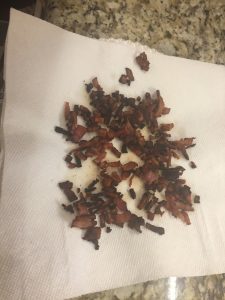 Preheat oven to 400 degrees F. Lightly spray a 9-inch pie dish with nonstick spray. In a large bowl, combine cream cheese, sour cream, Parmesan, mayonnaise and Worcestershire.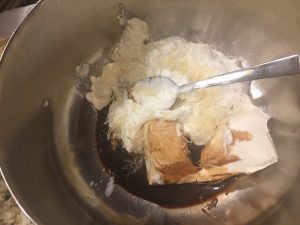 Stir in bacon, spinach, chives, 1/2 cup mozzarella cheese and 1/2 cup cheddar cheese; season with salt and pepper, to taste.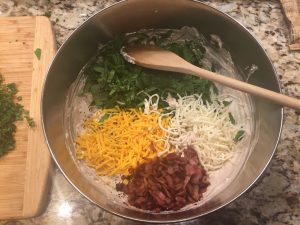 Spread bacon mixture into the prepared baking dish; sprinkle with remaining 1/2 cup cheeses.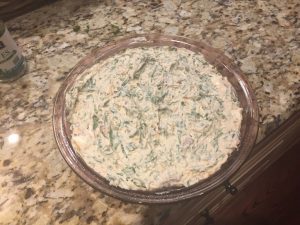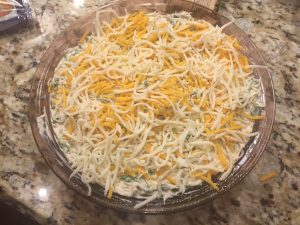 catebogue
Place into oven and bake until bubbly and golden, about 20-25 minutes. Serve immediately, garnished with more bacon and parsley, if desired.
SMOKED GOUDA CHORIZO POPPERS
(Adapted from Food Network)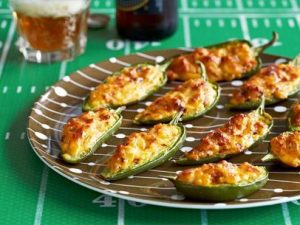 foodnetwork
2 links Mexican chorizo, casings removed
1/2 pound smoked gouda, shredded
1/4 cup finely chopped red onions
1 egg
1/2 cup cream cheese
3 tablespoons sour cream
1 tablespoon hot sauce (recommended: Frank's Red Hot)
Salt and freshly ground black pepper
12 large jalapeno peppers, stemmed, seeded and halved
Preheat oven to 375 degrees F.
Brown chorizo in a skillet over medium-high heat, about 8 to 10 minutes. Drain and place into a large mixing bowl. Add the cheese, red onion, egg, cream cheese, sour cream, hot sauce, and salt and pepper, to taste. Press into jalapeno halves and assemble on a parchment lined baking sheet. Bake until golden and bubbly, about 20 minutes.
CHIPOTLE SALSA
(Adapted from Closet Cooking)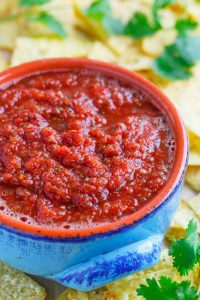 closet cooking
2 (14 ounce) cans diced tomatoes (preferably fire roasted)
1/2 cup white onion, coarsely chopped
2 cloves garlic, grated
2 chipotle chili peppers in adobo, chopped
1/2 cup cilantro
2 TBSP lime juice (~1 lime)
salt and pepper to taste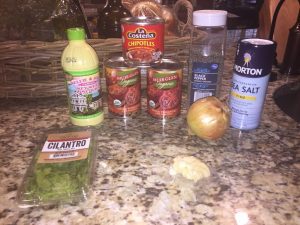 Puree everything in a food processor.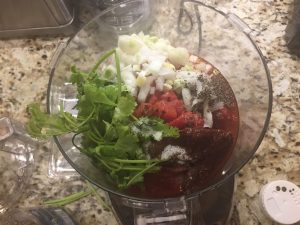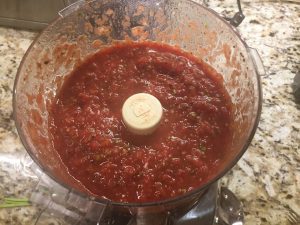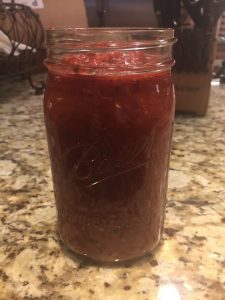 GERMAN CHOCOLATE BROWNIES
(Adapted from Averie Cooks)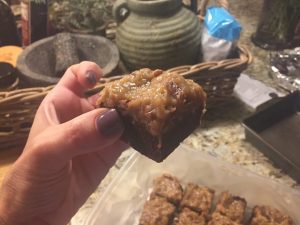 catebogue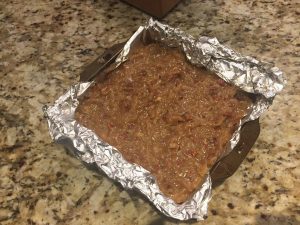 Good German Chocolate Cake is my favorite cake, so when I stumbled upon this recipe for German Chocolate BROWNIES, I just HAD to try them! They're made with dark chocolate, so they're decadently rich and chocolatey and then topped with the traditional German Chocolate Coconut topping – – – OMG! They're THAT fabulous!
Brownies
1/2 cup unsalted butter (1 stick)
6 oz dark or bittersweet chocolate, chopped
2 large eggs
3/4 cup granulated sugar
1 TBSP vanilla extract
1 TBSP brewed coffee (leftover or cold coffee is okay), optional but recommended
1 tsp instant espresso granules, optional but recommended
3/4 cup all-purpose flour
1/2 tsp salt
Topping/Frosting
1/2 cup (4 ounces) evaporated milk
1/4 cup unsalted butter, softened and quartered
2 large egg yolks (discard whites or save for another use)
1/2 cup light brown sugar, packed
1/2 tsp salt, or to taste
2 tsp vanilla extract
3/4 cup sweetened shredded coconut flakes
heaping 1/2 cup pecans, lightly toasted if desired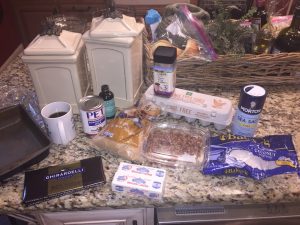 Brownies – Preheat oven to 350 degrees F. Line an 8-inch square pan with aluminum foil leaving overhang and spray with cooking spray, or grease and flour the pan; set aside.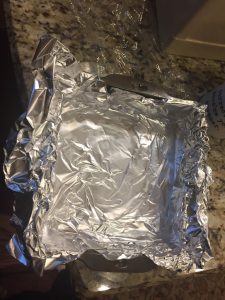 To a large microwave-safe bowl, add the butter, chocolate, and heat on high power to melt, about 2 minutes. Stop to check and stir after 1 minute. Heat in 15-second increments until chocolate has melted and mixture can be stirred smooth.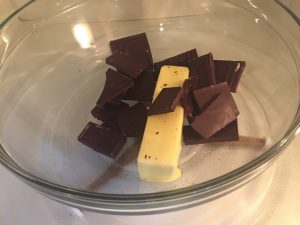 Allow mixture to cool momentarily before adding the eggs so they don't cook ~ 5-10 minutes. Then add the eggs, sugar, vanilla, optional coffee, optional espresso or instant coffee granules, and whisk vigorously to combine.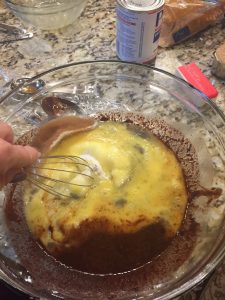 Add the flour, salt, and stir until smooth and combined without overtaxing.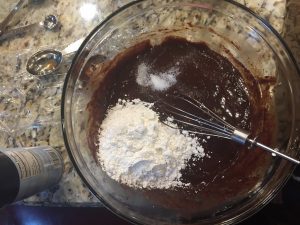 Turn batter out into prepared pan (I usually give it a good "thwack" on the counter to make sure the batter is even in the pan).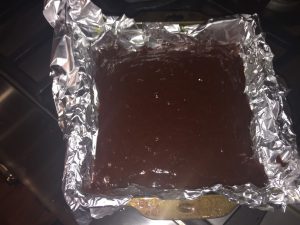 Bake for about 22 to 26 minutes, or until center has just set and is no longer glossy. A toothpick should come out clean or with a few moist crumbs, but no batter. Allow brownies to cool in pan on top of a wire rack while you make the topping.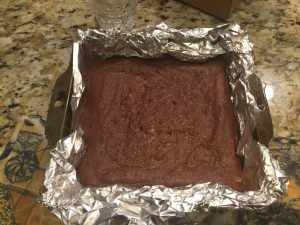 Topping/Frosting – To a medium saucepan, add the evaporated milk, butter, egg yolks, brown sugar, salt, and heat over medium-low to low heat for about 7 to 10 minutes, or until mixture has thickened.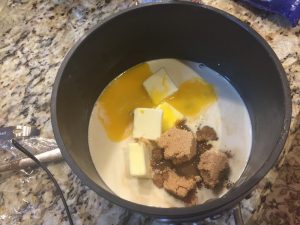 Whisk constantly or there's a likelihood you'll have scrambled eggs in the bottom of your saucepan. The mixture should be boiling gently while whisking.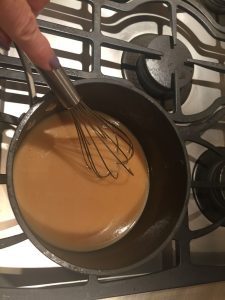 Remove pan from the heat, add the vanilla, and whisk to combine using caution because the mixture could bubble up.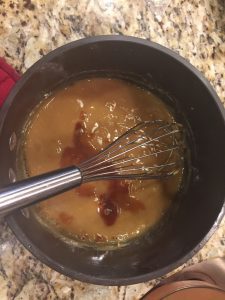 Then add the coconut, pecans, and stir to combine.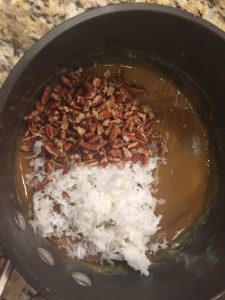 Allow topping to cool in pan for about 5 minutes. How gorgeous is this?: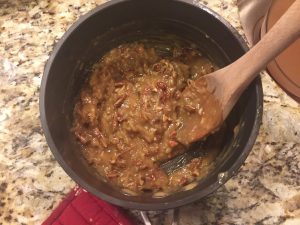 Then spread the topping over brownies, using a spatula. YUM!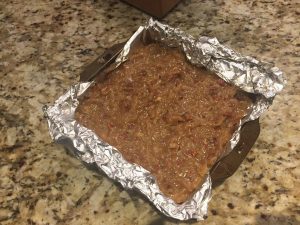 Allow brownies to cool uncovered for at least 1 hour before slicing and serving. If you can, cover after they're cooled, and then refrigerate for a few hours or overnight — they're much easier to slice when chilled.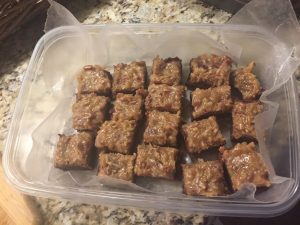 catebogue
THE DIRTY BIRD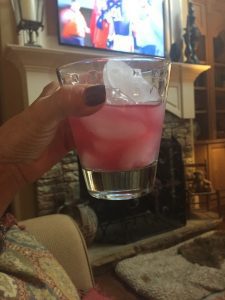 catebogue
This drink is the perfect blend of sweet and tangy and the red color supports both teams, but I created it for the Falcons!
1 oz vodka (for 4 drinks = 4 oz or 1/2 cup)
3 oz cranberry juice (for 4 = 1 1/2 cups cranberry juice)
4 oz lemon-lime soda, such as Sprite or Fresca (for 4 drinks = 2 cups)
Lime wedge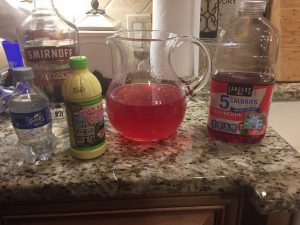 Combine first 3 ingredients in a glass and stir. Top with a lime wedge.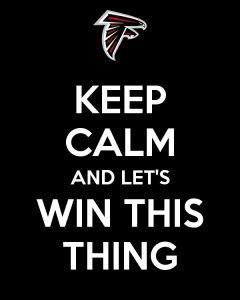 google images
PS – the Falcon's didn't pull off the Super Bowl win sadly, but we had a ball "tailgating" while watching the game (well at least pre-game and the first half, the 2nd half of this year's super bowl – not so much!). Will be licking our wounds a long time after this game…
*all photos are mine unless otherwise noted
SaveSaveSaveSave
SaveSaveSaveSaveSaveSave