This week's tailgate should be sublime – mild temps (58 degrees in the morning with a high of around 80 and sunny!). And it's a 3:30PM kickoff, so we're serving a yummy lunch before the game.
Georgia Tech has struggled a bit and has a challenging schedule but have played hard. They're coming off a big win against conference rival Wake Forest, so we're hoping they'll be 3-2 after this game!
GEORGIA TECH YELLOW JACKETS
vs
BOWLING GREEN FALCONS
MENU:
SPINACH CHEESE BARS
GREEK STYLE LAYER DIP WITH PITA CHIPS
CUBAN STYLE SLIDERS
CUCUMBER HERB SALAD
OLD BAY BOILED SHRIMP WITH COCKTAIL SAUCE AND REMOULADE
BROWN BUTTER APPLE BLONDIES
DRINK: THE FALCON
KICKOFF TIME: 3:30PM
TAILGATE START: 12:30PM
BOBBY DODD STADIUM, ATLANTA, GEORGIA
SPINACH CHEESE BARS
These bars are fantastic! They can serve as a brunch side or an appetizer (or even a main course alongside a salad). I've taken them to so many functions, and they get gobbled up immediately. And best of all, they're delicious warm or at room temp.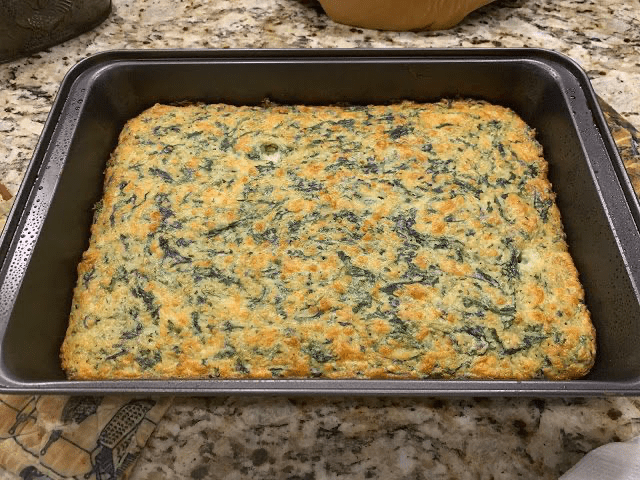 1 pkg frozen chopped spinach, thawed and squeezed out excess water
1 cup milk
1 cup flour – I used gluten free
1 tsp baking powder
1 tsp salt
1 stick unsalted butter, softened
1 lb monterey jack cheese, shredded
2 eggs
Mix together all ingredients in a bowl (just mix it all up with your hands).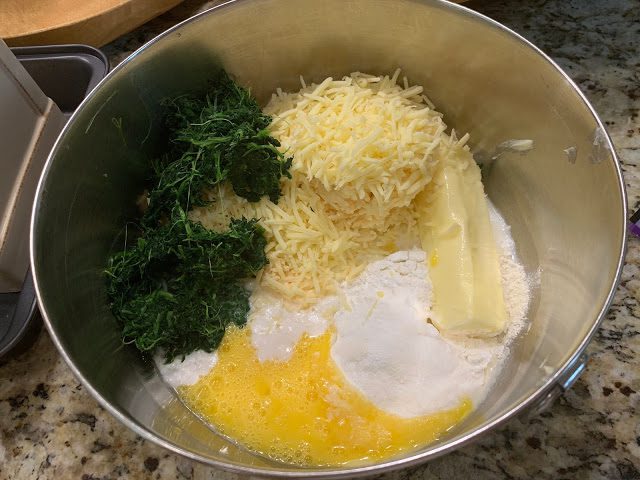 Spread in a 9×13″ pan sprayed with cooking spray.
Bake in a 350 F degree oven for 40-45 minutes. Cool a bit, then cut into small squares to serve. Can be eaten warm or at room temperature.
GREEK LAYERED DIP
This dip is a healthy Greek version of the old Mexican 7 layer dip. But, it does not short-change in flavor. In fact, I think it's better than the Mexi one. I made it for a party once, and I loved it so much I immediately made another one just for ME! It's THAT good!
1 8 oz pkg cream cheese, softened (I always use low fat)
1 TBSP lemon juice
1 tsp dried Italian seasoning
3 cloves garlic, minced
1-1/2 cups hummus
1 cup chopped cucumber (I use hothouse or English)
1 cup chopped tomato
1/2 cup chopped pitted Kalamata olives
1/2 cup crumbled feta cheese (I use fresh Greek feta – it's SO much better than the pre-crumbled!)
1/3 cup sliced green onions
Pita chips and/or multigrain tortilla chips
In medium mixing bowl beat cream cheese, lemon juice, Italian seasoning, and garlic with electric mixer on medium speed until smooth and combined.
Spread cream cheese mixture into a deep 9-inch pie plate, or shallow serving dish.
Evenly spread hummus on cream cheese layer.
Top with cucumber, tomato, olives, feta cheese, and green onions.
Cover and refrigerate 2 to 24 hours. Serve with pita chips.
CUBAN STYLE SLIDERS
24 count pkg Hawaiian sweet rolls
1/2 lb thinly sliced ham
1/2 lb thinly sliced roasted pork (either roast your own or purchase in your local deli)
8 slices Swiss cheese
Thin dill pickle slices
Dijon mustard for the bottom layer
Dijon Onion Butter Spread
2 TBSP dried minced onion
1 stick melted butter
2 TBSP Dijon mustard
Lightly spray a 9×13″ baking dish with non stick cooking spray.
Using a serrated knife, cut the rolls in half. Remove the top, set aside, and place the bottom of the rolls in the dish. Spread a thin layer of dijon mustard on the bottom half. Then layer the ham, pork, cheese, and pickles.
Return the top of the rolls.
To Make The Dijon Onion Butter Spread
In a small mixing bowl, whisk together the mustard and melted butter. Stir in the onion until evenly combined.
Brush the mixture evenly out over the top of the sliders.
Cover the dish tightly with aluminum foil, and bake at 325 degrees for 15 minutes. Remove the foil and continue baking for another 10 minutes, or until the buns are toasted and golden brown.
Let the sliders rest for 2-3 minutes. Cut them and serve.
CUCUMBER HERB SALAD
(Adapted from Martha Stewart)
6 to 7 small Persian cucumbers, halved, seeded, and sliced 1/4 inch thick (6 cups)
¼ cup extra-virgin olive oil
1 TBSP unseasoned rice vinegar, plus more to taste
⅓ cup mixed chopped fresh tender herbs, such as parsley, mint, and chives, plus whole leaves for serving
Kosher salt and freshly ground pepper
In a bowl, stir together cucumbers, oil, vinegar, and chopped herbs. Refrigerate, covered, at least 1 hour and up to 1 day. Taste and season with salt, pepper, and vinegar. Serve, sprinkled with whole herb leaves.
BOILED SHRIMP WITH COCKTAIL SAUCE AND REMOULADE
Boil and chill 2 lbs of large shelled and deveined shrimp.
Serve with cocktail sauce and remoulade sauce.
MY COCKTAIL SAUCE
3/4 cup ketchup
3 TBSP prepared horseradish
2+ TBSP lemon juice
¼ tsp ground black pepper
1 tsp hot sauce, such as Tabasco, plus more to taste
1 tsp Worcestershire sauce
Mix all the ingredients in a small bowl. Add more lemon juice or hot sauce as needed. Can make and refrigerate up to 2 weeks in advance.
BEST REMOULADE
This remoulade is so amazing – I could probably sit and drink a glass of it (but I won't)!
1 1/4 cup good mayonnaise – I use Hellman's
3 TBSP whole grain mustard
1 tsp paprika
2 tsp prepared horseradish
1 TBSP lemon juice
1 tsp Creole seasoning (or more, to taste) – I used Slap Ya Mama brand
1 tsp minced dill pickle
1 tsp hot sauce
1 clove garlic, minced
1/4 tsp black pepper
Mix all together and taste – adjust seasonings as desired. Refrigerate at least an hour before serving with boiled shrimp or crab to allow all those delicious flavors to marry up.
BROWN BUTTER APPLE BLONDIES
These are SO GOOD! Sticky? Yes. Messy? Yes. Fragrant? Yes. Delicious? Absolutely!
(Adapted from Half Baked Harvest)
1 1/2 sticks (3/4 cup) salted butter
1/2 cup apple butter
1 1/2 cups light brown sugar
2 large eggs
1 TBSP vanilla extract
2 1/4 cups flour
1 tsp baking powder
2 tsp cinnamon
1/4 tsp nutmeg
1/2 tsp kosher salt
2 Honeycrisp apples, peeled (if desired), and chopped (about 2 cups chopped apples)
Cinnamon Maple Butter Glaze
3 TBSP salted butter
3 TBSP maple syrup
1/2 – 3/4 cup powdered sugar
1/2 tsp cinnamon
1 pinch flaky sea salt
Preheat the oven to 350 degrees F. Line a 9×13 inch baking dish with parchment paper.
Add the butter to a medium pot set over medium heat. Allow the butter to lightly brown, until it smells toasted, about 5-10 minutes. Stir often.
Remove from the heat and stir in the apple butter and 1 cup brown sugar. Let cool 5 minutes. Whisk in the eggs and vanilla. Add the flour, baking powder, 1 teaspoon of the cinnamon, nutmeg, and salt, mixing until just combined. Spread the dough out into the prepared dish.
In a bowl, toss the apples with 1/2 cup brown sugar and 1 teaspoon cinnamon. Evenly sprinkle the apples over the dough.
Transfer to the oven and bake for 25-30 minutes, just until set in the center. If there is liquid in the center, swirl it around the pan, then bake another 5 minutes. Let cool.
Meanwhile, make the glaze. Add the butter to a small pot set over medium heat. Allow the butter to brown lightly until it smells toasted, about 8-10 minutes. Remove from the heat and whisk in the maple syrup, powdered sugar, cinnamon, and a pinch of salt. Drizzle the glaze over the bars. Let set for 5 minutes. Cut into bars…snack and enjoy! Can easily be made in advance and frozen.
THE FALCON
I'll make a batch of these so we can "down the Falcons!"
1.5 oz Vodka (15 oz or 1 3/4 cup)
1 oz pomegranate liqueur (10 oz or 1 1/4 cup)
0.75 oz fresh lime juice (7.5 oz or ~ 3/4 cup)
0.5 oz agave syrup (5 oz or ~ 1/2 cup)
Ginger beer to top off
Lime wheel for garnish
Add all ingredients to a highball glass filled with ice (add the ginger beer last) and stir gently.
Garnish with a lime wheel and serve.
I snagged this top in the Nordstrom yearly sale and it'll be perfect for a football game tailgate. It's sleeveless and light and very flattering AND the perfect gold for GEORGIA TECH!
https://www.nordstrom.com/s/lafayette-148-sleeveless-turtleneck-matte-crepe-top/6917853
OR
If it ends up being a warm day, I'll go with another linen shift like this one I snagged on sale here:
No tailgate pics for a number of reasons, BUT this pic was snapped of 2 of our grand babies: