REUBEN DIP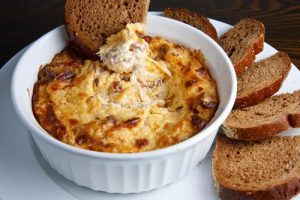 closet cooking
I LOVE THIS DIP~A hot cheese based dip with all of the flavors of a reuben sandwich! I'm doubling the recipe for my crowd.
Bake in a preheated 350 degree F oven until bubbling on the sides and
1 (1-lb.) package ground pork or turkey sausage (or one package of fully cooked sausage crumbles)
1/2 cup thinly sliced onion (I use Vidalia)
1/3 cup chopped green bell pepper
1 1/2 cups freshly shredded sharp Cheddar cheese
1 TBSP flour
1 (9-inch) frozen unbaked deep-dish piecrust shell
2 large eggs
1 cup evaporated milk
1 TBSP chopped fresh flat-leaf parsley
1 tsp salt
1/4 tsp garlic powder
1/4 tsp ground black pepper
Preheat oven to 350 degrees F. Brown sausage in a large skillet over medium-high heat, stirring often, 8 to 10 minutes or until sausage crumbles. Remove from skillet; reserve 1 Tablespoon drippings in skillet.***NOTE: if using precooked sausage, eliminate this step and use 1 TBSP butter to sauce the veggies in the next step.
Sauté onion and bell pepper in hot drippings (or butter, if using precooked sausage) over medium-low heat 5-10 minutes or until tender.
Stir together cheese, flour, sausage, onion, and bell pepper. Place piecrust shell on a baking sheet, and spoon mixture into piecrust.
Whisk together eggs and next 5 ingredients in a bowl until smooth; pour over sausage mixture.
Bake the quiche for 35 to 40 minutes or until golden brown and set. Serve immediately or let cool a bit, then cover, and refrigerate up to 2 days.
Yet another dish that needs to be made ahead – love that.  So ALL the busy work is done the day before your tailgate.  All that's left on the day of your event is to throw it in the oven and serve.
1 cup (about 4 ounces) grated Gruyère cheese, divided
3/4 cup sour cream, divided
1 1/2 cups chopped onion, divided
3/4 tsp salt, divided
1 tsp freshly ground black pepper, divided
1 large egg, lightly beaten
1 (20-ounce) package refrigerated shredded hash browns
1/4 cup canola oil
2 1/2 oz. pancetta, chopped
1 cup chopped red bell pepper
1 1/4 cups whole milk
5 large eggs, lightly beaten
Combine 1/2 cup cheese, 1/4 cup sour cream, 1/2 cup onion, 1/4 teaspoon salt, 1/2 teaspoon black pepper, and 1 egg in a large bowl, stirring to combine.
Stir in hash browns.
Heat 2 tablespoons oil in a large nonstick skillet over medium heat; spread hash brown mixture into pan, and cook 7 minutes or until browned on one side.
Drizzle hash brown mixture with remaining 2 tablespoons oil; flip with a spatula, and cook 7 more minutes or until browned on the second side. Spoon evenly into the bottom of a lightly greased 3-quart baking dish.
Add pancetta to skillet over medium-high heat; cook, stirring frequently, 2 minutes.
Add red bell pepper and remaining 1 cup onion; cook, stirring occasionally, 2 minutes.
Whisk together milk, 5 eggs, remaining 1/2 cup cheese, remaining 1/2 cup sour cream, remaining 1/2 teaspoon salt, and remaining 1/2 teaspoon black pepper in a medium bowl.
Stir pancetta mixture into egg mixture, and pour over hash browns.
Cover with aluminum foil, and refrigerate 8 hours or overnight.
Preheat oven to 350 degrees F. Bake, covered, 50 minutes or until top is browned and eggs are set.
APPLE CRISP CAKE
SaveSaveSaveSaveSaveSave
SaveSave
SaveSave
SaveSave
SaveSave
SaveSaveSaveSave
SaveSave
SaveSaveSaveSave
SaveSaveSaveSaveSaveSaveSaveSave