Our next tailgate is a couple of weeks away as we have a prior commitment for this coming weekend.  But, I'm already thinking ahead!
It's a Georgia Tech vs Georgia Southern game! This game is not exactly a heated rivalry – Georgia Tech is a D1 team in the ACC and GA Southern is a Division 1 FCS (formerly known as Division 1-AA) team in the Sun Belt Conference. But GT barely eked out a win 2 years ago, so they'd better come prepared! GA Southern has been a very good football team in recent history having won 6 FCS national championships.
Excited that fall weather will be here ("football weather" is what it's referred to in the South)! FORECAST:
AM Clouds/PM Sun

76

°

  

57

°

 

20

%

ESE 8 mph

69

%

5 of 10

 

7:43 am

 

7:03 pm

 

7:03 pm

 

6:54 am

Cloudy skies early, then partly cloudy in the afternoon. Slight chance of a rain shower. High 76F. Winds ESE at 5 to 10 mph.

Partly Cloudy

—

  

57

°

 

10

%

ESE 7 mph

78

%

0 of 10

 

7:43 am

 

7:03 pm

 

7:03 pm

 

6:54 am

Partly cloudy. Low 57F. Winds ESE at 5 to 10 mph.
It'll be a 12:30pm kickoff, so we're hosting a brunch tailgate this time.
The teams fans look very similar actually.  Georgia Tech's colors are gold and white and navy and Georgia Southern's are White and Navy.
GEORGIA
TECH
YELLOW
JACKETS
MENU:

BREAKFAST SLIDERS
NAVY AND GOLD FRUIT SALAD
SPINACH ARTICHOKE AND GOUDA CASSEROLE
CINNAMON COFFEE CAKE
SALTED BUTTERSCOTCH POPCORN

BLOODIES
APPLE CRAN GINGER COCKTAIL
TAILGATE TIME: 9:30am
KICKOFF TIME: 12:30pm
WHERE:
BOBBY DODD STADIUM, ATLANTA, GA
GAMEDAY BREAKFAST SLIDERS
(Adapted from mom endeavors)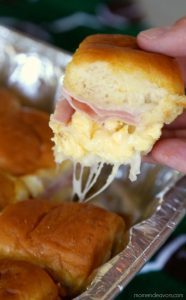 momendeavors
Everyone has had the (over-served) ham rolls with that poppyseed butter topping right?  I've seen them at tennis matches, pot-lucks, tailgating again and again and again.
Well, THIS recipe is a twist on those sliders to serve for breakfast.   You still use the Hawaiian brand rolls, and it includes ham, but you add scrambled eggs and a melted topping of butter, mustard and brown sugar.  Cannot wait to make these! Bonus: they can be made in advance and either refrigerated or frozen.  Then all you have to do on the day of your tailgate is brush the tops with the butter mixture and bake until the cheese melts. Love that! Double or triple the recipe depending on the size of your tailgate.
1 pkg (12 count) Hawaiian Rolls
8 – 10 eggs (you'll be scrambling them)
6 large slices provolone cheese
sliced ham (at least 6 large, thin slices)—you could also go with bacon, sausage, or Canadian bacon here (fully cooked of course)
¼ cup butter (melted)
1 TBSP yellow mustard
1 TBSP brown sugar
Scramble the eggs.
While the eggs scramble, with a large serrated knife, cut the entire package of rolls in half (so you have a sheet of the tops one sheet of bottoms).
Place the bottom sheet of rolls in a pan, and top with a thin layer of provolone cheese. Once the eggs are done, cover the cheese layer with the eggs. Then, lay ham slices over the eggs. If your provolone is thin, then you can add two more slices over the eggs and then again over the ham.
Place the top sheet of rolls over the ham.
***At this point, either cover with foil, and store in fridge/freezer for future use, or continue on to finish making.
In a small bowl, combine melted butter, mustard and brown sugar. Stir until combined (and the sugar is dissolved). Then brush the tops of the rolls with the mixture.
Bake at 350 degrees F for about 10-15 minutes (until cheese is melted).
Remove from oven and let cool a few minutes before cutting up and serving.
NOTE: If you are serving these at a tailgate, you can prep in advance the sandwiches, THEN heat on the grill until the cheese is melted.
FRUIT SALAD

I'm going with yellow and blue fruits for the GT colors.
1-2 cups pineapple chunks
2-3 bananas
1 pint blueberries
1 pint blackberries
Mix the above together in a bowl.
SPINACH ARTICHOKE AND GOUDA CASSEROLE
(Adapted from coastal living)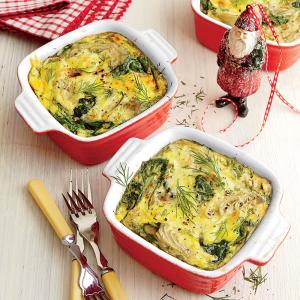 myrecipes
How great does this little decadent casserole sound? Sautéed shallots/garlic, spinach, artichokes and cheese!  YUMMY! AND it HAS to be made the night before, so, on game day, all you have to do is bake and eat!
1 1/2 TBSP butter
2 shallots, thinly sliced
4 garlic cloves, minced
12 oz baby spinach
1 (16-oz) package frozen artichoke halves, thawed
1 cup (about 4 oz) shredded Swiss cheese
1 cup (about 4 oz) shredded smoked Gouda cheese
10 large eggs, lightly beaten
3 cups half-and-half
1/4 cup chopped fresh dill
3/4 tsp kosher salt
1/2 tsp freshly ground black pepper
Garnish, if desired with chopped fresh dill
Heat butter in a large Dutch oven over medium-high heat until bubbly. Add shallots and garlic; cook 3 minutes or until soft.
Add spinach, and cook 5 minutes or until spinach is wilted and liquid has mostly evaporated. Place spinach in a colander, pressing leaves to remove any excess liquid; cool slightly.
Layer spinach, artichokes, and cheeses in a 2-quart baking dish.
Combine eggs and next 4 ingredients in a large bowl; pour egg mixture over spinach mixture.
Cover and refrigerate 8 hours or overnight.
Preheat oven to 350 degrees F. Bake, uncovered, 45 minutes or until centers are just set. Let stand 5 minutes before serving. Garnish, if desired.
CINNAMON COFFEE CAKE
(Adapted from marthastewart)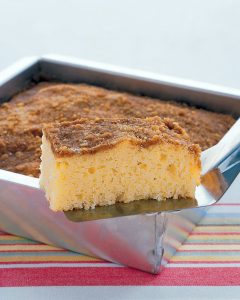 marthastewart
I've not made this coffee cake before, but I love that it's made in a small pan, so it can be easily cut into squares and served at the tailgate.  It also is really great, because it can be made well ahead of the tailgate day.  Nothing worse than having too much food prep on gameday = too much stress! It's supposed to be fun, people!!!
2 cups flour
3/4 cup plus 2 TBSP sugar
1 TBSP baking powder
1/2 tsp salt
1/2 cup shortening
1 tsp cinnamon
1 large egg, beaten
3/4 cup milk
2 TBSP butter, melted
Preheat oven to 350 degrees F. Grease an 8-inch square baking pan. In a medium bowl, combine flour, 3/4 cup sugar, baking powder, and salt.
Using a pastry cutter or two knives or forks, cut in shortening until the mixture resembles coarse crumbs.
Then, take roughly 1/2 cup of the mixture and put in a small bowl (to be used as the crumble/topping). Stir in the remaining 2 tablespoons sugar and the 1 tsp of cinnamon into that topping, and set aside.
In the remaining flour mixture add the egg and 3/4 cup of milk and stir together.
Spoon the egg and milk batter into the prepared pan, and smooth the surface.
Pour melted butter over the top. Sprinkle reserved crumb mixture evenly over the butter.
Bake the cake until a toothpick inserted in the center comes out clean, about 35 minutes.
**Note: the cake can be placed in an airtight container and frozen at this point.  Just thaw 4-6 hours prior to serving.

SALTED BUTTERSCOTCH PEANUT POPCORN
(Adapted from whatkatieate)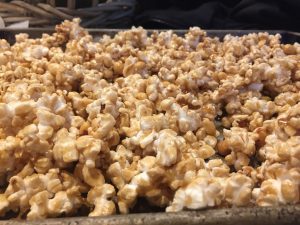 catebogue
The idea of salty-sweet popcorn just sounds SO good to me in the fall (OK, newsflash: it sounds good to me ALL the time)!  Plus it's something crunchy to nosh on with this menu of softish foods (the breakfast sliders, fruit and cheesy spinach casserole).
12 cups cooked, pre-made popcorn
2 cups raw unsalted peanuts, shelled and skins off
2/3 cup heavy cream
12 TBSP (3/4 cup) brown sugar
5 TBSP unsalted butter
1 TBSP vanilla
Sea salt (if popcorn is not already pre-salted)
Preheat oven to 350 degrees F.
Place peanuts on a baking tray and roast in the oven for 10 to 15 minutes until toasted ~ be really careful to keep an eye on the nuts as they can go from perfectly lightly roasted to burnt quickly. Remove from oven and allow to cool, then add into a very large mixing bowl along with popcorn. If popcorn you are using isn't pre-salted, season with sea salt to taste.
Pour the cream into a small saucepan along with all other ingredients.
Increase heat and bring to the boil, stirring constantly then turn heat down to medium and continue to lightly boil until the sauce has thickened, stirring occasionally. It'll take at least 5 minutes. You want a smooth pouring consistency.
Remove from heat, and allow it to cool a little for at least 10 minutes. When cool to the touch, pour the sauce over the popcorn and nuts and using your hands, coat well and evenly.
When well coated, spread out on a baking tray, and chill the popcorn for about 20 minutes before serving. If not serving immediately, store in an airtight container.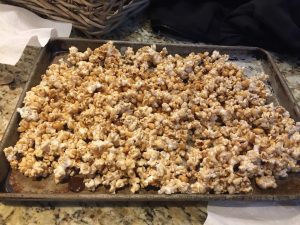 catebogue
CARAMEL CHEWS
Depending on the size of our tailgate this week, I may make these sweets as well.  I love fixing these little bites around Halloween – the combination of salty and sweet (and of course chocolate always helps) is fab. I've been making these since I was in high school – yes, they're THAT good….
28 caramels
3 TBSP butter
2 TBSP water
1 3oz can chow mein noodles
1 cup peanuts
1 6oz pkg semi-sweet chocolate morsels
2 TBSP water
Melt caramels with butter and water in a saucepan over low heat.
Stir occasionally until smooth.
Add noodles and peanuts, and toss until well coated.
Drop by rounded spoonfuls onto greased cookie sheet.
Then melt chocolate pieces with water in a saucepan over low heat.
Drop a dollop of melted chocolate on each caramel chew.  Chill these until firm.  Makes about 18-24 chews.
I started to come up with some fun drink that was yellow or gold (GT colors), but it's fall, and APPLES were just screaming at me.  This combo sounds great to me: Apple, Cranberry and Ginger.  I'm on a mission to find some Ginger Ale that has strong ginger flavor! And I'll probably serve them in a Coca-Cola crate since their corporate headquarters are in Georgia Tech's backyard – – – literally overlooking Bobby Dodd Stadium.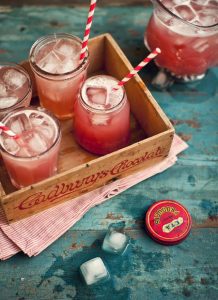 whatkatieate
SaveSaveSaveSave
SaveSave
SaveSaveSaveSave
SaveSave
SaveSaveSaveSaveSaveSaveSaveSave