googleimages
WHAT? A 7PM KICKOFF????
We've had a roller coaster season this year, but all of us assumed that this game would be a noon one (especially since Miami lost it's last game). BUT, we'll take it!  Georgia Tech had a big win this past Saturday over ACC rival UNC, so we've got a night game. WOO HOO!
Here's the scoop:
GEORGIA TECH YELLOW JACKETS
SATURDAY, NOVEMBER 10, 2018
TAILGATE START
KICKOFF
HOT PEPPERONI MUFFULETTA DIP
CUBAN SANDWICH ON A STICK
HERB AND GOAT CHEESE STUFFED MUSHROOMS
MAIN COURSE:
GRILLED BALSAMIC BEEF TENDERLOIN
TWICE BAKED MASHED POTATOES
HURRICANES (to "Down the Hurricanes")
&/OR
GEORGIA TECH MULES
HOT PEPPERONI MUFFULETTA DIP
(Adapted from Renee's Kitchen Adventures)
1 – 8 oz pkg of cream cheese, softened
1 cup pepperoni (preferably uncured), chopped small
1/2 cup sliced green pimento stuffed olives
1/2 cup roasted red peppers, drained and chopped small
1/2 cup giardiniera, drained and chopped finely
4 oz provolone cheese, cubed
1 tsp minced garlic
1 TBSP chopped fresh parsley
Preheat oven to 350 degrees F.  In a large bowl, combine all ingredients except the parsley. Toss in a food processor and pulse a few times to get all ingredients mixed and chopped to desired consistency.
Spread mixture into an oven safe baking dish or glass pie plate.
Bake in oven for 25 -30 minutes or until dip is hot and bubbly. Garnish with fresh parsley and serve hot with crostini or crackers.
CUBAN SANDWICH ON A STICK
(Adapted from call me pmc)
Being from Florida, I grew up on Cuban food, and my favorite is a good authentic Cuban sandwich. Now, I (along with everyone else!) am trying to limit the white flour intake, so I'm still going to have the basic flavor of a Cuban, but it's without the bread in these pick up easy appetizers.  Just buy some ham and swiss at the grocery store and cook an easy quick pork loin.  Add some honey mustard, and you're all good to go!  They'll fly away at any party!
1 lb cooked pork loin, cut into cubes
1 lb cooked ham, cut into cubes
1/2 lb swiss cheese, cut into cubes
20 thinly sliced dill pickle slices
~ 20 short skewers or toothpicks
Starting with pickle, layer the pickle, cheese, ham then pork onto skewer. Repeat. How cute are these?
Serve with Honey Mustard Sauce.
***PORK LOIN
To cook a quick pork loin for this recipe (adapted from dinnerthendessert.com):
3 lb pork loin
4 cloves garlic minced
1/2 tsp kosher salt
1/2 tsp coarse ground black pepper
1/4 tsp paprika
Preheat the oven to 375 degrees F. Add the pork loin to a foil lined baking pan. Coat with the garlic on top of the fatty side of the pork loin. Sprinkle the seasonings on top and rub it on top of the pork.


Cook the pork for an hour or hour and 15 minutes (or until it has reached a temperature of 150-160 degrees).
Remove from the oven and let rest for 5-10 minutes before serving. Enjoy it for dinner and then use the remaining pork for the cuban sandwich on a stick!
HERB AND GOAT CHEESE STUFFED MUSHROOMS
(Adapted from theroastedroot.net)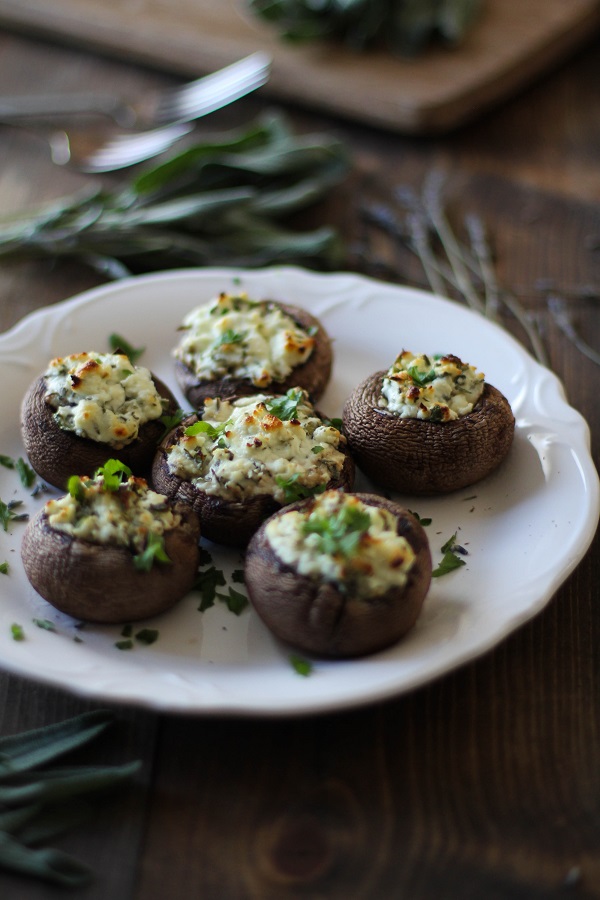 theroastedroot.net
I LOVE stuffed mushrooms! The fact that they are a one-bite appetizer makes them extra appealing, as that's what goes first at any dinner party or tailgate.  And these have yummy goat cheese and fresh herbs and bonus: portobello mushrooms instead of button to give them an added dimension.
8 oz goat cheese
1 TBSP fresh parsley, minced
1 TBSP fresh sage, minced
2 tsp fresh rosemary, minced
¾ tsp thyme, minced
Kosher salt to taste
15 baby bella mushrooms
Preheat the oven to 350 degrees F. In a small mixing bowl, add the goat cheese, herbs, and salt. Mix well to combine.
Wash the mushrooms and pat them dry. Remove the stems. Scoop the herb goat cheese mixture onto the mushrooms, and place mushrooms on a parchment-lined baking sheet.
Bake for 30 to 40 minutes, or until juices are seeping out of the mushrooms, and the goat cheese is crisp and golden brown on top.
GRILLED BALSAMIC BEEF TENDERLOIN
(Adapted from Epicurious)
There's usually ONE game per season where we amp it up a bit/splurge and serve beef tenderloin.  It's so delicious and really, it's hard to mess it up (other than committing the ultimate crime of overcooking it!).  So THIS game is the one where we're dishing up a fabulous filet of beef.  I'm marinating in a balsamic vinegar mixture to add some tangy flavor, and then we'll throw it on the grill at the tailgate the next day.  Vegetarians can enjoy salad and mashed potatoes and dessert – more beef for ME!
1 whole ~ 5 lb beef tenderloin, trimmed and tied
2 cloves garlic, minced
3 TSBP soy sauce
1/2 chopped flat leaf parsley
1/4 tsp dried rosemary
1 TBSP sea salt
1 TBSP red chili flakes
1/3 cup balsamic vinegar
1/3 cup extra virgin olive oil
Place beef in a glass baking dish.  Combine all other ingredients.
Pour the marinate over the beef.
Marinate for at least 4-6 hours or overnight in the fridge.
About two or three hours before cooking, remove the beef from the refrigerator to bring it to room temperature.
Pre-heat the grill – to roughly 400 degrees F. When the barbecue is ready, cook the beef for 2 minutes on it's side and continue to roll it onto the next quarter every 2 minutes. Continue this process for 10-15 minutes or until it has a good crust.
Continue cooking for approximately 20 minutes at 350 degrees F. If you have a meat thermometer, the internal temperature should be at 120F. If you desire your meat a little more well done, continue cooking it a little longer. Remove from the grill and place on a platter. Cover loosely with foil to rest for 10-15 minutes before slicing and serving.
TWICE BAKED MASHED POTATOES
(Adapted from sippitysup.com)
This dish is so great because you can make it in advance, and everyone loves it!  It's also the perfect accompaniment to a beef tenderloin.  I'll likely only add bacon to the top of it though as my daughter isn't a fan – and I like bacon crispy (not cooked in a dish and then chewy).
5 lbs russet potatoes
7-10 slices bacon
8 oz lower fat cream cheese, room temperature
½ cup unsalted butter, room temperature
1 cup reduced fat sour cream
¼ cup chives, minced
2½ cup sharp cheddar cheese, shredded
2-3 tsp Jane's Crazy Mixed up salt
Preheat oven to 350 degrees F. Peel potatoes, and cut into 1-inch chunks. Place in a large saucepan, and add enough cold water to cover by about 2 inches.
Bring to a boil over medium-high heat, and reduce to a simmer. Cook until tender and easily pierced with a paring knife, about 20 minutes. Transfer to a colander to drain; return to pan, cover, and set aside.
Meanwhile, cook the bacon however you prefer – microwave OR heat a large skillet over medium heat. Add bacon, and cook until crisp and browned, turning once. Transfer to paper towels to drain; let cool, and crumble into pieces.
Using a fork or potato masher, mash the potatoes in pan until light and fluffy.
Add the cream cheese, butter, and sour cream, and mix until combined and smooth. Add the chives, 2 cups cheddar cheese, and salt. Stir until well combined.  Add more salt and pepper to taste.
Transfer to a baking dish.
At this point you can heat now or refrigerate until ready to heat and serve. Top with remaining cheddar cheese and bake 30 minutes.
Remove from oven and garnish with the bacon.
(Adapted from House Beautiful)
house beautiful
8 ounces thick-cut bacon. preferably uncured
8 ounces baby arugula or romaine or a combination of both
1 large Granny Smith apple, peeled and diced
1/2 cup toasted walnut halves, coarsely chopped
1/2 cup dried cranberries
6 oz blue cheese, such as Roquefort, crumbled
For the dressing:
3 TBSP good apple cider vinegar
1 tsp grated orange zest
2 TBSP freshly squeezed orange juice
2 1/2 tsp Dijon mustard
2 TBSP pure maple syrup
salt
1/2 tsp freshly ground black pepper
2/3 cup extra virgin olive oil
Preheat the oven to 400 degrees F. Place a baking rack on a sheet pan and lay the bacon slices on the rack. Roast the bacon for about 20 minutes, until nicely browned. Allow to cool.
In a large bowl, toss together the arugula, apple, walnuts, cranberries, and blue cheese.
For the dressing, whisk together the vinegar, orange zest, orange juice, mustard, maple syrup, 1 1/2 teaspoons salt, and the pepper in a bowl. Slowly whisk in the olive oil.
Chop the bacon in large pieces and add it to the salad. Toss the salad with just enough dressing to moisten. Sprinkle with 1/2 teaspoon salt and toss well. Serve immediately.
FRESH APPLE TOFFEE BLONDIES
(Adapted from cookiesandcups.com)
2/3 cup butter, at room temp (equivalent is 11 TBSP + 1 tsp butter)
2 cups packed light brown sugar
2 eggs
2 tsp vanilla
2 cups flour
2 tsp baking powder
1/2 tsp salt
1 cup peeled, chopped Granny Smith apple (1 large)
1/2 cup toffee bits (such as Heath)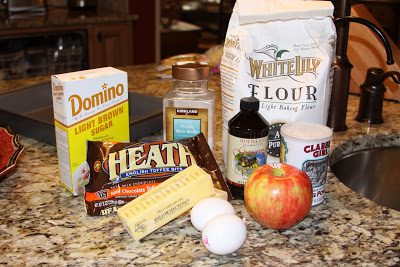 Preheat oven to 350 degrees F.  Spray 9×13 baking pan lightly with cooking or baking spray.
Cream butter and brown sugar in mixer until smooth. Add eggs and vanilla and beat on medium until combined.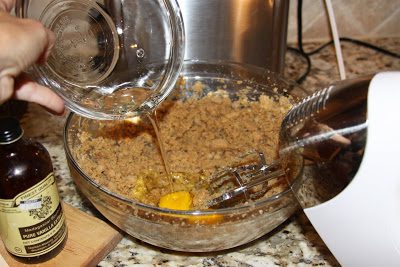 Add flour, baking powder, and salt and mix until just combined.
Stir in the chopped apples and toffee bits until evenly distributed.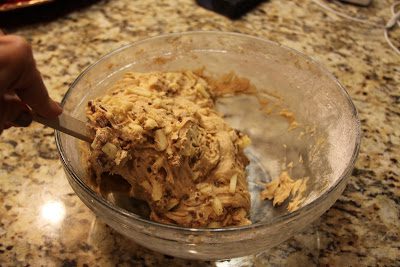 Spread in prepared pan.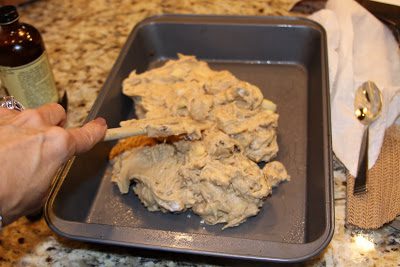 Bake for 30 minutes until the center is set. Let cool completely before slicing or frosting.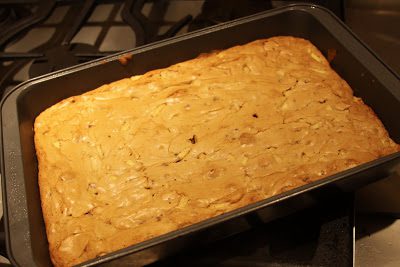 Frosting:
1/2 cup butter
1 cup packed light brown sugar
1/4 cup milk
2 cups powdered sugar
Melt butter in a medium saucepan. Add brown sugar and milk and bring to a boil.
Remove from heat. Let cool for 5 minutes. Stir in powdered sugar with a whisk.
Let cool until it thickens enough to spread. Stir before spreading on top of blondies.
Let frosting set for 30 minutes and then cut into bars.
HURRICANES FOR A CROWD
When we play Miami I prepare this drink so we can "down the Hurricanes!"  It worked the last time we upset them, so I'm fixing this drink again for good luck!  This recipe serves 10-12, so for my large tailgate, I'll probably double it. Great for a tailgate, so you're not at a "bar" fixing drinks all day.
12 oz (1 1/2 cups) light rum
12 oz (1 1/2 cups) dark rum
10 oz (1 1/4 cups) grenadine
10 oz (1 1/4 cups) fresh orange juice
10 oz (1 1/4 cups) sour mix, or fresh lime juice
1 large orange, cut into 1/4-inch thick slices for garnish
Mix all the ingredients in a tall pitcher. Serve in glasses over ice with straws.
GEORGIA TECH MULES
I was just going to go with Hurricanes as my drink for this game, but my son said something to me about a fall drink, and so I decided to add a Fall version of a Moscow Mule.  I'll get some freshly made good apple cider from my local Fresh Market.  These kind of look yellow/gold in color ala GEORGIA TECH!
2 oz Ginger beer
1.5 oz Vodka
2 oz Apple Cider
1/2 oz Lime juice fresh squeezed
Ice
Apple slices for garnish
Squeeze lime into a mug. Add desired ice.
Add apple cider, vodka, and ginger beer.
Stir to mix.
It's going to be cool and for Georgia Tech it's a "WHITE OUT", so my coat of choice will be a winter white wool pea coat I love that I've had for years from J Crew. It's sold out now, but two options are this one from eBay: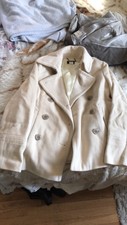 I'm going with an adorable and super comfy and "on trend" chunky bold sweater (very reasonably priced) that I snagged recently at Nordstrom here.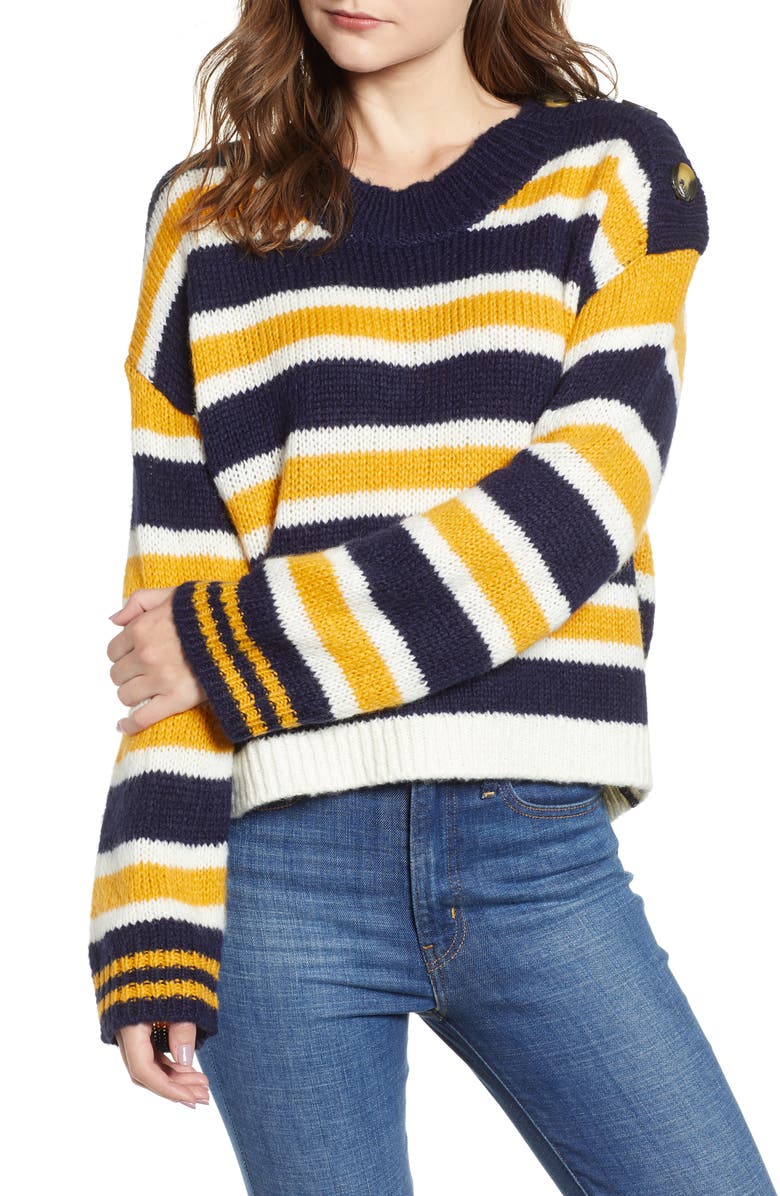 nordstrom
I'll grab either some jeans like these:
amazon
OR a navy or denim skirt and tights with booties like these:
zappos

GO JACKETS!
SaveSave
SaveSave