Another brunch….
Based on Georgia Tech's so-so season (6-4) and Virginia's even less than so-so season (2-8), we were doomed to have yet another brunch tailgate for this final home game.
The cold game…
This game will be the chilliest one thus far, so I've added some warm soup as well as a warm drink for our group. It'll be very windy and in the 40s when we begin tailgating, but it should go up to the upper 50s during the game midday. So while it's not exactly Green Bay, Wisconsin cold, the fact is that for Atlanta, Georgia, it'll be very chilly!
CRAB DIP
(Adapted from SC Living)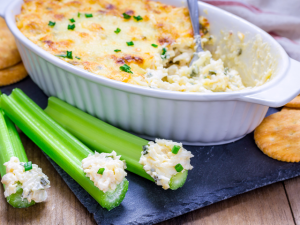 scliving

3 TBSP butter
3 shallots, peeled and chopped
1/2 cup heavy cream
3 TBSP mascarpone cheese
12 oz cream cheese, softened
1/2 cup chopped scallions
1 tsp hot pepper sauce (such as Tabasco)
1/4 tsp Worcestershire sauce
1 lb crab meat
1/2 cup grated Swiss cheese
In a large pan over medium heat, melt butter, and sauce shallots until tender. Add cream; simmer mix until it reduces by 2/3. Reduce heat to low, and add mascarpone and 3 oz of cream cheese. Gradually stir in remaining cream cheese, stirring constantly until thickened. Add scallions, Tabasco and Worcestershire and remove from heat.
Turn on oven broiler, and position a rack to within 6 inches of heat source. Gently fold in crab into mixture; pour into a 1 1/2 quart baking dish. Sprinkle with Swiss cheese. Broil until cheese melts and is golden. Serve with crackers or raw veggies.

WINTER FRUIT SALAD
(Adapted from Julia's album)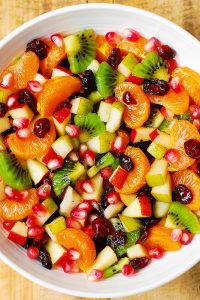 juliasalbum
SALAD:
2 red apples, cored and diced
2 pears, cored and diced
4 clementine oranges, peeled and separated into segments
3 kiwi fruit, peeled and sliced into thin rounds and then silce rounds into quarters
1 cup pomegranate seeds (I found mine at Whole Foods already packaged)
1/2 cup dried cranberries, optional
DRESSING:
2 TBSP maple syrup
1 TBSP fresh lime juice
Combine all salad ingredients (except the dressing ingredients) in a large bowl.
In a separate small bowl, whisk together the dressing ingredients (maple syrup and lime juice).
Pour the dressing over the salad and gently toss to coat.
MINI SPINACH AND MUSHROOM QUICHE
(Food Network)
These mini-quiches are great to make ahead and freeze. Simply pop them into the oven (see below), and you've got a quick, healthy breakfast FAST!
Cooking spray
6 strips (3 ounces) turkey bacon (prosciutto would also be great here)
1 TBSP extra virgin olive oil
10 oz white mushrooms, coarsely chopped
1 small shallot, thinly sliced
Kosher salt and freshly ground black pepper
2 cups baby spinach
Pinch freshly grated nutmeg
4 large eggs
4 egg large whites
1/4 cup skim milk
1/3 cup (1 1/2 ounces) grated Fontina cheese
Preheat the oven to 375 degrees F. Lightly coat a 12-cup nonstick muffin pan with nonstick cooking spray. Mist a large nonstick skillet with more nonstick cooking spray and put over medium heat. Add the turkey bacon and cook turning frequently until crisp, about 8 minutes. Transfer to a cutting board and coarsely chop.
Preheat oven to 375 degrees F. Cook sausage (if not using pre-cooked) and onion powder in a large skillet over medium to med-high heat, stirring until it crumbles and no longer pink. Drain and cool. Combine sausage, baking mix, and shredded cheese in a large bowl.
Make a well in the center of the mixture. Stir together the soup and buttermilk; add to sausage mixture, stirring just until dry ingredients are moistened.
Spoon until lightly greased mini muffin tins, filling to tops of cups. Bake for 15-18 minutes or until lightly browned.
Can easily be made in advance and frozen. Can enjoy warm right out of the oven or at room temp. Makes roughly 3 dozen mini-muffins.
WHITE CHICKEN CHILI
(Adapted from All She Cooks)
I have several versions of this chili but wanted to try this take on it. It has you add sour cream and some heavy cream to the soup at the very end. Doing that obviously adds a richness to the dish – you can easily opt out of that if you want a more brothy version however.
1 TBSP vegetable oil
1 cup onion, chopped
2 cloves garlic, minced
4 cups chicken broth
2-3 pounds cooked, boneless skinless chicken breast, chopped or shredded
4 cans green chilies, chopped
4 cans great northern white beans or cannellini, drained & rinsed
2 tsp salt
2 tsp cumin
2 tsp oregano
1 tsp black pepper
1 tsp cayenne pepper
2 cups sour cream
1 cup heavy whipping cream
Optional toppings:
Additional sour cream
Shredded pepper jack cheese
Fresh cilantro, chopped
Heat oil in a large chili pot over med-low heat. Sauté the onions & garlic.
Add all the other ingredients to the pot except for the sour cream and heavy whipping cream. Simmer for 30 minutes.
Stir in sour cream and heavy whipping cream and heat until warm. Top with whatever you like and serve.
CINNAMON ROLL CAKE
(Adapted from cookin' up north)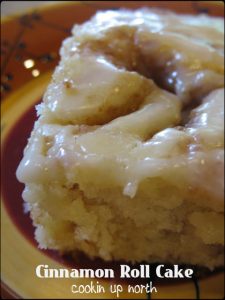 cookin up north
So this dish is basically cake for breakfast. But the cinnamon rich goodness is to die for! And, I love that you can make it in advance, freeze it, and it will be fabulous whenever you decide to serve it.
Cake:
3 cups flour
1/4 tsp salt
1 cups sugar
4 tsp baking powder
1 1/2 cups milk
2 eggs
2 tsp vanilla
1/2 cup butter, melted
Topping:
1 cup butter, softened
1 cup brown sugar
2 TBSP flour
1 TBSP cinnamon
Mix all the "cake" ingredients together except for the butter.
Slowly stir in the melted butter, and pour into a greased 9×13″ pan.
For the topping, mix all those ingredients together until well combined. Drop evenly over the batter in spoonfuls, and swirl with a knife. Bake at 350 degrees F for 28-32 minutes. Your kitchen will smell heavenly!
Glaze:
2 cups powdered sugar
5 TBSP milk
1 tsp vanilla
While the cake is still warm, drizzle the glaze over the cake.
1/2 cup brown sugar
1 cup granulated sugar
2 tsp vanilla extract
3/4 cup pumpkin puree
3 cups flour
1/2 tsp salt
1/2 tsp baking powder
1/2 tsp baking soda
1 TBSP ground cinnamon
1 TBSP pumpkin pie spice
1 1/2 cups white chocolate chips (regular or mini)
*All photos are mine unless otherwise credited.
SaveSave