GEORGIA TECH
VS
VIRGINIA
KICKOFF:
3:30PM
TAILGATE START:
NOON
GAMEDAY MENU:
WARM SUN-DRIED TOMATO DIP with Crackers
SHRIMP AND ANDOUILLE GUMBO with STEAMED JASMINE RICE
MIXED GREEN SALAD with ORANGE CILANTRO VINAIGRETTE
BUFFALO CHICKEN SLIDERS
SOUR CREAM PUMPKIN BARS
APPLE CIDER WITH RUM
WARM SUN-DRIED TOMATO DIP
(Adapted from Taste of Home)
tasteofhome.com
2 packages (8 oz each) cream cheese, softened (lower fat cream cheese is fine)
2 cups mayonnaise (preferably Hellman's)
1/4 cup finely chopped onion
4 garlic cloves, minced
1 jar (7 oz) oil-packed sun-dried tomatoes, drained and chopped
2/3 cup chopped roasted sweet red peppers
2 cups shredded mozzarella cheese
2 cups shredded Italian cheese blend
1 cup shredded Parmesan cheese, divided
Assorted crackers
In a food processor, combine the cream cheese, mayonnaise, onion and garlic until blended.
Stir in tomatoes and red peppers (I chopped them up in a mini food processor).
Stir in the mozzarella cheese, Italian cheese blend and 3/4 cup Parmesan cheese.
Transfer to a baking dish sprayed well with non-stick cooking spray. Sprinkle the top with the remaining Parmesan cheese.
Then either refrigerate until ready to bake or bake, uncovered, at 350 degrees F for 18-22 minutes or until edges are bubbly and lightly browned. Serve with crackers.
SHRIMP AND ANDOUILLE GUMBO
This dressing is OUT. OF. THIS. WORLD!!!!!  It's such a great combination of flavors: ginger, sweetness from the OJ and honey and tanginess from the shallots and balsamic vinegar and mustard.  It's just so fabulous that all you need are some nice lettuce greens and you've got yourself a really fabulous salad!
¼ cup sunflower oil
¼ cup extra virgin olive oil
zest of 1 medium navel orange
¼ cup fresh orange juice
3 TBSP white balsamic vinegar
2 TBSP honey
1 TBSP finely chopped shallots
1 tsp grainy mustard
½ tsp fresh ginger
½ tsp kosher salt
⅛ tsp black pepper
3 TBSP finely chopped fresh cilantro (or basil)
Mixed Greens for serving
Combine all ingredients except cilantro (or basil) in a small bowl and whisk together.
Then, pour all into a medium size jar with a tight-fitting lid, and add the cilantro. Cover and shake well to combine. Refrigerate until ready to use.  This dressing needs a bit of time for the flavors to blend, so it's best to make at least a day ahead.
Shake well again before serving over mixed greens.
BUFFALO CHICKEN SLIDERS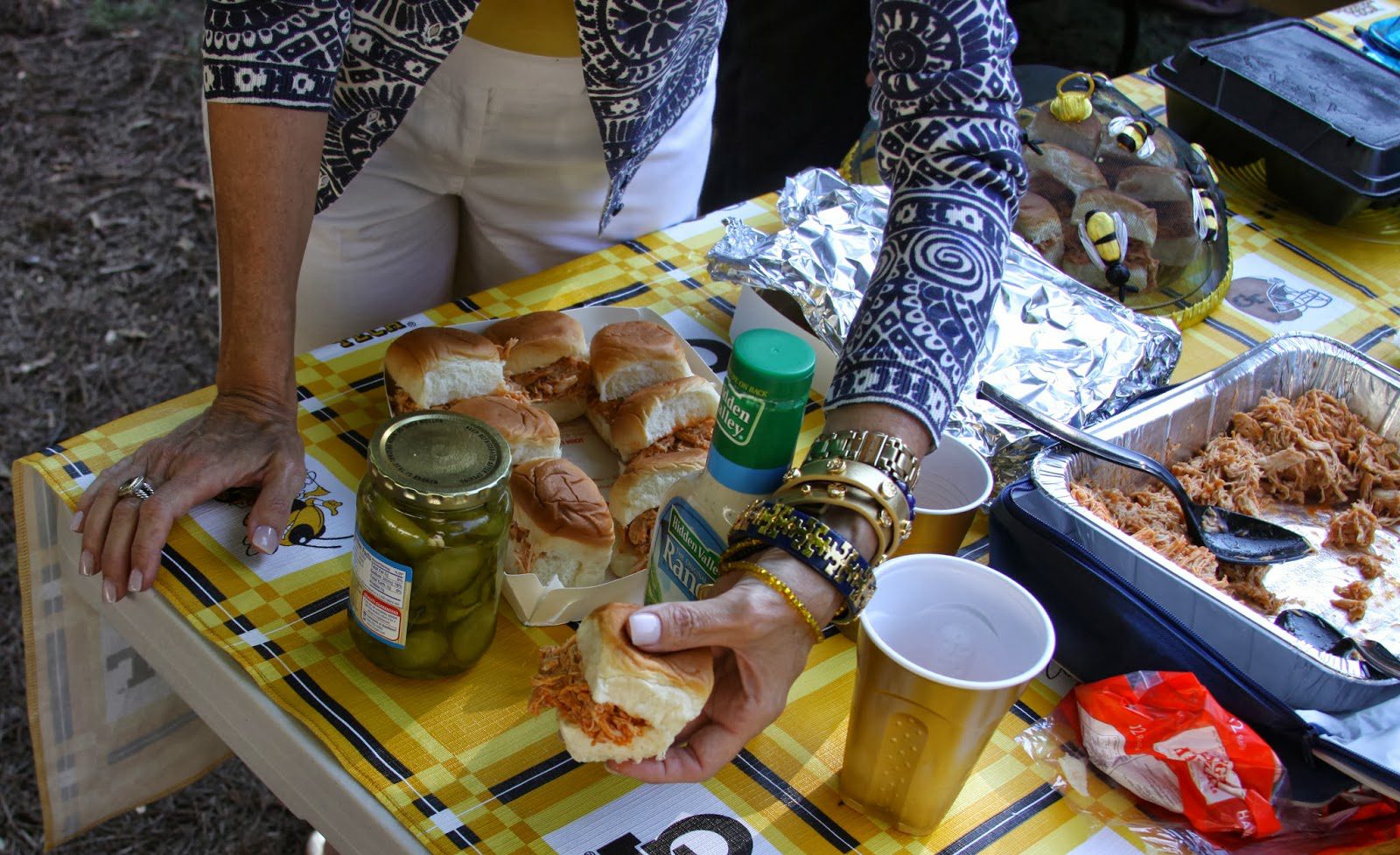 I make these sliders at least once every football season.  EVERYBODY loves them, and they are about as easy to make as it gets.  It's also wonderful that you can make them WELL in advance and then just reheat, leaving you lots of time to have fun with friends and family at the tailgate party instead of having to actually COOK on gameday!
4-6 frozen boneless, skinless chicken breasts
1 (12 ounce) bottle Frank's Wings Buffalo Sauce
1 packet Ranch Dip Mix
2 TBSP butter
rolls
For serving: Blue cheese and/or Ranch dressing, pickles, coleslaw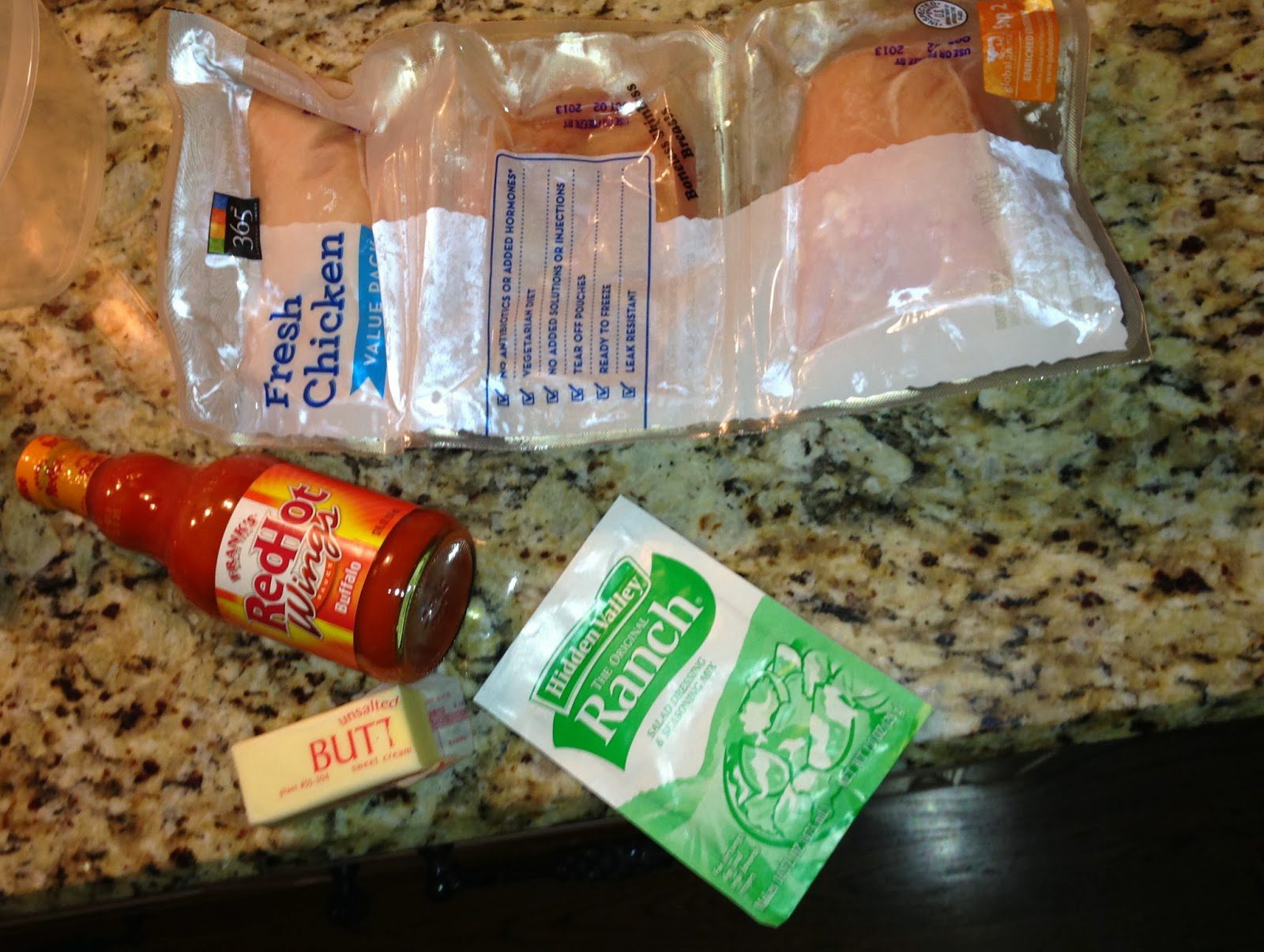 Put frozen chicken breasts in the bottom of your slow cooker. Pour the whole bottle of buffalo sauce over chicken breasts and sprinkle ranch packet on top.
Cook on low 6-7 hours. Using two forks, shred the chicken and return it to the crock pot.  This step takes no time, as the chicken will be falling apart.
Add butter, stir and cook on low for an additional hour.
At this point you can serve immediately, or let it cool, then refrigerate.  Rewarm before serving. Serve on buns, and serve with a side of ranch or blue cheese dressing, as well as pickles and or cole slaw.
Additional chopped pecans or walnuts to top (optional)
Grease a rectangular baking pan; set aside. In a large mixing bowl, beat the butter with an electric mixer for 30 seconds. Beat in sugar, baking powder, baking soda and salt until combined.
Add eggs, pumpkin, sour cream, milk, and vanilla; beat until combined.
Add the all purpose white and whole wheat flours; beat until combined. Stir in 1 cup nuts.
Spread mixture evenly into prepared baking pan.
Bake in a 350 degree F oven about 25 minutes or until a wooden toothpick inserted near the center comes out clean. Cool in pan on wire rack.
Prepare Browned Butter Frosting (see below), and then spread over cooled bars. If you like, sprinkle with additional chopped nuts. Cut into bars. Makes roughly 48 bars depending on what size you want.
In a small saucepan, heat butter over medium-low heat until melted.
Continue heating and stirring occasionally until the butter turns a light brown.
Remove from heat and pour butter into a medium mixing bowl. Add powdered sugar, milk and vanilla. Beat with an electric mixer until combined. Beat in additional milk, 1 teaspoon at a time, to make a spreadable frosting.
Immediately pour over cake.