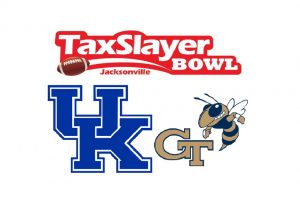 So excited! Our Georgia Tech Yellow Jackets are facing our University of Kentucky Wildcats in the Tax Slayer Bowl in Jacksonville on New Year's Eve!
Menu planning will commence, but we are headed to Jacksonville, FL to ring in the new year and will be happy no matter who wins.
Thankful that 2 of our favorite teams made it to a bowl game and even more fun that they're playing each other.
More details to follow on what's really important around our house – – – THE FOOD!
TAILGATING AT A BOWL GAME HERE WE COME!!! WOO HOO!!!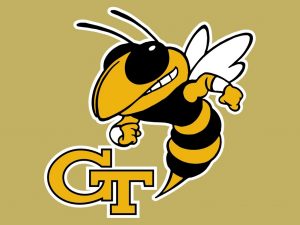 vs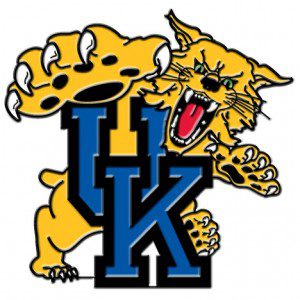 The reason this game is so near and dear to our hearts, is that my husband played football at Georgia Tech, and our son played at the University of Kentucky. Never in a million years would any of us have suspected that they would ever face each other in a game! We'll be happy no matter who wins.
A couple of pics of my guys: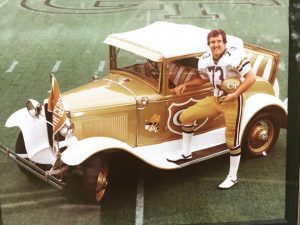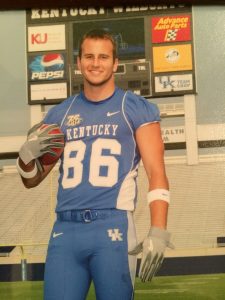 So, as is our lot in life this season, it's an early game. And we thought that 12:30pm was "early" – ha! This bowl game's kickoff time is – – – 11:00AM! We are thrilled to be going to the game no matter what though, and we'll just have to get up very early and enjoy some great food and company regardless of the time.
Tailgate starts at…8:00AM!
MENU:


BOWL GAME BREAKFAST CASSEROLEWINTER FRUIT SALADAPPLE PIE BARS
POSTGAME:
DIRTY MARTINI DIP with crackersBEEF STEW IN RED WINE SAUCESALTED BUTTERSCOTCH BROWNIES

BOWL GAME BREAKFAST CASSEROLE
(Adapted from Food and Wine)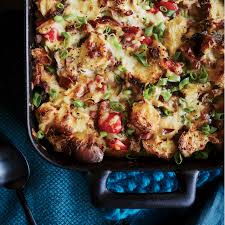 foodandwine
Butter, for greasing
2 TBSP extra-virgin olive oil
1/2 cup finely diced pepperoni (2 ounces)
1/2 pound shiitake mushrooms, stems discarded and caps cut into 3/4-inch pieces
1 medium onion, minced
1 red bell pepper, cut into 1/2-inch pieces
2 tsp kosher salt, plus more for seasoning
8 large eggs
3 cups whole milk
1 TBSP Dijon mustard
1 TBSP soy sauce
1/2 tsp pepper
3/4 pound day-old challah, sliced 1 inch thick and cut into 1-inch dice (10 cups)
6 ounces Black Forest ham, finely diced (1 1/4 cups)
1 cup shredded Monterey Jack cheese (1/4 pound )
1 cup shredded aged white cheddar cheese (1/4 pound )
1/2 cup finely chopped scallions, plus thinly sliced scallions for garnish
Hot sauce, for serving
Butter a 9-by-13-inch baking dish. In a large skillet, heat the olive oil. Add the pepperoni and cook over moderate heat until the fat is rendered, about 3 minutes. Add the shiitake and cook until lightly browned and tender, about 5 minutes. Add the onion, bell pepper and a generous pinch of salt and cook, stirring occasionally, until softened and browned, about 7 minutes; let cool completely.
In a large bowl, beat the eggs with the milk, mustard, soy sauce, pepper and 2 teaspoons of salt. Add the cooled vegetable mixture, challah, ham, both cheeses and the chopped scallions and mix well. Scrape the mixture into the prepared baking dish, cover with plastic wrap and refrigerate overnight.
Preheat the oven to 350°. Uncover the casserole and bake for about 50 minutes, until it's just set and the top is browned. Let stand for 10 minutes, then top with thinly sliced scallions and serve with hot sauce. 

WINTER FRUIT SALAD
(Adapted from Julia's album)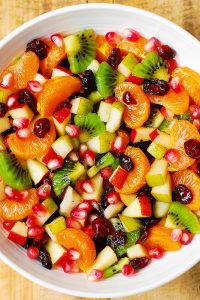 juliasalbum
SALAD:
2 red apples, cored and diced
2 pears, cored and diced
4 clementine oranges, peeled and separated into segments
3 kiwi fruit, peeled and sliced into thin rounds and then silce rounds into quarters
1 cup pomegranate seeds (I found mine at Whole Foods already packaged)
1/2 cup dried cranberries, optional

DRESSING:
2 TBSP maple syrup
1 TBSP fresh lime juice

Combine all salad ingredients (except the dressing ingredients) in a large bowl.
In a separate small bowl, whisk together the dressing ingredients (maple syrup and lime juice).

Pour the dressing over the salad and gently toss to coat.



APPLE PIE BARS
(Adapted from Big Sugar Bakeshop)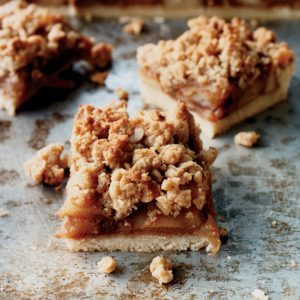 foodandwine
CRUST
3 sticks unsalted butter, softened
3/4 cup sugar
3 cups all-purpose flour
1/2 teaspoon kosher salt
FILLING
6 tablespoons unsalted butter
1/2 cup light brown sugar
12 Granny Smith apples (about 6 pounds)—peeled, cored and thinly sliced
1 tablespoon cinnamon
1/4 teaspoon freshly grated nutmeg
1 cup water, as necessary
TOPPING
3/4 cup walnuts
3 cups quick-cooking oats
2 cups all-purpose flour
1 1/2 cups light brown sugar
1 1/4 teaspoons cinnamon
1/2 teaspoon baking soda
1/2 teaspoon kosher salt
3 sticks unsalted butter, cut into 1/2-inch cubes and chilled
MAKE THE CRUST
Preheat the oven to 375°. Line a 15-by-17-inch rimmed baking sheet with parchment paper. In a standing electric mixer fitted with the paddle, beat the butter with the sugar at medium speed until light and fluffy, 2 minutes. At low speed, beat in the flour and salt until a soft dough forms. Press the dough over the bottom of the sheet and 1/2 inch up the side. Bake in the center of the oven for 20 minutes, until the crust is golden. Let cool on a rack.
MAKE THE FILLING
In each of 2 large skillets, melt 3 tablespoons of the butter with 1/4 cup of the light brown sugar. Add the apples to the skillets and cook over high heat, stirring occasionally, until softened, about 10 minutes. Stir half of the cinnamon and nutmeg into each skillet. Cook until the apples are caramelized and very tender and the liquid is evaporated, about 10 minutes longer; scrape up any bits stuck to the bottom of the skillets and add up to 1/2 cup of water to each pan to prevent scorching. Let cool.
MAKE THE TOPPING
Spread the walnuts in a pie plate and toast until golden and fragrant, about 8 minutes. Let cool, then coarsely chop the walnuts. In a large bowl, mix the oats with the flour, light brown sugar, cinnamon, baking soda and salt. Using a pastry blender or two knives, cut in the butter until the mixture resembles coarse meal. Stir in the walnuts and press the mixture into clumps.
MAKE THE TOPPING
Spread the apple filling over the crust. Scatter the crumbs on top, pressing them lightly into an even layer. Bake in the center of the oven for about 1 hour, until the topping is golden; rotate the pan halfway through baking. Let cool completely on a rack before cutting into 2-inch bars.
MAKE AHEAD
The bars can be stored in an airtight container at room temperature for 4 days or frozen for up to a month.
POSTGAME WARM UP FOOD:



BEEF STEW IN RED WINE SAUCE
(Adapted from Jacques Pepin)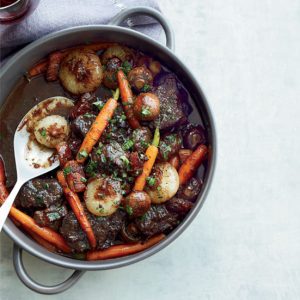 foodandwine
1 TBSP unsalted butter
2 TBSP extra virgin olive oil
2 pounds trimmed beef flatiron steak or chuck, cut into 8 pieces
Salt
Freshly ground black pepper
1 cup finely chopped onion
1 TBSP finely chopped garlic
1 TBSP all-purpose flour
One 750-milliliter bottle dry red wine
2 bay leaves
1 thyme sprig
One 5-ounce piece of pancetta
15 pearl or small cipollini onions, peeled
15 cremini mushrooms
15 baby carrots, peeled
Sugar
Chopped fresh parsley, for garnish
Preheat the oven to 350°. In a large enameled cast-iron casserole, melt the butter in 1 tablespoon of the olive oil. Arrange the meat in the casserole in a single layer and season with salt and pepper. Cook over moderately high heat, turning occasionally, until browned on all sides, 8 minutes. Add the chopped onion and garlic and cook over moderate heat, stirring occasionally, until the onion is softened, 5 minutes. Add the flour and stir to coat the meat with it. Add the wine, bay leaves and thyme, season with salt and pepper and bring to a boil, stirring to dissolve any brown bits stuck to the bottom of the pot.
Cover the casserole and transfer it to the oven. Cook the stew for 1 1/2 hours, until the meat is very tender and the sauce is flavorful.
Meanwhile, in a saucepan, cover the pancetta with 2 cups of water and bring to a boil. Reduce the heat and simmer for 30 minutes. Drain the pancetta and slice it 1/2 inch thick, then cut the slices into 1-inch-wide lardons.
In a large skillet, combine the pancetta, pearl onions, mushrooms and carrots. Add the remaining 1 tablespoon of olive oil, 1/4 cup of water and a large pinch each of sugar, salt and pepper. Bring to a boil, cover and simmer until almost all of the water has evaporated, 15 minutes. Uncover and cook over high heat, tossing, until the vegetables are tender and nicely browned, about 4 minutes.
To serve, stir some of the vegetables and lardons into the stew and scatter the rest on top as a garnish. Top with a little chopped parsley and serve.
SALTED BUTTERSCOTCH BROWNIES
(Adapted from crazy for crust)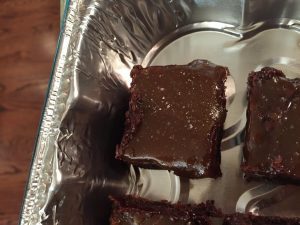 catebogue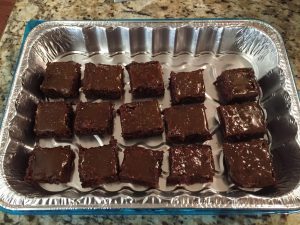 catebogue
I had never made this dessert before but it just sounded "Mexican" to me with the decadent dark chocolate intensity. Plus, brownies are just so perfect for tailgating, because they can be made way in advance and either frozen, or if you're making them a day or two in advance, they can be stored in an airtight container and easily transported to your tailgate. They hold up very well, as opposed to a lot of cookies that crumble in transport. These are fabulous, and your guests will love you! I'm a huge fan of combining salty and sweet, and these little gems do just that!

2 oz unsweetened baking chocolate, coarsely chopped
2 oz semi-sweet baking chocolate, coarsely chopped
3/4 cup unsalted butter
1 3/4 cups sugar
3 eggs
1 TBSP vanilla extract
2 TBSP unsweetened cocoa powder
1/4 tsp salt
1 cup flour
3/4 cup mini chocolate chips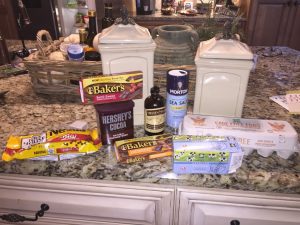 catebogue
SALTED BUTTERSCOTCH
1 cup brown sugar
1/2 cup heavy whipping cream
6 TBSP butter
1 tsp vanilla bean paste (or vanilla extract)
1 1/2 tsp kosher salt
Sea Salt or Kosher salt for topping brownies, if desired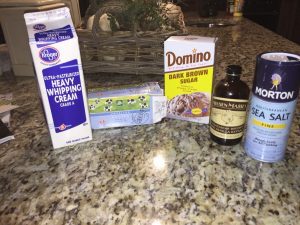 catebogue
Preheat oven to 350 degrees F. Line a 9×9" pan with foil and spray with cooking spray.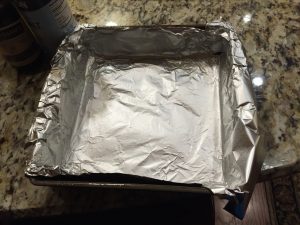 catebogue

Place the two baking chocolates and butter in a large, microwave safe bowl.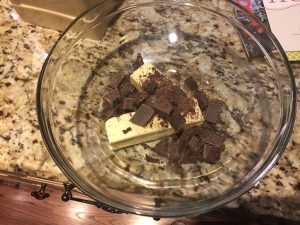 catebogue
Heat on HIGH power for 2-3 minutes, stirring every 30 seconds, until chocolate is smooth.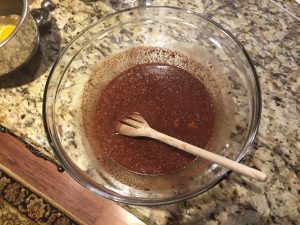 catebogue

Stir in sugar. Add eggs, vanilla, and cocoa and stir well.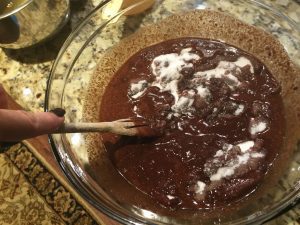 catebogue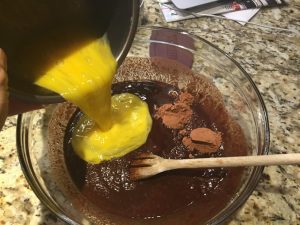 catebogue

Add flour and stir carefully. Stir in mini chocolate chips.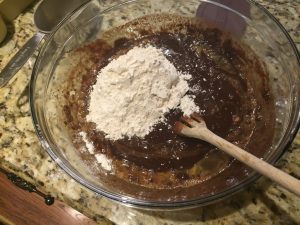 catebogue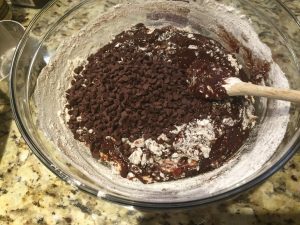 catebogue

Spread brownie batter in prepared pan.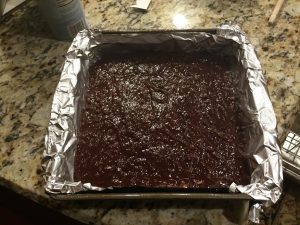 catebogue

Bake for 25-30 minutes, until a toothpick comes out with just a few crumbs stuck to it.

While the brownies are baking, make the butterscotch sauce. Melt 6 TBSP butter in a medium saucepan over medium heat.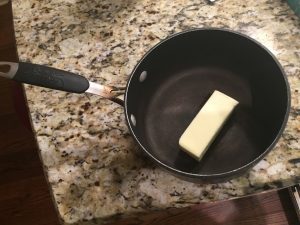 catebogue

Add 1 cup brown sugar and 1/2 cup heavy whipping cream and stir until it boils.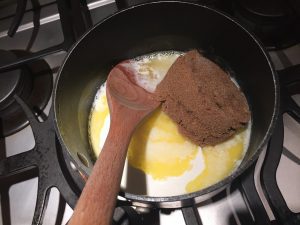 catebogue

Once it boils, let it sit boiling gently, without stirring, and cook for 3 minutes.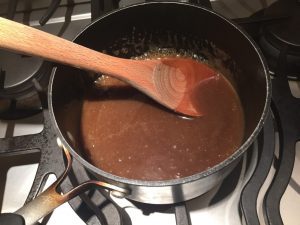 catebogue

Remove from heat and stir in vanilla and 1 1/2 teaspoons salt. Transfer to a jar and let it cool on the counter until the brownies are done. (Makes about 1 3/4 cups, you won't use it all on the brownies, so put the remainder in the fridge to top ice cream, apples etc.) WARNING: this butterscotch sauce is so delicious, taste at your own risk! I did, and it was all I could do to restrain myself from eating the entire jar! 😉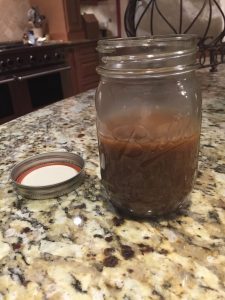 catebogue
When brownies are done, remove them from the oven and immediately top with 3/4 cup of the butterscotch sauce.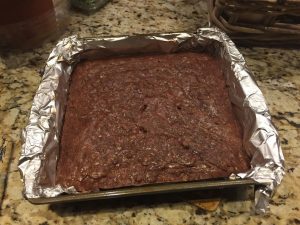 catebogue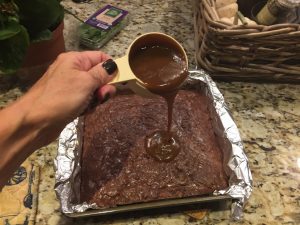 catebogue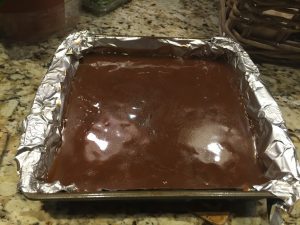 catebogue

Let cool completely before slicing. ***This step will take several hours, but you can also chill them for faster cooling. The sauce doesn't harden but does solidify slightly. The brownies are sticky and gooey.

Sprinkle with a few pinches of sea or kosher salt before slicing and serving.
Store brownies in an airtight container for up to 4 days. Extra butterscotch sauce can be kept sealed for up to one week. It will harden in the refrigerator (and semi-solidify on the counter) so microwave it it, and it becomes liquid again.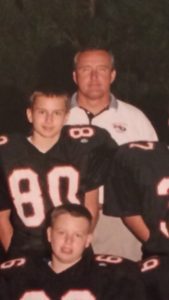 Attending one of a million sports events: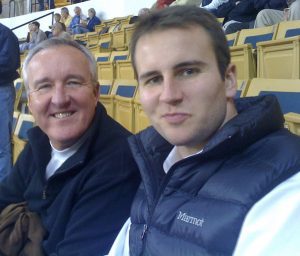 Traveling to the University of Florida's football camp (when our son was being recruited) in 2003: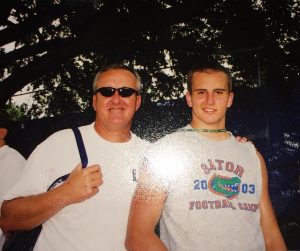 Celebrating a big high school football win together: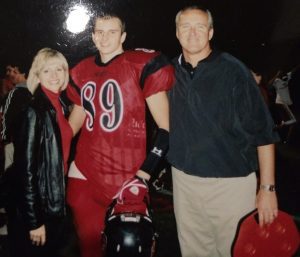 Proud Dad at our son's high school graduation: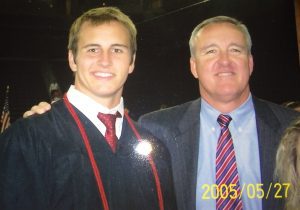 b
And Fan Day at the University of KY: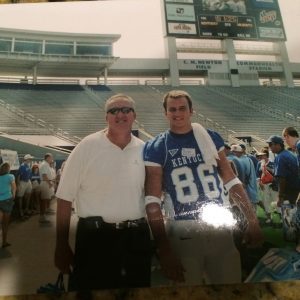 Getting ready to go to the horse races at Keeneland in Lexington, KY: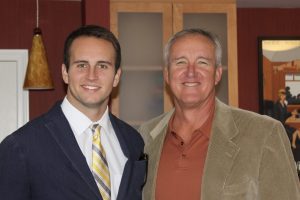 Typical shot of these two playing golf together: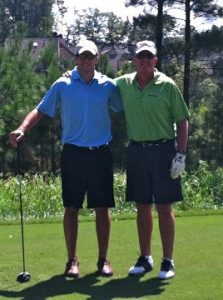 Father and son attending sailing camp in Captiva, FL: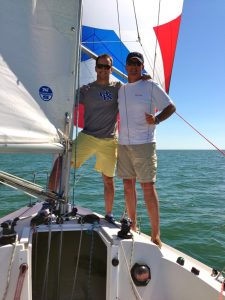 Tailgating at Georgia Tech: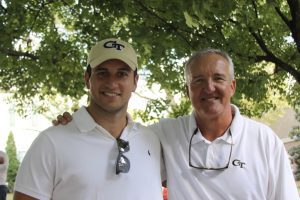 SaveSave
SaveSave
SaveSave