It's been a month since we've tailgated! The weather has changed drastically, and Georgia Tech has had a rough season. BUT we are ready! The Jackets beat Miami away 2 weeks ago, so we're hoping this week's game will result in a win too!
It'll be a sunny but cool 58 degrees at kickoff, so I've planned a menu that's hearty and satisfying!
GEORGIA TECH
VS
PITTSBURGH
KICKOFF TIME:
4:00PM
TAILGATE START:
12:30PM
MENU:
TRI-TIPS WITH SALSA VERDE
MAC AND CHEESE
ITALIAN CHOPPED SALAD
APPLE TOFFEE BARS
DRINK DU JOUR:
THE STINGER
TRI TIPS WITH SALSA VERDE

For salsa verde:

1/3 cup extra-virgin olive oil
Juice and grated zest of 1 lemon
2 anchovy fillets, very finely chopped
2 garlic cloves, very finely chopped
1 TBSP drained capers, roughly chopped
1 TBSP finely chopped fresh oregano
1 TBSP finely chopped fresh flat-leaf parsley
1 tsp finely chopped fresh mint
½ tsp kosher salt
For steak
Two 1½-pound tri-tip steaks, sliced crosswise into 1¼-inch-thick planks
1 tsp kosher salt
1½ tsp grapeseed oil
Place salsa verde ingredients in medium bowl; whisk together to combine.
Season steak with salt and set aside. Heat large stainless skillet over medium-high heat for 2 minutes. Add oil to pan; sear steak until it is browned, 3 to 5 minutes, OR grill tri tips until desired level of doneness.
Flip steak; cook other side until browned, about another 3 to 5 minutes for rare, or 5 to 6 minutes for medium-rare to medium.
Slice up and serve with salsa verde spooned over top.
MAC AND CHEESE
(Adapted from Ina Garten)
Vegetable oil
Kosher salt
1 lb elbow macaroni
1 quart milk
8 TBSP (1 stick) unsalted butter, divided
1/2 cup flour
12 oz Gruyere cheese, grated (4 cups)
8 oz extra-sharp cheddar, grated (2 cups)
1/2 tsp freshly ground black pepper
1/2 tsp grated nutmeg
3/4 lb fresh tomatoes (4 small)
1 1/2 cups fresh white bread crumbs (5 slices, crusts removed) or 3/4 cup panko
Preheat the oven to 375 degrees F. Drizzle oil into a large pot of boiling salted water. Add the macaroni and cook according to the directions on the package, 6 to 8 minutes. Drain well. Meanwhile, heat the milk in a small saucepan, but don't boil it.
Melt 6 tablespoons of butter in a large (4-quart) pot and add the flour.
Cook over low heat for 2 minutes, stirring with a whisk. While whisking, add the hot milk and cook for a minute or two more, until thickened and smooth.
Off the heat, add the Gruyere, cheddar, 1 tablespoon salt, pepper, and nutmeg.
Add the cooked macaroni and stir well. Pour into a 3-quart baking dish.
Slice the tomatoes and arrange on top.
Melt the remaining 2 tablespoons of butter, combine them with the fresh bread crumbs, and sprinkle on the top. Bake for 30 to 35 minutes, or until the sauce is bubbly and the macaroni is browned on the top.
***To make ahead, put the macaroni and cheese in the baking dish, cover, and refrigerate until ready to bake. Put the tomatoes and bread crumbs on top and bake for about 40 to 50 minutes.

ITALIAN CHOPPED SALAD
(Adapted from Honey and Brie)
2 cups chopped spinach
3 cups chopped baby romaine
1 cup chickpeas (drained)
1/2 cup julienne cut salami
1 cup chopped cooked chicken (I used a Rotisserie)
5-7 leaves of basil, chopped
1/2 cup chopped grape tomatoes
1/2 cup shredded mozzarella
For the Vinaigrette:
2 TBSP extra virgin olive oil
1 TBSP red wine vinegar
juice of half a lemon
1/4 tsp whole grain mustard
1 TBSP of chopped basil
1 TBSP fresh parmesan cheese
pinch of salt and pepper (to taste)
In a large bowl mix the greens together. Top with chickpeas, salami, chopped chicken, cheese, tomatoes, and basil.
In a small bowl whisk together olive oil, red wine vinegar, lemon juice, mustard, basil, and parmesan cheese. Add S and P to taste.
Toss salad with vinaigrette right before serving.
APPLE TOFFEE BARS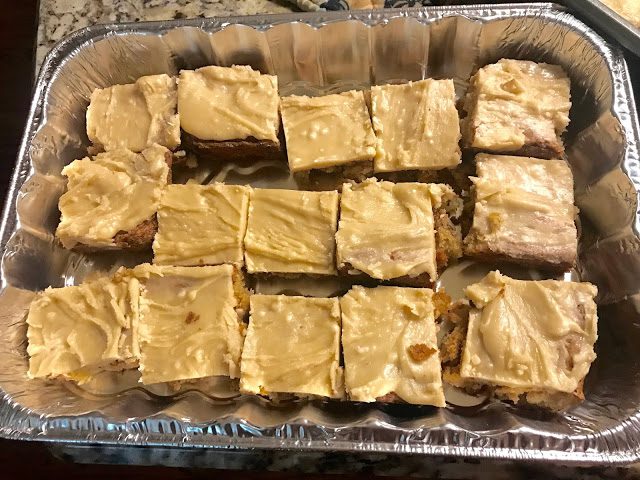 2/3 cup butter, at room temp (equivalent is 11 TBSP + 1 tsp butter)
2 cups packed light brown sugar
2 eggs
2 tsp vanilla
2 cups flour
2 tsp baking powder
1/2 tsp salt
1 cup peeled, chopped Granny Smith apple (1 large)
1/2 cup toffee bits (such as Heath)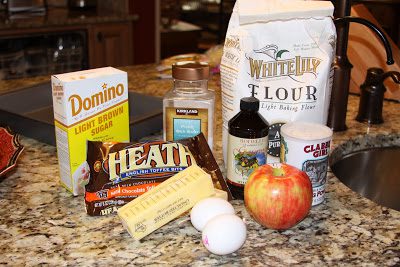 Preheat oven to 350 degrees F. Spray 9×13 baking pan lightly with cooking or baking spray.
Cream butter and brown sugar in mixer until smooth. Add eggs and vanilla and beat on medium until combined.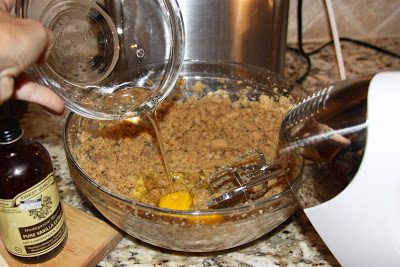 Add flour, baking powder, and salt and mix until just combined.
Stir in the chopped apples and toffee bits until evenly distributed.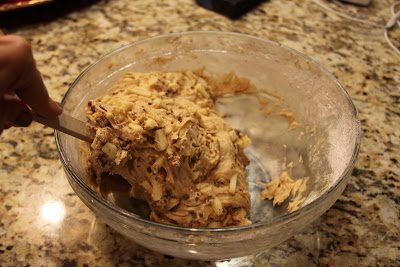 Spread in prepared pan.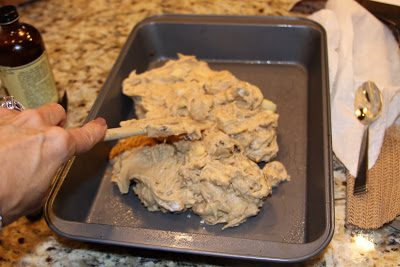 Bake for 30 minutes until the center is set. Let cool completely before slicing or frosting.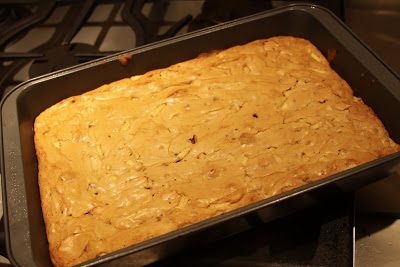 Frosting:
1/2 cup butter
1 cup packed light brown sugar
1/4 cup milk
2 cups powdered sugar
Melt butter in a medium saucepan. Add brown sugar and milk and bring to a boil.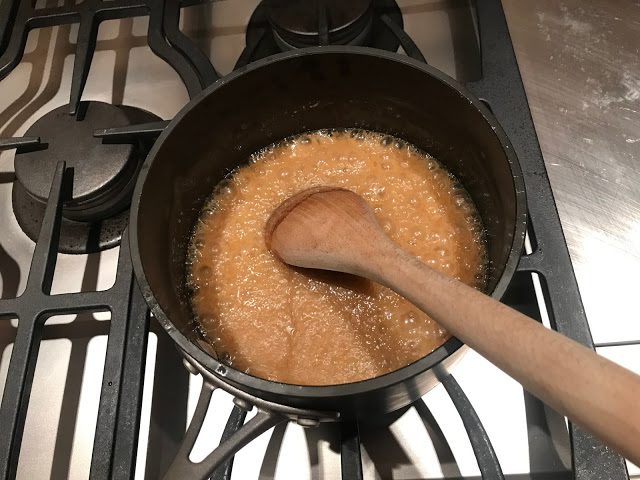 Remove from heat. Let cool for 5 minutes. Stir in powdered sugar with a whisk.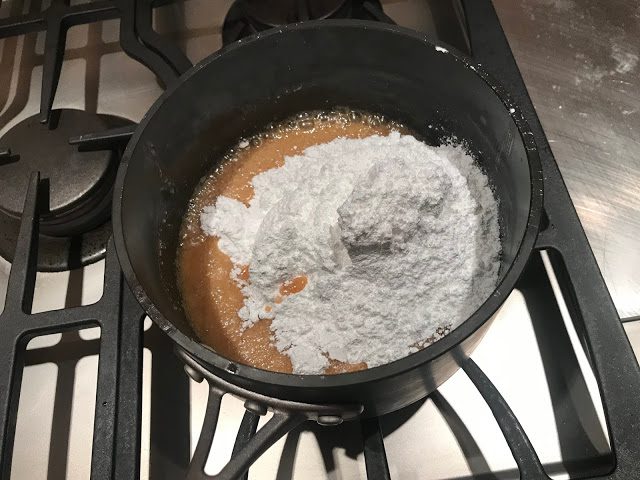 Let cool until it thickens enough to spread. Stir before spreading on top of blondies. Let frosting set for 30 minutes and then cut into bars.
THE STINGER
2 quarts pineapple juice
2 liters ginger ale
1 fifth of vodka
2 oranges, sliced
1 – 2″ piece of ginger, cubed
Mix all of the ingredients in a large container. Serve over ice and enjoy!
GAME DAY PICS:
So we at least won the tailgate!
AND – the night before had a ball at Elton John's farewell tour: