Georgia Tech had a big win last week over Western Carolina, and we now face SEC's Ole Miss. We have friends who are Ole Miss fans joining us along with a slew of other friends, so it should be our biggest tailgate we've had in Atlanta! Cannot wait!
GEORGIA TECH YELLOW JACKETS
vs
UNIVERSITY OF MISSISSIPPI LAND SHARKS (formerly the Rebels)
Saturday, September 17th at 3:30PM
Tailgate Start: 12:30PM
And…since it's not a brunch/noon game, I'm fixing my favorite main course = beef tenderloin sliders! Everyone loves them and I'll serve them with carmelized onions, Swiss cheese and horseradish sauce. Doesn't get any better than that in my book. Here's what else I'm serving:
MENU
CRAB DIP with crackers
DIRTY MARTINI DIP with potato chips
BEEF TENDERLOIN SLIDERS with carmelized onions, Swiss cheese and horseradish sauce
STUFFED MINI BAKED POTATOES
MEDITERRANEAN QUINOA SALAD
DESSERT: What else? MISSISSIPPI MUD!
DRINK DU JOUR: APEROL PUNCH (with shark gummies)
MY CRAB DIP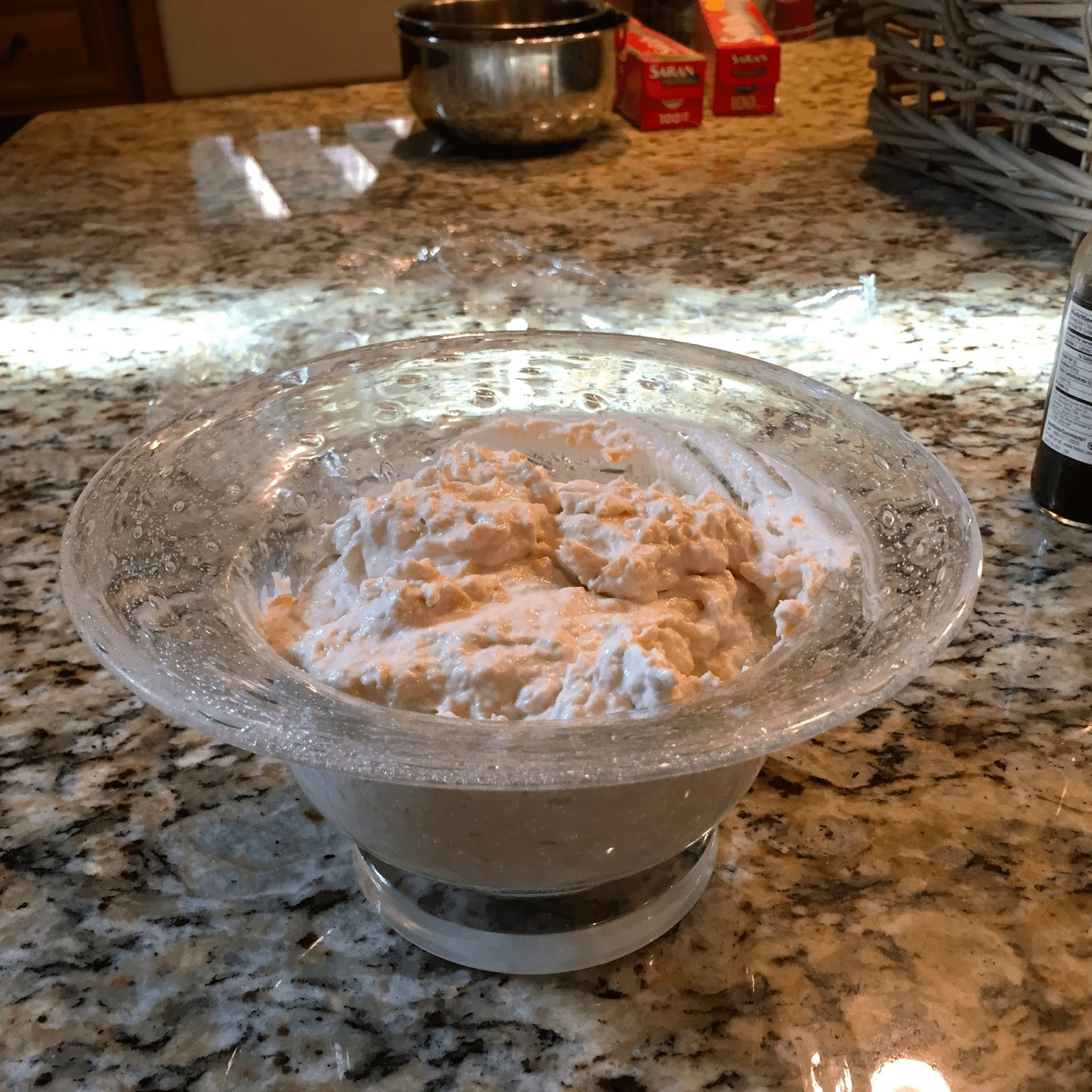 It gets no easier than this appetizer. Mix all ingredients and you're done! It's better if you can make it a day or two ahead and chill to allow the flavors to blend. Perfect appetizer for warm weather.
1/2 cup sour cream
2 TBSP mayonnaise
1 package (8 ounces) cream cheese, softened (I use lower fat)
1 tsp horseradish
1/2 tsp dry mustard
1/2 tsp onion powder
1/4 tsp white pepper
1/2 tsp Worcestershire sauce
1/4 tsp hot pepper (I use tabasco)
1 tsp lemon juice
1 cup shredded Cheddar cheese
12 oz crab meat
paprika, to top
Combine all ingredients, and mix. Place in a serving bowl, and sprinkle with paprika before serving.
DIRTY MARTINI DIP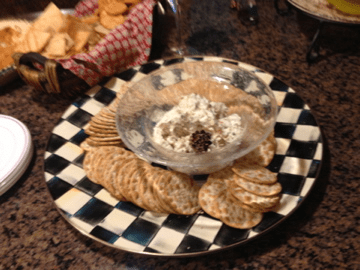 What could be better than a Dirty Martini? I love them, and this dip has all the ingredients! It's cold, salty, olive flavored with a bit of heat = SO YUMMY!
1 8oz pkg cream cheese, softened
1 8oz jar of chopped green olives, drained but reserve juice
1/8 tsp black pepper
2 minced garlic cloves
4 green onions, chopped both tops and green
1/4 tsp garlic salt
~ 1/4 cup mild pickled jalapeno peppers (optional)
1 oz vodka, optional
Combine all ingredients and blend until well mixed.Add some olive juice if desired for that Dirty Martini flavor! Chill for at least 1 hour if not 24 hours to 2 days. Then can toss in a bit of vodka just before serving if you want. ;0)
GRILLED BEEF TENDEROIN SLIDERS
(Adapted from Ree Drummond)
This recipe is my favorite grilled beef tenderloin one! It's easy and hands down the best recipe for a moist delicious filet mignon. We're taking it a step further and slicing it up thin, addition carmelized onions and horseradish sauce and putting it on a roll. My mouth is already watering!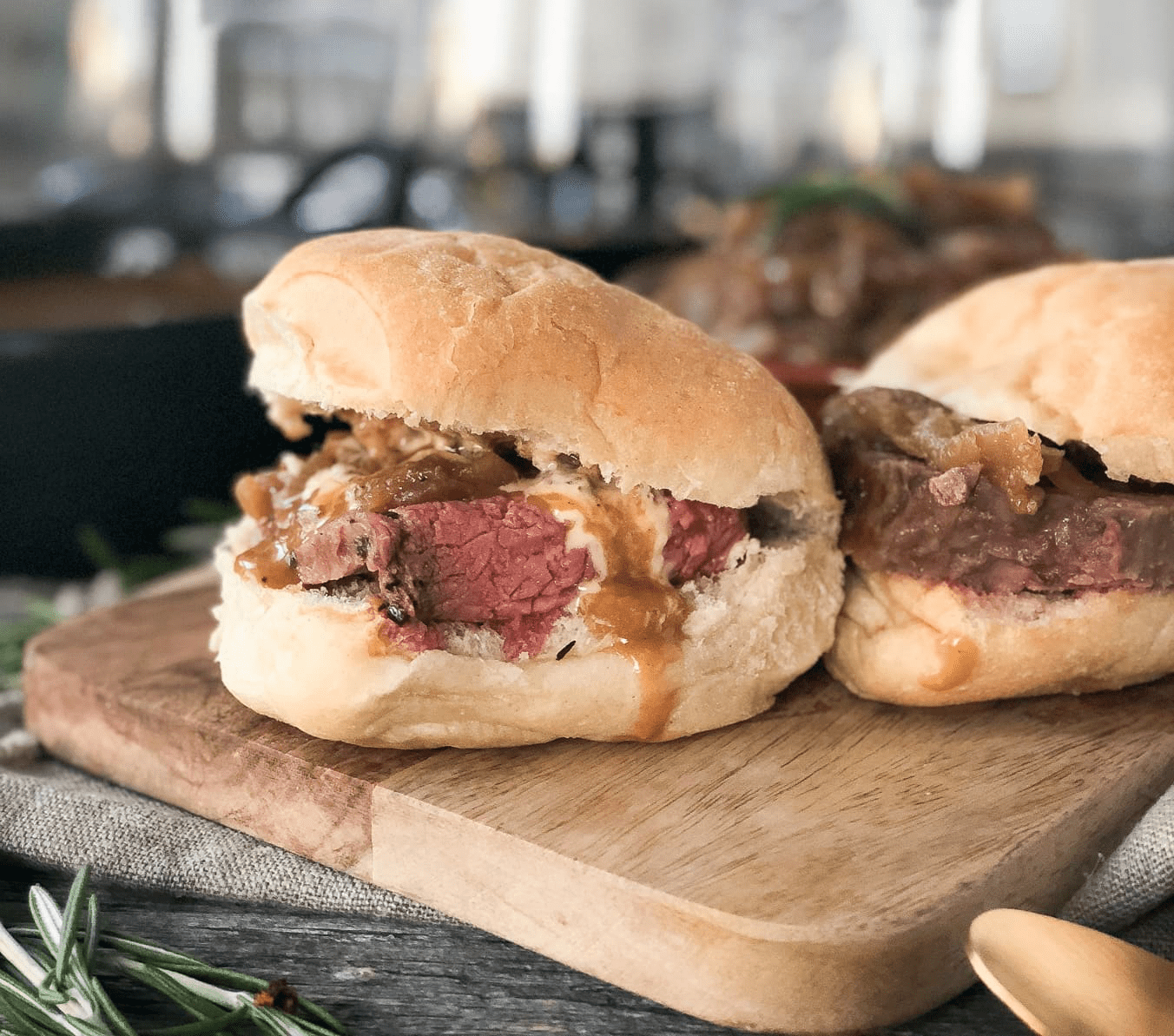 1 whole beef tenderloin
2 sticks salted butter, melted and slightly cooled
3 TBSP Seasoned Salt, more to taste
3 TBSP Lemon Pepper seasoning, more to taste
IMPORTANT: Be careful with the melted butter, as it gets very hot on the grill.
Using a sharp knife, carefully trim the silvery, tough membrane off the top of the tenderloin, leaving all the sections of the tenderloin intact. Place it into a heavy duty foil roasting pan and pour on the melted butter. Sprinkle on some of the seasonings, then place the pan on the grill.
After the butter starts to get hot, let it cook for a good 10 minutes, then turn it over and season the other side. Turn the tenderloin every 7-8 minutes, or as it starts to brown. If butter cooks away, add more!
Cook the tenderloin, turning occasionally, for a total of 20 to 30 minutes, depending on how thick it is. If using a meat thermometer, remove it when the temperature reaches 125 to 130 degrees. 
Transfer the tenderloin to a large baking sheet or cutting board and let it rest for 5 to 10 minutes before slicing.
Slice as thin or thick as you'd like! You will be amazed with how incredibly delicious and moist tenderloin you end up with.
CARMELIZED ONIONS
Carmelized onions are so delicious and wonderful! Be aware though – – – they take a LONG time to cook. The last time I made them it took an hour or a bit more. But, it's worth it in the end and so nice that you can make them in advance. I doubled the recipe to make sure I had enough for my tailgate crowd.
Bag of medium or large onions
1-2 TBSP Extra virgin olive oil
1-2 TBSP Butter
1 tsp salt
1-2 tsp Sugar
Balsamic vinegar, optional

Use a wide, thick-bottomed sauté pan. Coat the bottom of the pan with olive oil and butter,
Heat the pan on medium high heat until the oil is shimmering. Add the onion slices and stir to coat the onions with the oil. Spread the onions out evenly over the pan and let cook, stirring occasionally.
Depending on how strong your stovetop burner is you may need to reduce the heat to medium or medium low to prevent the onions from burning or drying out.
After 10 minutes, sprinkle some salt over the onions, and if you want, you can add a teaspoon or so of sugar to help with the caramelization process. One trick to keeping the onions from drying out as they cook is to add a little water to the pan.
Let the onions cook for 30 minutes to 1 hour more, stirring every few minutes until getting dark brown. After 20 minutes mine looked like this:
As soon as the onions start sticking to the pan, let them stick a little and brown, but then stir them before they burn.
The trick is to leave them alone enough to brown (if you stir them too often, they won't brown), but not so long so that they burn. After the first 20 to 30 minutes you may want to lower the stove temperature a little, and add a little more oil, if you find the onions are verging on burning.
A metal spatula will help you scrape up the browned bits from the bottom of the pan as the caramelization proceeds. As the onions cook down, you may find you need to scrape the pan every minute, instead of every few minutes.
Continue to cook and scrape, cook and scrape, until the onions are a rich, browned color. At the end of the cooking process you might want to add a little balsamic vinegar to help deglaze the pan and bring some additional flavor to the onions.
Store in an air-tight container up to 5 days. All packed up and ready to transport to my tailgate:
STUFFED MINI BAKED POTATOES
3 lbs small potatoes
Olive oil (for coating the potatoes)
Coarse salt (for coating potatoes)
8 slices thick-cut bacon
5 each sliced green onions (green portion only)
1 cup sour cream
¾ cup whole milk
2 Tbsp heavy whipping cream
5 Tbsp unsalted butter, softened
2 tsp coarse salt
1 tsp black pepper
1 tsp white pepper
1½ cups sharp cheddar cheese, shredded
Place 2 wire racks inside of 2 sheet pans.
In a bowl, lightly coat the potatoes with olive oil and coarse salt.
Put the potatoes on top of the racks, leaving some space between each potato, then set aside.

Set another rack inside of another sheet pan. Lay the strips of bacon on top of the cooling rack, leaving a small space between each strip.

Preheat oven to 350 degrees F. Once preheated, put the potatoes and bacon in the oven, and bake for 35–45 minutes.
When the food is nearing completion, check the internal temperature of a few potatoes. They'll be ready to come out when the internal temperature is between 205 and 215 degrees.
Remove the bacon and potatoes from the oven, setting the bacon on paper towels and let the potatoes cool for about 10 minutes.

Once cooled, chop the bacon into bits and divide them in half. Set half aside, and place the other half in the refrigerator until needed.
Slice the green onions finely.
Slice each potato in half..
Remove most of the flesh (the inside) from each potato half and place into a large mixing bowl. As you spoon out the flesh, set the remaining potato skins back onto the rack. If there are potatoes too small for stuffing, just slice them in half, remove the flesh, and discard the potato skin.

Add the sour cream, milk, heavy whipping cream, butter, salt, black pepper, and white pepper to the potato flesh in the mixing bowl. Blend with a hand mixer, blending until just incorporated. DO NOT OVER-MIX or you'll have glue. Can be a bit lumpy. After mixing, fold in half of the cheese along half of the green onions.


Spoon or pipe the filling into each of your potato skin halves, then set them back onto the cooling rack. Once all skins have been stuffed, you can cover and refrigerate for up to 2 days before grilling.

When ready to grill, remove the stuffed mini potatoes from the refrigerator and sprinkle the tops of each with the remainder of the green onions, bacon bits and cheese.
Preheat grill to a medium-high temperature.
Place the mini potatoes on the grill and cook for about 5 minutes, or until the cheese begins to melt and the bottoms of the potatoes begin to brown.
Remove the mini stuffed potatoes from the grill, serve immediately. The potatoes will remain good for about 45 minutes to an hour after grilling..
MEDITERRANEAN QUINOA SALAD
(Adapted from Love and Lemons)
3 cups cooked quinoa
Roasted Tomatoes
2 cups arugula
1 cup sliced Persian cucumbers
1 cup mixed basil & mint
¾ cup crumbled feta cheese
¾ cup Kalamata olives, pitted and sliced
½ cup diced red onion
⅓ cup toasted pine nuts
1 recipe Italian Dressing
½ teaspoon salt
Freshly ground black pepper
1 cup roasted chickpeas
In a large bowl, combine the quinoa, roasted tomatoes, arugula, cucumbers, herbs, feta, olives, onion, and pine nuts.
Toss to combine, then drizzle with the dressing and toss again. Sprinkle with the salt, pepper, and a few pinches of red pepper flakes, and toss again. Top with the roasted chickpeas and serve.
MISSISSIPPI MUD
1 cup unsalted butter, room temp
2 cups sugar
1/3 cup unsweetened cocoa
4 large eggs
1/4 tsp salt
1 1/2 cups flour
1 tsp vanilla
1 1/2 cups coarsely chopped pecans, optional
2 cups miniature marshmallows
Preheat oven to 350 degrees F. Mix butter and sugar.
Add eggs and mix well.
Sift dry ingredients, and add to the butter mixture, then add vanilla (and nuts if desired).
Pour batter into a greased and floured 9×13 baking pan. Bake about 25-30 minutes (until a wooden pick comes out clean) and then pour mini marshmallows on top. Return to the oven and bake an additional 5-10 minutes – just until lightly browned. Remove from oven and frost immediately.
FROSTING
1 (16-oz) package powdered sugar, sifted
1/2 cup evaporated milk
1/2 cup butter, softened
1/3 cup unsweetened cocoa
1 tsp vanilla
Mix all ingredients together in a bowl. I start with the butter and sugar and cocoa, and then add the milk. You may add a bit more or less depending on the consistency you prefer. Lastly add the vanilla. Spread on the warm cake. Cool completely. Freezes beautifully.
APEROL PUNCH (adapted from Giada)
1 cup Aperol
1 (12 oz) can grapefruit seltzer, such as La Croix
1  bottle of prosecco 
1 tsp angostura bitters
1 orange slice
To serve 4:
In a large pitcher or punch bowl combine the Aperol, La Croix, prosecco and bitters. Add a cup full of ice and stir to combine. Serve over ice with a slice of orange.
I'm also topping with a gummy shark so we can "DOWN THE LANDSHARKS!" (Ole Miss' new mascot).
Those were bought here.
OOTD!
Found this Gretchen Scott navy top recently and it will be perfect paired with a gold/yellow skirt I have:
The top can also be found here.
Here's the skirt – still available here.
And top it off with a gold layered necklace like this one, some cute sneakers and I'm set.
POST GAME PICS: