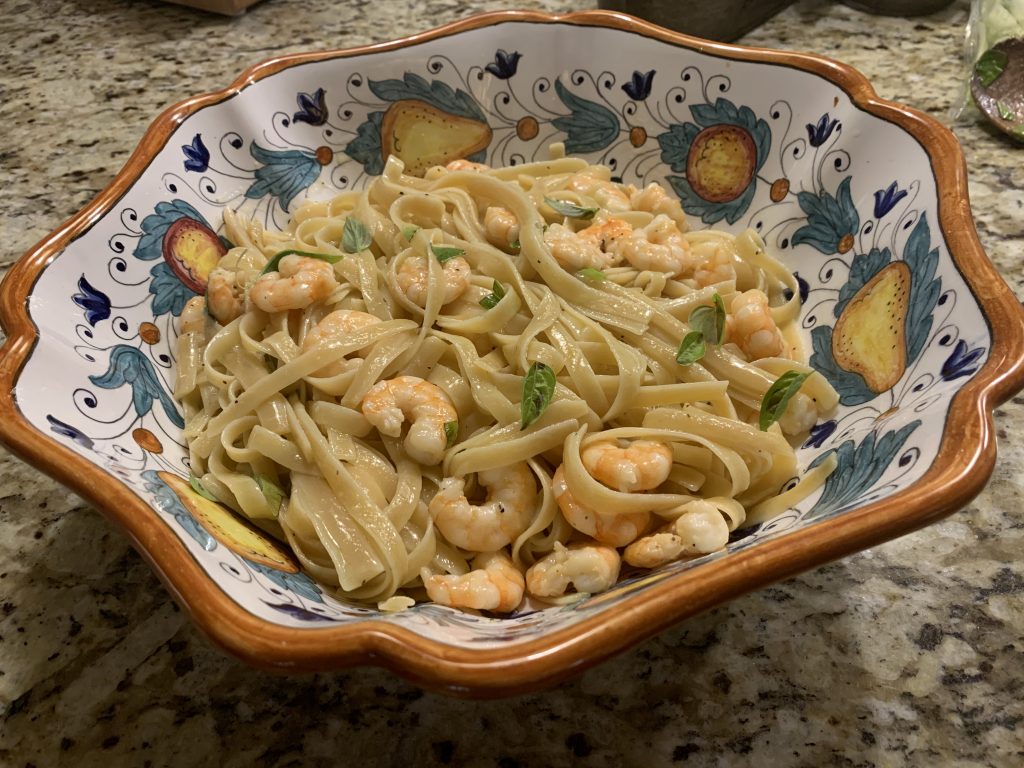 Having just returned from an incredible two weeks in Greece and Italy, I came home craving MORE pasta and seafood.
This recipe fit the bill as I had fresh shrimp from Mayport, Florida in my freezer from my last visit there. It's full of flavor with the amazing shrimp, fresh lemon and garlic along with fresh basil from my garden. ABSOLUTELY DELICIOUS!
SHRIMP SCAMPI WITH FETTUCCINE
(Adapted from Southern Living)
1/4 cup plus 1 1/2 tsp Kosher salt, divided
12 oz uncooked fettuccine
1/3 cup extra virgin olive oil
1 lb large, peeled and deveined shrimp
1/4 tsp black pepper
1/4 cup dry white wine
3 garlic cloves, minced
1/4 cup (1/2 a stick) unsalted butter, cut up into 4 pieces
2 TBSP fresh lemon juice
1/3 cup fresh basil leaves torn, plus more for garnish if desired
Place 4 quarts water in a a large pot, and bring to a boil over high. Add 1⁄4 cup of the salt, and stir until dissolved. Add pasta, and cook until al dente, about 9-10 minutes. Ladle out 1 cup of the cooking water, then drain the pasta completely. Set aside.
Heat olive oil in a large skillet over medium-high. Add shrimp; sprinkle with pepper and 1⁄2 teaspoon of the salt.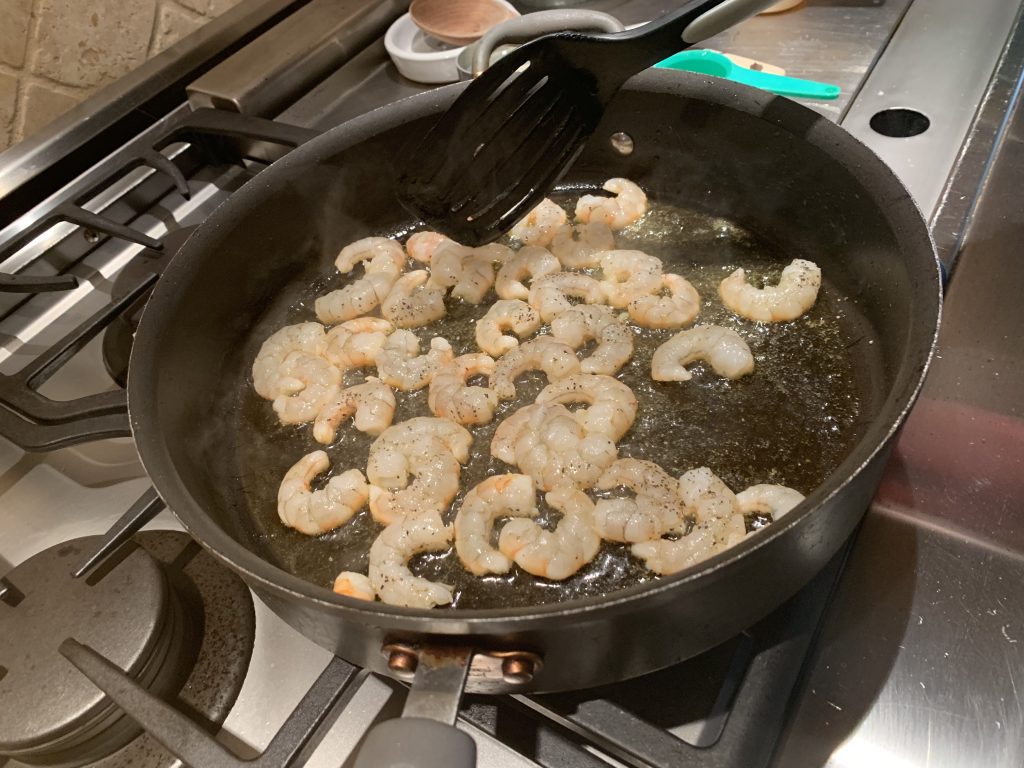 Cook, stirring occasionally, until shrimp about 30 seconds. Add wine and garlic; continue cooking, stirring occasionally, until shrimp are mostly cooked through, about 1-2 minutes.
Add pasta and 1⁄4 cup of the cooking water; bring to a simmer.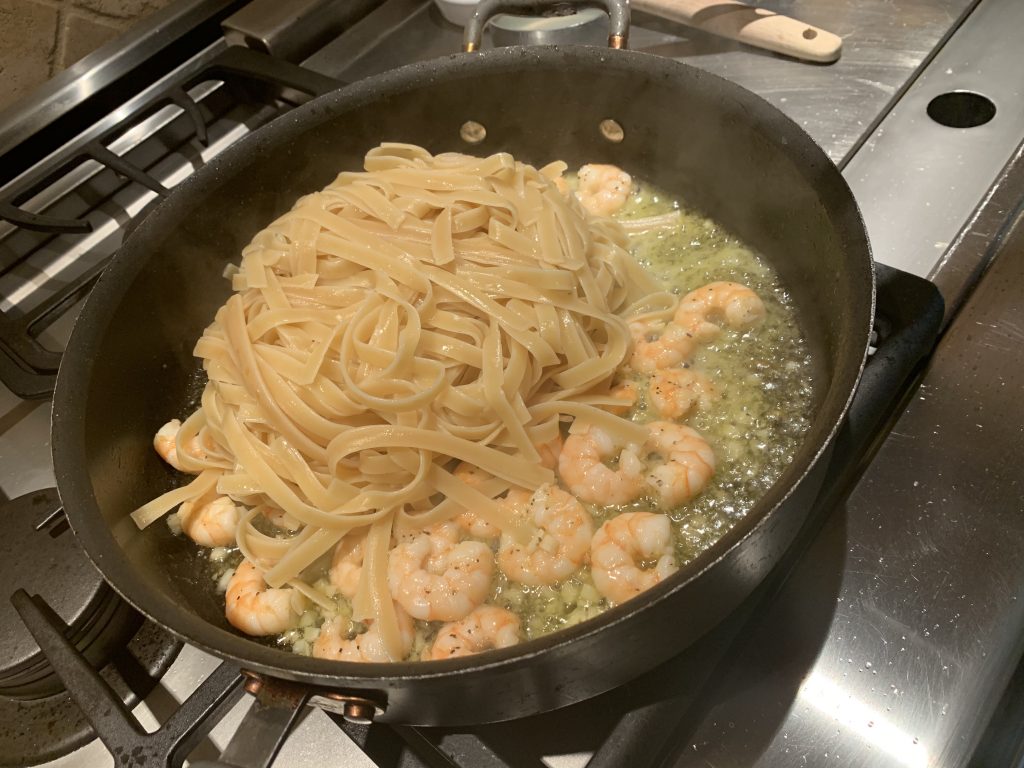 Add butter, lemon juice, and remaining 1 teaspoon salt. Cook, stirring constantly, until sauce thickens and coats pasta, about 1 minute, adding more cooking water, 1⁄4 cup at a time, if needed.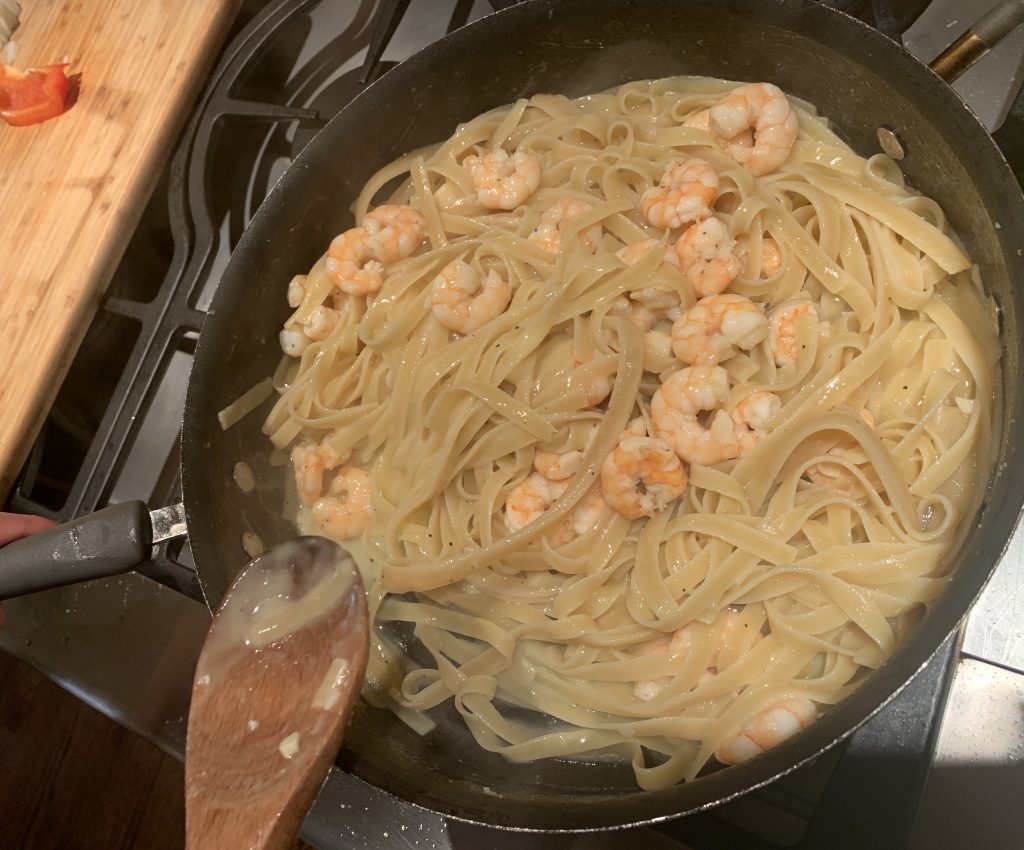 Remove from heat. Stir in torn basil.
Top if desired with basil leaves and black pepper. Serve with good crusty bread, a salad and a glass of Sauvignon Blanc. ENJOY!