For our first tailgate of the season we flew to Dublin, Ireland to cheer on the Georgia Tech Yellow Jackets as they faced Boston College.
I blogged about our travels throughout Ireland, so am going to copy our game day plans from that blog (http://6daysinireland.blogspot.ie).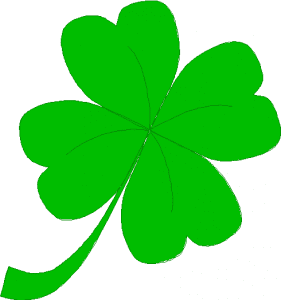 Suffice to say, "Tailgating" is an unfamiliar term to the Irish.  What they do "pre-game" is hit up a local pub, and then head over to the game.  We decided to do the same.  And weather wise – it was atypical for Ireland – rainy and cool.
Here's how our day looked:
SATURDAY, SEPTEMBER 4, 2017
We are heading out in about an hour to begin our big GT tailgate party in Dublin. We're meeting 15-30 people at The Chop House near the Aviva Stadium at 10:15am.
The football game begins at 12:30pm. Yesterday's weather was spectacular. Today: Weather forecast = 100% chance of rain. Hmmmmm.
Rainy view from our hotel room: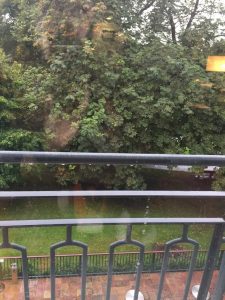 Today's Game Day Gear: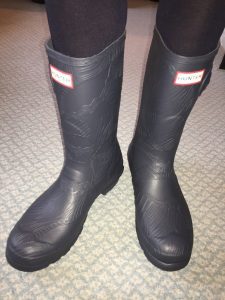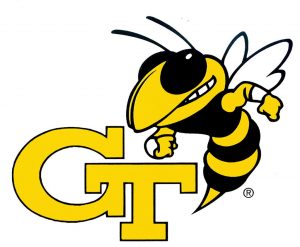 Ready to go!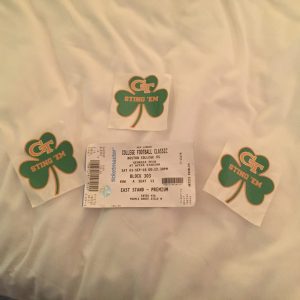 We arrived at The Chop House (http://thechophouse.ie) and ended up with 22 of our friends and family at the GT Tailgate.We had eaten there the day before at lunch to make sure it was what we wanted for our group, and the owner, Kevin, could not have been more gracious and accommodating.  The gastropub is outstanding (and was featured on Anthony Bourdain's show when he visited Dublin).  If you're in Dublin – it's a MUST GO TO spot.  Really amazing food and fun atmosphere.
Hollis Barton, myself and Doug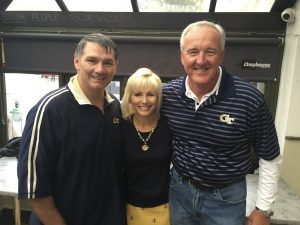 Hollis' former teammate at Furman, Oliver and Hollis: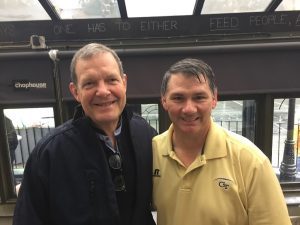 Our space at The Chop House – dry and warm!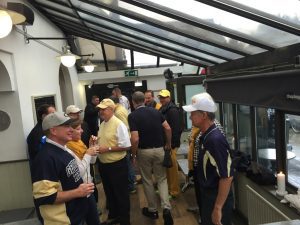 Tom and Ginny and their friends: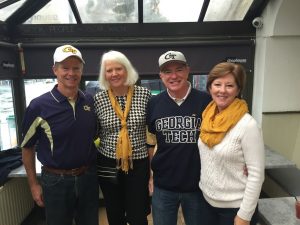 Doug, Chuck, Mike, David and Tim: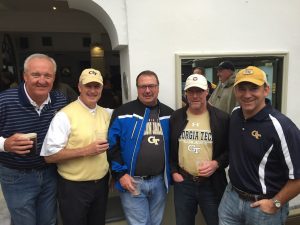 Doug, Tom, Ginny and myself: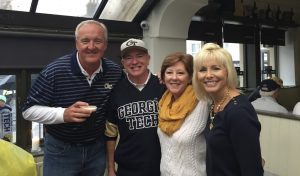 Here we are with our Ireland travel partners from the week (Brian and Karen) whose daughter attends Boston College: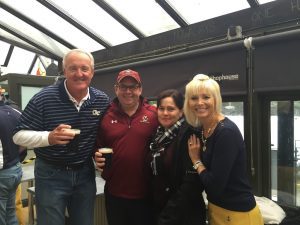 Our Baps (Irish breakfast sandwiches) that we provided our friends:
A fresh roll, with streaky bacon, black pudding, sauce and sausage – yes, sort of a heart attack in a bun….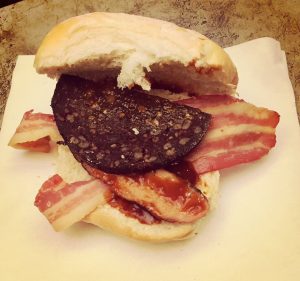 And this is the Irish version of a Bloody Mary – half a pour, no ice (we had to beg for some) and no olives. BUT – after the ice was added – it was really great! Most opted for a Guinness however.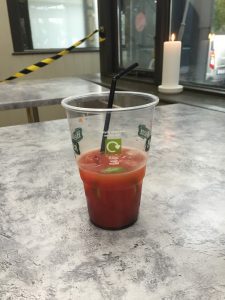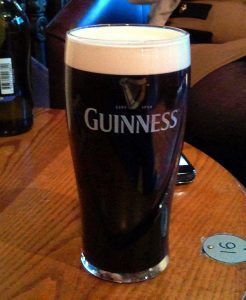 A pic with my cousin who flew over from London to join us: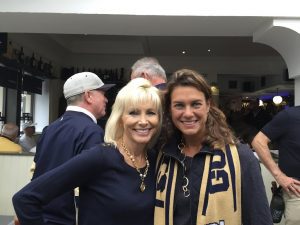 Hollis, myself and Tommy (TR) Roberts (who was a trainer at GT when Doug played football there):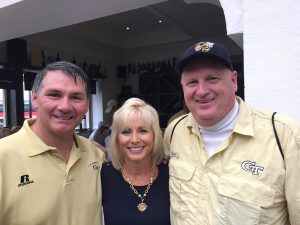 Our "neighbor" at GT Basketball games, Bobby: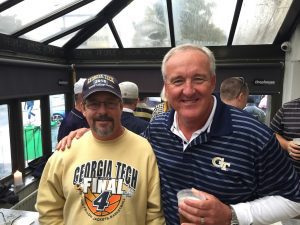 The rest of The Chop House was PACKED with GT fans: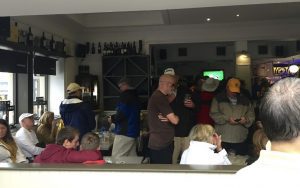 We finally ended the tailgate and trudged forward in the rain and wind to the stadium:
Doug and Brian outside the Aviva Stadium: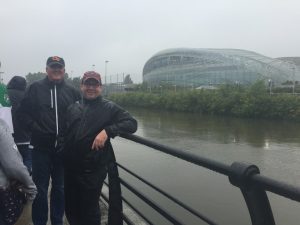 The Aviva stadium is just so cool!  Here's a pic from the Aer Lingus College Football Classic website: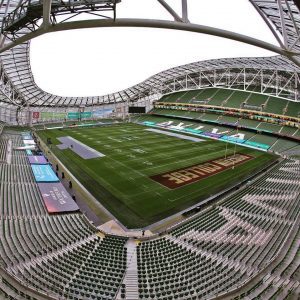 AHHHH! Inside we were warm and dry and had coverage where our seats were located.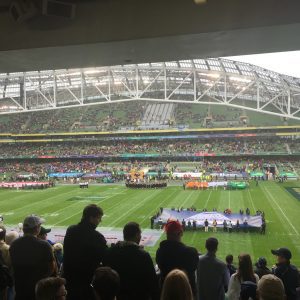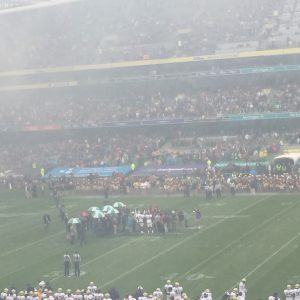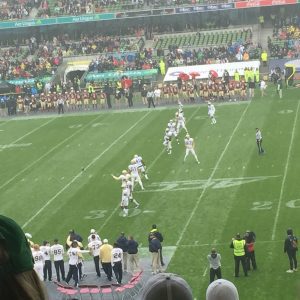 Karen and I watched most of the game in the interior level – best seats in the house!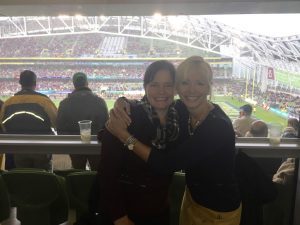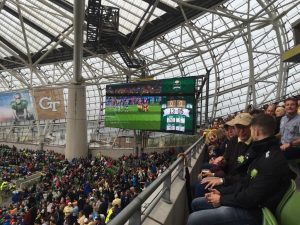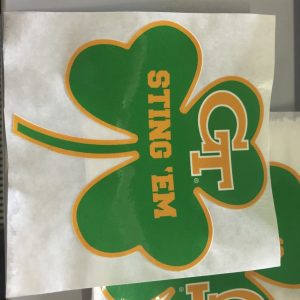 We ran into Tommy Cooksey near our seats (former GT teammate of Doug's and now neighbor, whose son plays at GT now):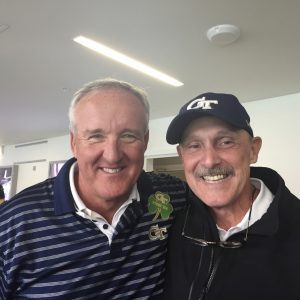 And….
GEORGIA TECH WON THE GAME!!!!!
The official attendance at the game was 40,562! That number is a record for the Aer Lingus College Football Classic!  And I'd bet on the fact that the vast majority of those that traveled to Dublin were GT fans!
Unfortunately we have another obligation and won't be tailgating at the first HOME game this weekend, but we'll be at the September 17th game versus Vanderbilt, and already we have a large group that will be joining us.
Until then – HAPPY TAILGATING!  So excited for football season!!!
SaveSave