I can't believe it but on September 11, 2021 I'll be hosting the FIRST TAILGATE IN 2 YEARS!!! We missed last weekend's Georgia Tech game over Labor Day (which maybe wasn't such a bad idea since they suffered a big loss!), so we're super excited to watch them this weekend.
Can't believe how crazy the past year and a half has been, but I'm happy we are slowly returning to normalcy post-pandemic for the most part. Very excited to see friends and family at tailgate events but also very excited to watch football games in person!
This game is a 12PM kickoff, so that means a 9AM tailgate start which = BRUNCH!
I've pulled together a savory and sweet menu including a themed drink (with fruit juice, so that's "Brunch" appropriate right???). And hoping for a big win this Saturday!
FOOTBALL GAME:
GEORGIA TECH
vs
KENNESAW STATE
MENU:
SMOKED SALMON SPREAD with chips
FAB FRUIT SALAD
BREAKFAST SLIDERS
BRUNCH ARUGULA SALAD
LEMON LOAF POUND CAKE
BLUEBERRY MUFFIN BREAD
HOOT HOOCH
SMOKED SALMON SPREAD with chips
1 (8 oz) package cream cheese, softened (I use 1/3 low fat)
6 oz smoked salmon, chopped
¼ cup capers, drained and rinsed
2 TBSP chopped green onion
1 TBSP chopped fresh dill
¼ cup heavy whipping cream
1/4 tsp Worcestershire sauce
3-5 drops hot pepper sauce (like Tabasco)
1 tsp lemon juice
chips of your choice (or baguette sliced and/or toasted)
Pulse cream cheese in a food processor to soften. Add all remaining ingredients, and process the mixture again until creamy and smooth.
Serve with sliced potato chips or French bread slices. Can easily be made 1-2 days prior and refrigerated before serving (it's actually even better the day after!). AND the spread is fabulous on a toasted bagel!
FAB FRUIT SALAD
1 lb sliced strawberries
6 oz raspberries
6 oz blackberries
6 oz blueberries
2 cups chopped pineapple , about 1/2 a regular pineapple
1 cup pomegranate arils
1-2 TBSP granulated sugar
2 tsp vanilla extract
1-2 TBSP chopped fresh mint
In a large bowl combine the strawberries, raspberries, blackberries, blueberries, pineapple, and pomegranate.
Add the sugar, vanilla and mint and toss well to coat.
BREAKFAST SLIDERS
(Adapted from The Cookie Rookie)
10 eggs
salt and garlic pepper or regular black pepper to taste
1 pkg 12 rolls sweet rolls
12 slices Sharp Cheddar
1/2 pound thinly sliced honey ham
1/4 cup salted butter melted
1 TBSP brown sugar 1 TBSP whole grain dijon mustard
Preheat oven to 350 degrees F.
Scramble the eggs over medium heat, adding salt and garlic pepper to taste. Once scrambled to your liking, set aside.
Spray a small sheet pan with nonstick spray or line with foil.
WIthout separating the rolls, cut the entire group in half lengthwise. Place the bottom half on the sheet pan.
Top with 6 slices of cheese, covering the bottom section of rolls.
Top with the scrambled eggs.

Top with the ham.
Top with another 6 slices of cheese.

Cover with the top layer of rolls.

Mix together the melted butter, brown sugar, and dijon.
Pour over the tops of the rolls and brush to make sure the rolls are fully covered with the mixture.
Bake for 20 minutes or until cheese is fully melted and the tops of the rolls are golden and crisped.
LEMON LOAF POUND CAKE
(Adapted from handletheheat.com)
For the cake:
3/4 cup flour
3/4 cup cake flour
1 tsp baking powder
1/2 teaspoon fine salt
1 1/4 cups granulated sugar
2 TBSP fresh lemon zest (from about 3 lemons)
2 TBSP fresh lemon juice (from about 1 lemon)
4 large eggs, at room temperature
1/4 cup sour cream or plain yogurt, at room temperature
2 sticks unsalted butter, melted and cooled
For the glaze:
1 cup powdered sugar
1 TBSP fresh lemon juice
1 TBSP milk or cream
Preheat the oven to 350 degrees F. Grease a 9 x 5″ loaf pan.
In a large mixing bowl, sift together the cake flour, flour, baking powder, and salt.

In the bowl of a food processor, combine the sugar, lemon zest, lemon juice, eggs, and sour cream and pulse until combined.
On low speed, gradually drizzle in the melted butter in a slow steady stream until well combined.

Make a well in the dry ingredient mixture. Pour in the wet ingredients. Mix gently with a rubber spatula until just combined. Batter will be slightly thin.
Pour mixture into prepared pan and spread evenly.
Bake until a toothpick inserted into the center comes out clean or with just a few moist crumbs attached, about 50 minutes.

Cool in pan for 20-30 minutes, then, run a knife around the edges before inverting onto a wire rack. Cool before glazing.
Make the glaze:
In a small bowl, whisk together the glaze ingredients until thick but pourable. Add more liquid to thin out or more sugar to thicken until your desired consistency. Spoon over the loaf, letting it drip down the sides if desired. Let set for 15 minutes before slicing and serving.
***The glazed loaf can be covered in foil or plastic wrap and stored at room temperature for up to 2 days OR the loaf can be frozen easily.
BLUEBERRY MUFFIN BREAD
(Adapted from frugalmomeh.com)
1 cup sugar
1/2 cup unsalted butter
2 eggs
1 TBSP vanilla extract
1 cup milk
2 cups flour
2 tsp baking powder 1/2 tsp salt 2 cups blueberries, fresh or frozen
Preheat oven to 350 degrees F. Grease a 9″ loaf pan or line with parchment paper. Cream together the butter and sugar. Add the eggs, vanilla and milk beating well.
Beat in the dry ingredients and until well combined.
Add blueberries, and mix by hand gently with a spatula being careful not to crush the berries.
Pour batter into the loaf pan, and bake for 60-75 minutes or until a cake tester comes out clean.
Allow to cool in pan for 30 -45 minutes before removing to a wire rack. Freezes beautifully.
BRUNCH ARUGULA SALAD


5 oz Arugula
2 1/2 cups grape tomatoes, halved
1 cup mozzarella balls
2 TBSP fresh basil
1 TBSP extra virgin olive oil
2 cloves of garlic
salt & pepper
Balsamic reduction/glaze
On a large plate, bowl or platter lay out the arugula.
In a medium bowl combine tomatoes that have been cut in half, mozzarella balls, sliced basil, olive oil and minced garlic. Toss to combine, then season to taste with salt & pepper.
Pour the tomato and mozzarella over the arugula, drizzle with balsamic glaze and serve immediately.
HOOT HOOCH
We're playing Kennesaw State, and since their mascot is an Owl, I'm serving a Hoot Hooch! Makes 8, so I'll double or triple the recipe. Add more or less fruit depending on how strong you want your punch.
4-8 oz cranberry juice 4-8 oz orange juice
4-8 oz pineapple juice
4 oz Dark Rum
4 oz White Rum or Coconut Rum
2 oz Amaretto
Fresh fruit for garnish, such as orange slices
Mix all together, then stir and chill before serving over ice.
GAMEDAY FASHION FIND
Found this adorable navy and white striped dress here!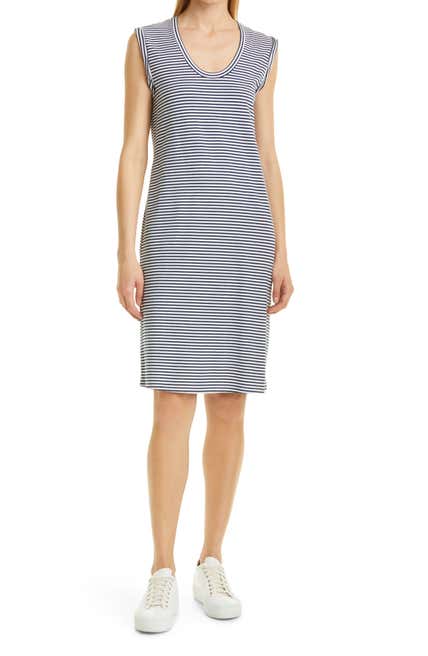 Perfect dress for a HOT late summer game/tailgate! Oh, and bonus points – – it's on sale!
I'll pair with these (notice the "yellow jacket") and call it a day: