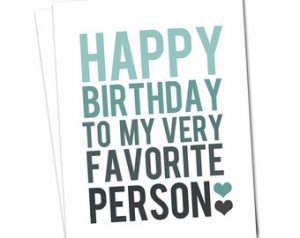 SO, my husband's birthday just happens to fall on our first home game this year for Georgia Tech.  So not only are we excited that college football season is upon us, and tailgating will begin, but we also are having an extra fun weekend celebrating my one and only!  WOO HOO!
We lost a heartbreaker to Tennessee on Monday night, but GT played their hearts out – lost in double overtime after going for a two-point conversion. Tough loss, but they played four quarters of great football!
It's a 12:30pm game, so we'll be up and going strong EARLY, so that means of course = BRUNCH! I'm going with a menu that is almost fully prepared way in advance of our tailgate, so come GAMEDAY, all I have to do is warm a few things, fix a pitcher of our Drink of the Day, and set a tailgate table.
VS
BOBBY DODD STADIUM
Atlanta, Georgia
SATURDAY,  SEPTEMBER 9, 2017


A lot of what I'm serving is "pick-up food" or finger food.  Those dishes are the ones that people tend to go for at a tailgate – so they're not having to use a fork or ladle things onto their plates.
Here's what sounds good to me for this game:
LAYERED BRUNCH SQUARES
VIDALIA ONION DIP AND CHIPS


PUMPKIN DOUGHNUT MUFFINS
BREAKFAST COOKIES

GRILLED PEACHES


DRINK:
GEORGIA TECH PUNCH


LAYERED BRUNCH SQUARES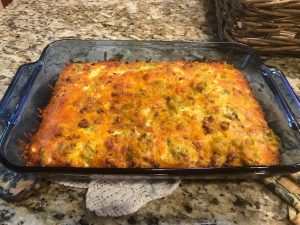 It honestly gets no easier than this breakfast casserole.  It's SO easy to throw together, and it's delicious and carb free! Prep in advance and rewarm if needed.
2 pkgs pork sausage (I used Italian, but you can use hot or mild)
1 small can green chiles
1 sweet onion (preferably Vidalia), chopped
4 oz sharp cheddar cheese, shredded
10 large eggs, beaten
1 tsp salt
1/2 tsp freshly cracked pepper
Hot sauce (such as Melinda's or Tabasco), optional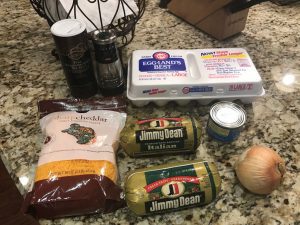 Spray a glass casserole dish (13×7) with cooking spray.  Brown and crumble the sausage, and cook the onions until they're translucent and drain.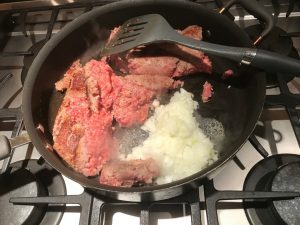 In the casserole dish layer the ingredients as follows:
1. Sausage and onions
2. Green chiles
3. Shredded cheddar cheese
4. Beaten eggs mixed with salt and pepper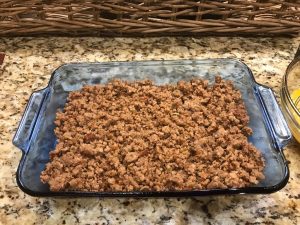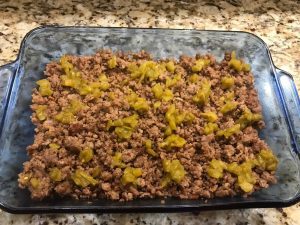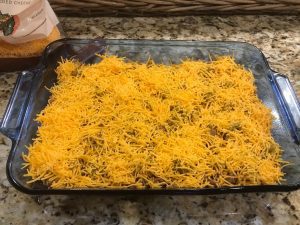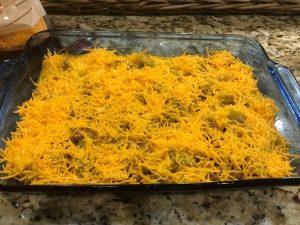 After you've poured the eggs over the first 3 layers, bake the casserole at 375 degrees F for about 35-40 minutes (or until bubbly and eggs are cooked).  Let sit 10 minutes and then cut into squares.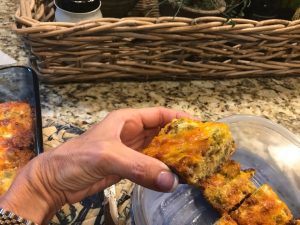 Serve your favorite hot sauce alongside if you like.
***The casserole can easily be made the day before.  Just cool it and then wrap in foil or plastic wrap and refrigerate.  Reheat the next day at your tailgate (on the grill or in a microwave if you have access to one) and enjoy!
VIDALIA ONION DIP
(Adapted from Taste of Home)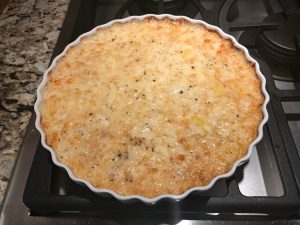 This dip is super easy and yummy (a zestier version of the old standby Artichoke Dip).  Definitely use a sweet onion, so the flavor isn't overpowering.  I'm from Georgia, so the onion of choice is ALWAYS Vidalia…..this dip is a huge crowd pleaser even if you're not a big onion fan – DELISH!
3 cups chopped Vidalia or other sweet onion
2 cups shredded Swiss cheese
2 cups mayonnaise, preferably Hellman's or Duke's
1/4 cup prepared horseradish
1 tsp hot pepper sauce (I use Tabasco)
Fresh coarsely ground pepper
1/4 cup shredded parmesan cheese
Assorted crackers or fresh vegetables or chips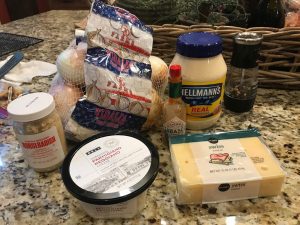 Preheat oven to 375 degrees F. In a large bowl, mix the first five ingredients.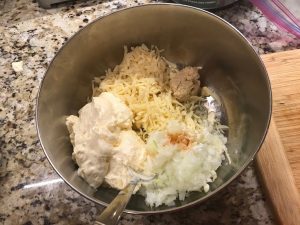 Transfer to a deep-dish pie plate sprayed with non stick cooking spray.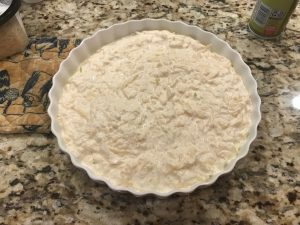 Sprinkle with pepper and parmesan.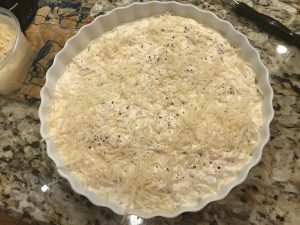 Bake, uncovered, 25-30 minutes or until edges are golden brown, and onion is tender.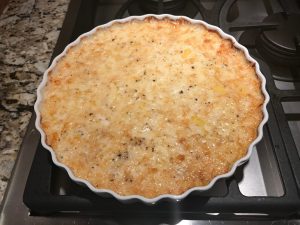 Serve warm with crackers.
***OR you can make in advance, cool and cover, and then reheat before your tailgate party.
PUMPKIN DOUGHNUT MUFFINS
(Adapted from one country)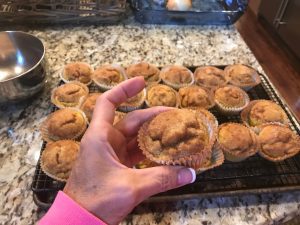 How yummy do these sound?  AND I can make them in advance, which always is a bonus for a tailgate party.  They are probably best when still warm, so you could reheat them a bit for added yumminess!

For the Batter:
10 TBSP (1 1/4 sticks) unsalted butter, room temperature, plus more for pan
3 cups all-purpose flour (spooned and leveled), plus more for pan
2 1/2 tsp baking powder
1/4 tsp baking soda
1 tsp coarse salt
1/2 tsp ground nutmeg
1/4 tsp ground allspice
1/3 cup buttermilk
1 1/4 cups pure pumpkin puree (from a 15-ounce can)
3/4 cup light brown sugar
2 large eggs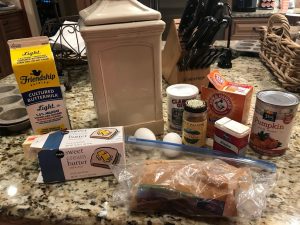 For the sugar coating:
3/4 cup granulated sugar
2 1/2 tsp ground cinnamon
1/2 cup (1 stick) unsalted butter, melted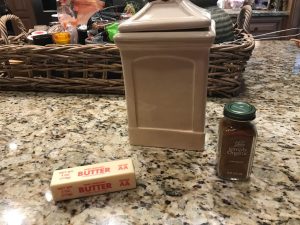 Preheat oven to 350 degrees F. Butter and flour 24 standard muffin cups (or use muffin liners).
Make batter: In a medium bowl, whisk together flour, baking powder, baking soda, salt, nutmeg, and allspice.
In a small bowl, whisk together buttermilk and pumpkin puree.
In a large bowl, using an electric mixer, beat butter and brown sugar until light and fluffy.
Beat in eggs, one at a time, scraping down bowl as needed.
With mixer on low, add flour mixture in three additions, alternating with two additions pumpkin mixture, and beat to combine.
Spoon 1/3 cup batter into each muffin cup (I always use an ice cream scoop – it's the perfect size for cupcake and muffin batter).
Bake eat 350 degrees F  until a toothpick inserted in center of a muffin comes out clean, about 20-25 minutes.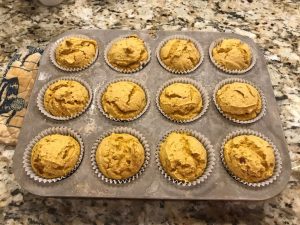 Meanwhile, in a medium bowl, combine granulated sugar and cinnamon.
Let muffins cool 10 minutes in pan on a wire rack. Working with one at a time, remove muffins from pan, dunk all tops in the melted butter, then toss to coat in sugar mixture.
Let muffins cool completely on a wire rack. (YOUR KITCHEN WILL SMELL HEAVENLY!)
Serve immediately or place in an airtight container to serve later.
BREAKFAST COOKIES WITH BACON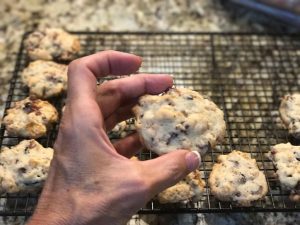 I made some breakfast cookies when I was in high school and still remember how great they were (but, alas, I do not have that recipe any longer).  I stumbled across this recipe however, and it satisfies what I was looking for – a combination between salty/savory and sweet.  You could even add a couple of tablespoons of maple syrup for another "breakfast" flavor.  Another option would be to toss in 1/4 cup of oatmeal to give them a chewier texture (then eliminate the extra 2 TBSP of flour if you do that). Note: my recipe made roughly 2 dozen – double the recipe if you have a big crowd.
12 oz bacon, cooked and chopped
1⁄2 cup butter
3⁄4 cup sugar
1⁄4 cup raisins, optional
1 cup plus 2 TBSP flour
1⁄4 tsp baking soda
2 cups corn flakes
1 egg
Course sea salt for sprinkling
Cook bacon till crisp – then break into small pieces.
Beat together butter and sugar till fluffy.
Beat in egg.
Combine dry ingredients, and mix into butter mixture.
Add the crumbled bacon, corn flakes, and raisins (if using), and stir in with a spoon.
Drop by teaspoonful onto ungreased cookie sheet, about 2 inches apart.  Sprinkle each ball with sea salt.
Bake 350 degrees F for 15 minutes.
Cool 1 minutes, then move to a wire rack.
If transporting to a tailgate, you can make in advance and freeze easily OR if made the day before, just stop in an airtight container and transport the next day to your party.  These will go fast!
GRILLED PEACHES WITH YOGURT
(Adapted from go rving)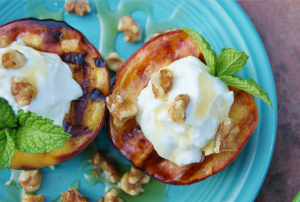 gorving
I always try to have SOMETHING healthy at a tailgate party, and for brunch games, that usually is some sort of a fruit salad.  Those can be really boring (unless you are looking a fun ones on THIS blog!;)), but this recipe jumped out a me, because it's different.  Grilled peaches have shown up on just about every menu this summer (they were even on the signature salad at my daughter's wedding this past June!).  So, being ever trendy, we are serving grilled peaches at this week's tailgate!
They're topped with some yogurt and nuts to add to the healthy factor, but honestly, they're just as delicious plain.  Feel free to be creative with them – you could use maple syrup, cinnamon – whatever sounds good to you!
This recipe serves 4, so adjust your amounts for your party!
1 TBSP canola or olive oil
2 large peaches
Vanilla Greek yogurt
2 TBSP chopped raw walnuts
2 TBSP honey
Fresh mint (optional)
Preheat grill on medium high heat. Cut the peaches in half and remove pits.
Brush all parts of the peaches with oil.
Grill with the cut part down for 2-4 minutes.
Turn over, and grill another 2-4 minutes for grill marks.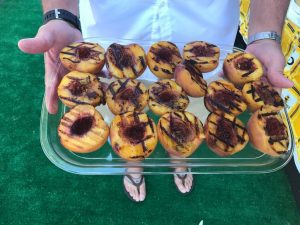 Flip peaches back over onto skin side, and turn heat to low, and grill another couple of minutes until peaches are soft to touch.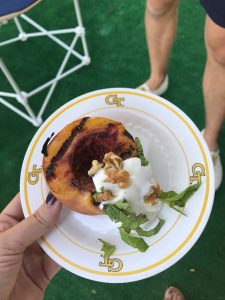 catebogue
Remove from heat, and top with a dollop of Greek yogurt, some chopped walnuts, a drizzle of honey, and mint garnish if you like. These are just delicious!

GEORGIA TECH PUNCH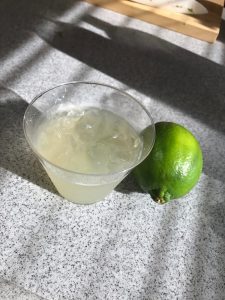 catebogue

We're going to have a big group for this game (and birthday celebration), so I don't want to be tied up making people individual drinks all morning.  Therefore, we're going with a punch that I can prepare first thing that morning, and then guests can serve themselves and enjoy quickly.  And of course the color is golden = GEORGIA TECH COLORS!
This recipe makes a lot, so cut it in half or a third if your crowd is smaller.
1 liter vodka
3 12 oz bottles of your favorite beer (I'm using Corona Light)
3 6 oz containers frozen limeade, thawed
3 1 liter bottles club soda
3 TBSP lime juice
Ice, for serving
Lime wedges, for garnish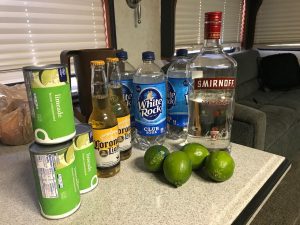 Add the vodka, beer, limeade, club soda and lime juice to a large pitcher or punch bowl, and mix well. Garnish each glass (filled with ice) with a lime wedge to serve.
WHAT TO WEAR?
It'll be a hot Saturday in September, so I'm going with a cool, cute, crisp yet comfy outfit: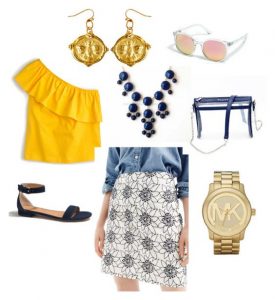 cate-mcclane-bogue for polyvore
*skirt (Nordstrom)
*top (J Crew)
*shoes (J Crew)
*Watch (Michael Kors)
*Bag (Similar here)
*Sunglasses (J Crew Factory- similar ones here)
*Earrings (One Kings Lane)
A pic of the birthday boy (aka my one and only) tailgating at an Auburn game (when our daughter was a student there) a few years back with one of our dogs (Truman):
Post game notes:
We had a great tailgate and a it ended up being a big win for Georgia Tech! And most importantly my better half had a great birthday!
Here are a few pics of the day: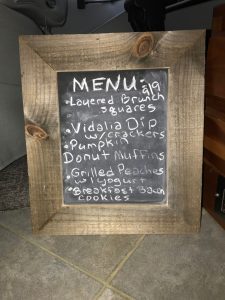 The halved peaches ready to go on the grill:
A few of the birthday boy's cards:
A birthday banner for my husband from our kids:
One of my husband's birthday gifts: a fabulous Georgia Tech pallet sign made by our friend, Andy Burt (wallnut art):
Huge crowd entering Bobby Dodd stadium for their home opener:
And…the outfit was a hit!  Perfect for a gorgeous September sunny day in Atlanta.


*all photos are mine unless otherwise noted
SaveSave
SaveSave
SaveSaveSaveSave