Back to a home game in Atlanta! AND….
IT. IS. FINALLY. A. 

NIGHT GAME!!!!!  


We are beyond thrilled!!!! We'll be watching football under the lights in Bobby Dodd Stadium with the beautiful illuminated Atlanta skyline in the distance. Cannot wait!
Georgia Tech has played 11 of it's past 12 Saturday games at 12 or 12:30pm!  And to play at 7:30?  It'll be the first Saturday NIGHT game since GT played FSU in 2015 (and won!).
GEORGIA TECH YELLOW JACKETS
WAKE FOREST DEAMON DEACONS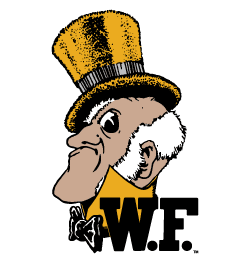 SATURDAY, OCTOBER 21, 2017
It's going to be a gloriously fabulous fall night in Atlanta for this week's game! I'm going with a really great fall dinner menu to whet our appetites and warm us up in the evening.
Football wise – GT lost a heartbreaker to Miami last week after leading for most of the game. 🙁 We SHOULD be undefeated, but sadly are 3-2 (the UCF game was cancelled due to the hurricane).  The 2 losses though were by one point (Miami) and in a 2nd OT (Tennessee).  Here's hoping the jackets are healthy and positive and can pull together and win this week.
Wake Forest is 4-2 coming off of a bye last week, so they've had time to rest. Hoping GT isn't dejected and exhausted after fighting hard in Miami, FL last Saturday…
MENU:
MY FAVORITE CRAB DIP
MY SALSA WITH CHIPS
SOUTHWEST PORK STEW
BEEF TENDERLOIN SLIDERS
WILD RICE SALAD

PEANUT BUTTER CLUSTERS
VODKA APPLE CIDER WITH BASIL
MY FAVORITE CRAB DIP
I've been making this crab dip for as long as I can remember, and I've made many others, but I always return to this one.  I think it's the perfect blend of flavors – crab, creamy cream cheese, tanginess (horseradish and tabasco).  I'll likely double the recipe for my tailgate crowd.
6 oz can crab meat
2 – 8 oz pkgs cream cheese, softened
2 TBSP onion, grated
2 TBSP milk
1/2 tsp horseradish
1/4 tsp salt
1/2 tsp hot sauce (I use tabasco)
Worchestershire sauce to taste
1/3 cup sliced almonds (optional)
Paprika, for sprinkling
Crackers, for dipping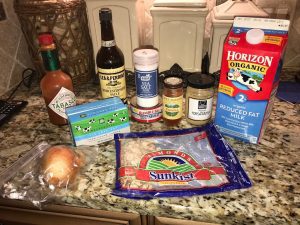 Cream the cream cheese in a food processor, then combine all ingredients (except almonds and paprika).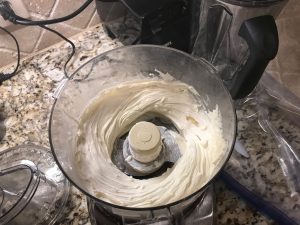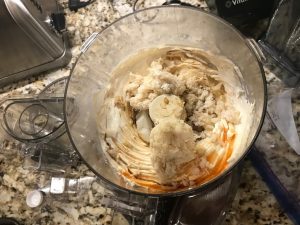 Place in a baking dish and top with almonds and sprinkle with paprika.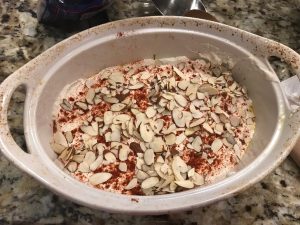 Bake at 350 for 30 minutes, and then serve hot with your favorite crackers.
***NOTE: This dip can be made a couple days in advance, then heat prior to serving.
HOMEMADE SALSA
(Adapted from Mountain Mama Cooks)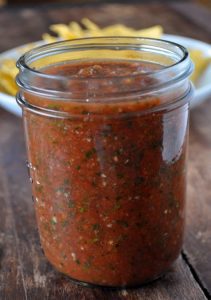 Photo Credit: Mountain Mama Cooks
This salsa is so easy, but it's SO good.  It's definitely worth the bit of effort it takes to make it yourself – just toss all the following ingredients in a food processor, and you're good to go!
1- 14 oz can diced tomatoes
1- 10 oz can regular Rotel tomatoes
1/2 small onion, roughly chopped
1 clove garlic
1/2-1 jalapeno, seeded or not (depends on how spicy you like it)
1 tsp honey
1/2 tsp salt
1/4 tsp ground cumin
handful of cilantro, washed
juice of 1 lime (=~2 TBSP)
Tortilla chips, for serving
Put all the ingredients in a food processor and pulse to combine for 30 seconds or so until all the ingredients are finely chopped and salsa is desired consistency. Taste for seasoning and adjust to taste.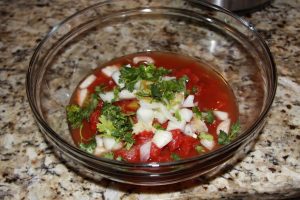 Photo Credit: Cate Bogue
Place the salsa in an airtight container or Mason jar and refrigerate until you're ready to head to your tailgate party.  Serve with tortilla chips.

SOUTHWEST PORK STEW
(Adapted from My Recipes)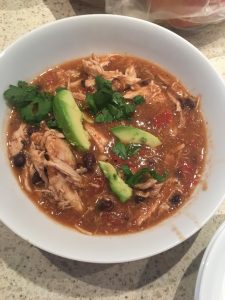 No question – this soup/stew is about the easiest recipe ever! But, that doesn't mean it's not fabulous!
Throw the ingredients together and heat – you can go from start to finish in about 15 minutes, and the combination of flavors is amazing!
1 16 oz jar salsa verde
2 cups chicken broth
1 (15-oz.) can black beans, drained and rinsed
1 (15-oz.) can fire-roasted diced tomatoes
1 lb shredded smoked pork, without sauce (or you can use shredded rotisserie chicken here)
1 tsp ground cumin
Kosher salt and freshly ground black pepper
Toppings: Cilantro, sour cream, avocado slices
NOTE: I picked up sliced pork at my favorite BBQ joint, and then I shredded it in a food processor.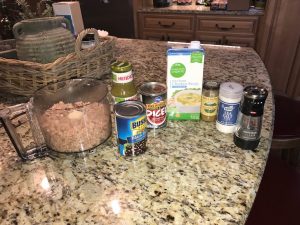 Warm salsa verde in a large saucepan over medium-high heat, stirring occasionally, 2 minutes.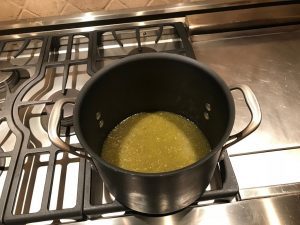 Stir in chicken broth, black beans, diced tomatoes, pork and cumin, and bring to a boil.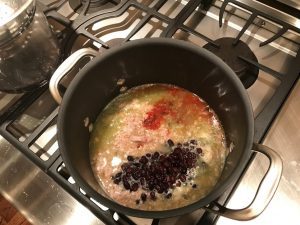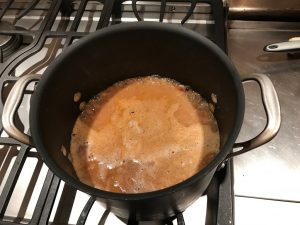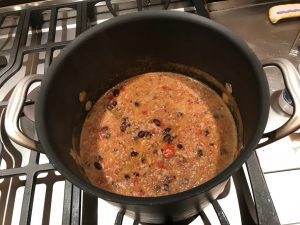 catebogue
Reduce heat to medium, and simmer, stirring occasionally, 10 minutes. Season with salt and pepper, to taste, and serve immediately with toppings on the side.
BEEF TENDERLOIN SLIDERS
(Adapted from Pioneer Woman)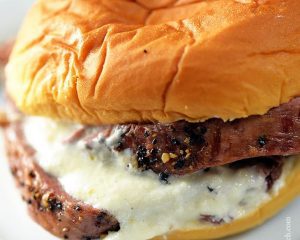 under500calories
Usually ONCE a football season I'll prepare some sort of beef tenderloin to enjoy.  It's a splurge, no question, but it's the best!  Beef tenderloin is the easiest meat to prepare, and you honestly can't mess it up (unless you commit the ultimate sin of overcooking it!). So this cut of meat is expensive, but if you are only preparing it once a year, then I think it's worth it.  Not much better in my opinion!
I prefer simple preparation to let the flavor of the beef stand out – all you need is some olive oil and maybe salt and pepper.  Amp the slider up to another level by adding grainy mustard and/or horseradish sauce.
1-2 whole beef tenderloins, trimmed (trimmed weight 2 1/2 – 3 1/2 lbs), depending on how many you are serving
1/4 cup extra virgin olive oil
1 cup crushed peppercorns
Dinner rolls, for serving
Grainy brown mustard, for serving
Horseradish sauce, for serving
Optional – arugula, sliced swiss or provolone cheese, sliced tomatoes
Preheat the oven to 475 degrees F.
Brush the tenderloins with the olive oil, and then roll in the crushed peppercorns.
Place the meat on a roasting pan and roast for 20 to 25 minutes (depending on how "done" you like it). Let rest for at least 5 minutes before thinly slicing.
***Note: you can easily make the tenderloin the day before, bring to room temperature, then chill in the fridge and slice just before making sliders. You can also grill the tenderloins for excellent results.
Serve with dinner rolls, grainy mustard and horseradish sauce.
WILD RICE SALAD
I was looking for a side that wasn't too rich and added flavor and texture to the menu.  This wild rice salad fits the bill.  It'll go well with the sliders, and it has fruit and nuts it in,  so it adds some healthiness too. Also, this salad can be made a day or two in advance and the flavors will be even better!
1 cup long-grain wild rice (6 oz)
Kosher salt
2 navel oranges
2 TBSP extra virgin olive oil
2 TBSP freshly squeezed orange juice
2 TBSP raspberry vinegar
1/2 cup seedless green grapes, cut in half
1/2 cup pecans, toasted
2 TBSP scallions, white and green parts, chopped
1/4 cup dried cranberries or raisins, optional
1/2 tsp freshly ground black pepper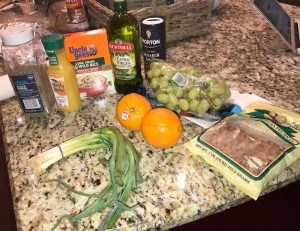 Place the wild rice in a medium pot with 4 cups of water and 2 teaspoons of salt and bring to a boil.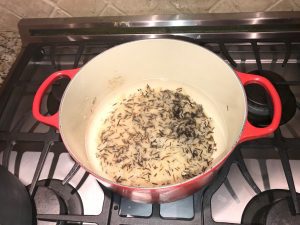 Simmer uncovered for 50 to 60 minutes, until the rice is very tender. Drain well and place the rice back in the pot. Cover and allow to steam for 10 minutes.
While the rice is still warm, place it in a mixing bowl.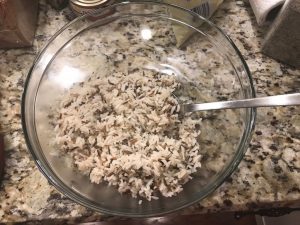 Peel the oranges with a sharp knife, removing all the white pith. Cut between the membranes and add the orange sections to the bowl with the rice. Add the olive oil, orange juice, raspberry vinegar, grapes, pecans, cranberries, if using, scallions, 1/2 teaspoon of salt, and the pepper.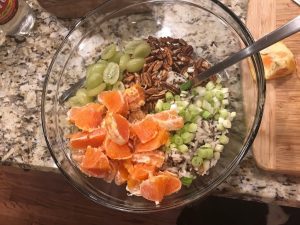 Allow to sit for 30 minutes for the flavors to blend. Taste for seasonings and serve at room temperature. I'll make a day before my tailgate party and chill, then I'll bring to room temperature before serving.
For some reason peanut butter sounds like "Fall" to me?  I always seem to make peanut butter cakes or cupcakes or pies in the fall.
I got this recipe from a friend when I was in high school, but I haven't fixed this dessert since my KIDS were in high school, quite frankly because I end up eating more than I should because they are just THAT GOOD. Good luck at your attempt to take all of them to your tailgate!
It's a super easy recipe, but trust me, the clusters will be GONE in no time.
1 cup light corn syrup
1 cup white sugar
1 cup smooth peanut butter
6 cups cornflakes cereal
In a large pot, cook syrup and sugar (stirring) until mixture comes to a boil and sugar is dissolved.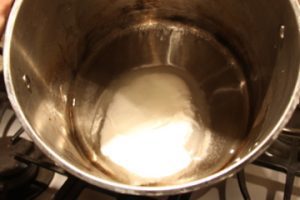 Photo Credit: Cate Bogue
Stir constantly; do not overcook. Remove from heat, add peanut butter, and stir until smooth.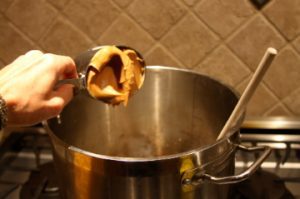 Photo Credit: Cate Bogue
Pour mixture over cornflakes in a large bowl.
Working fairly quickly, mix until cereal is thoroughly coated. Then drop in large clusters onto wax paper to cool. Makes about 20 clusters.
Store in an airtight container and transport to your tailgate!
VODKA APPLE CIDER WITH BASIL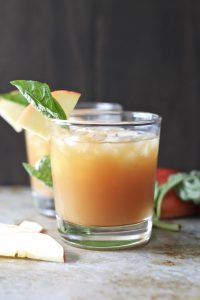 yummly
I was looking for a fall drink and stumbled upon this recipe.  It includes a few of MY favorite drink ingredients: basil, vodka and lots of lemon.
3 leaves basil (plus more for garnish)
1/2 ounce lemon juice
1 ounce vodka
apple cider
apples (sliced, for garnish)
In the bottom of a glass, muddle the basil, lemon juice, and vodka. Fill with crushed ice and top with apple cider. Stir well and serve with sliced apple and basil leaf.
SO – the food is always easy for me to figure out – but "what to wear?" is sometimes a struggle.  This game is going to be cooler – 74 degrees for a high (while we're tailgating), and then it'll dip down into the mid-50s by the time the game is ending.  However, weathermen have been known to be wrong…
Depending on the weather, I'm going with one of the following:
IF it's warm, then I'm going with this one below.  I found this adorable skirt on sale at Nordstrom a few week's ago – it's THE perfect GT colors!  And I found these earrings recently as well, and I couldn't resist – they're on trend (looking like tassels), and they're navy, so again = GEORGIA TECH!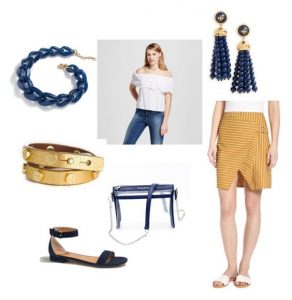 And, if the weather forecasters are correct, I'll go with this one below (distressed cropped jeans, velvet off the shoulder top, navy blazer and – – – THOSE EARRINGS!):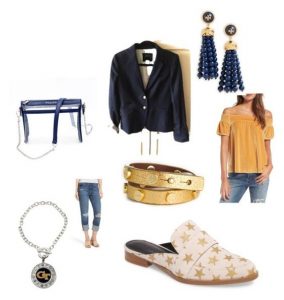 Next week is an away game vs Clemson – 
GO JACKETS!!!
SaveSaveSaveSave
SaveSave
SaveSaveSaveSaveSaveSaveSaveSaveSaveSaveSaveSaveSaveSaveSaveSaveSaveSaveSaveSaveSaveSaveSaveSaveSaveSaveSaveSaveSaveSaveSaveSaveSaveSaveSaveSave
SaveSaveSaveSaveSaveSaveSaveSaveSaveSaveSaveSaveSaveSaveSaveSaveSaveSave