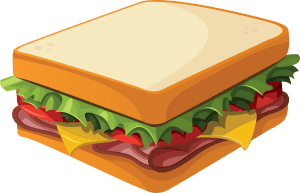 pngimg.com
I don't usually do ONE recipe posts, but, I needed a new sandwich for tailgating, boating or picnicking. I've been obsessed with caprese sandwiches for years (since a trip to Italy opened my eyes), but I needed something different. I decided to test drive THIS sandwich the other day (for research purposes only of course).
This gem of a sandwich says everything to me – it's not messy, but there's melted cheese, and it's salty AND sweet, and it's substantial enough to tide you over while having fun (aka while perhaps having a tailgate beverage). I can't wait to serve it at a brunch tailgate with scrambled eggs!
HAM AND FIG PANINI
Ciabatta bread
Serrano ham or prosciutto sliced thin
Swiss or fontina cheese, sliced
fresh figs
fresh basil leaves
whole grain mustard
good balsamic vinegar
arugula
Layer the ingredients however you prefer. Spread one side of the bread with mustard and the other slice drizzle with balsamic vinegar.
Place on a cookie sheet and bake at 350 degrees F for about 5-6 minutes (until the cheese is melted).
And voila! A fabulous and delicious sandwich!
Simply serve immediately, or wrap in foil until you're ready for your event. So so good!
*All photos are mine unless otherwise noted
SaveSave
SaveSave