Strangely enough, our Georgia Tech Yellow Jackets (ACC) are playing Vanderbilt (an SEC school) this season. And this week's tailgate food is entirely from Southern Living magazine.
This game has a 12:30pm kickoff, so it's a BRUNCH theme. We'll begin tailgating early, celebrating with about 20 friends and family members (plus 3 "furry" friends!), then after 2-3 hours, we can be in our seats cheering on the team at kickoff!
Preheat oven to 375 degrees F. Stir together flour, cranberries, baking powder, apple pie spice, salt, baking soda, and 3/4 cup of the granola in a large bowl.
Whisk together applesauce, brown sugar, butter, eggs, and vanilla in a medium bowl. Add applesauce mixture to flour mixture, stirring until just combined.
Fit 1 parchment square into each of the lightly greased cups of a 12-cup muffin pan, pressing folds into paper as needed. Divide muffin batter evenly among prepared muffin cups in pan. Lightly press apple pieces into tops of batter, and sprinkle with remaining 1/4 cup granola.
Bake in preheated oven until a wooden pick inserted in center comes out clean, 18 to 24 minutes. Cool in pans on wire racks 5 minutes. Remove from pans to wire racks, and cool completely (about 30 minutes).
Drizzle with Sticky Maple-Caramel Sauce before serving, if desired.
MAPLE STICKY CARAMEL SAUCE
12 caramel candies
2 TBSP heavy cream
2 TBSP pure maple syrup
1/4 tsp kosher salt
Place caramel candies, cream, maple syrup, and salt in a small microwave-safe bowl, and microwave on HIGH just until smooth, 1 minute to 1 minute and 30 seconds, stirring at 30-second intervals. Cool, stirring occasionally, until thickened, about 10 minutes.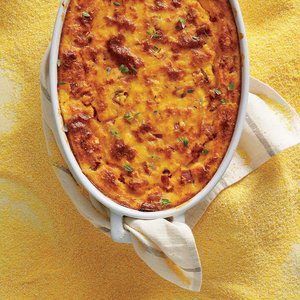 southern living
2 TBSP salted butter
1/4 cup finely chopped yellow onion
2 tsp minced garlic
4 1/2 cups water
1 tsp salt
1 1/2 cups uncooked yellow stone-ground grits
2 (8-oz.) pkg. cubed boneless ham, drained and patted dry with paper towels
1 (8-oz.) pkg. shredded sharp Cheddar cheese
1 (8-oz.) pkg. shredded extra-sharp Cheddar cheese
1 cup whole milk
1 cup fresh corn kernels (from about 2 ears)
1 1/2 tsp chopped fresh thyme
1/4 tsp black pepper
4 large eggs, lightly beaten
Lightly grease a 3-quart baking dish. Preheat oven to 350 degrees F. Melt butter in a Dutch oven over medium; stir in onion and garlic, and cook, stirring constantly, 2 minutes.
Stir in water and salt, increase heat to medium-high, and bring to a boil. Whisk in grits, and stir in ham; return to a boil. Reduce heat to medium-low, and simmer, whisking occasionally, until thickened and grits are almost tender, 15 to 20 minutes.
Remove from heat; add both cheeses, stirring until completely melted. Stir in milk, corn, thyme, pepper, and eggs. Spoon mixture into prepared baking dish. Bake in preheated oven until golden and cooked through, 50 minutes to 1 hour. Let stand 15 minutes before serving.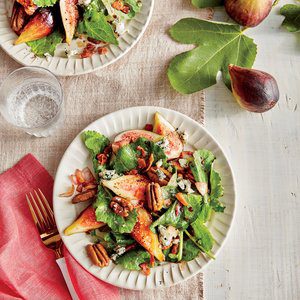 southern living
SaveSaveSaveSave
SaveSave