Final September game this season!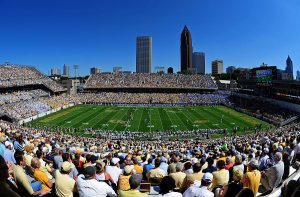 gettyimages
Yellow Jackets
vs
UNIVERSITY OF NORTH CAROLINA
Tar Heels
SATURDAY, SEPTEMBER 30, 2017
@
NOON

BOBBY DODD STADIUM
ATLANTA, GEORGIA
Georgia Tech heads into this game with another win under their belts after beating Pitt last week 35-17.  It's a "WHITE OUT" game, so the GT fans are asked to wear white in an attempt to intimidate the UNC team – we'll see…but for the tailgate, it's another brunch.
I grew up in the south and going to visit my grandparents in Gainesville, FL, my grandmother always had country ham available.  I love it – that saltiness on a buttery biscuit! OMG!  So I'm adding a childhood favorite of mine to the menu which will also include a breakfast casserole you can make in the crock pot (so you're not racing around so much on Game Day), and I'm preparing a few other new things such as a Blueberry Muffin bread – how yummy does that sound?
MENU:
APPLE SLICES WITH APPLE CINNAMON DIP
BLUEBERRY MUFFIN BREAD


COUNTRY HAM AND BISCUITS
OVERNIGHT BREAKFAST CASSEROLE


CINNAMON ROLL COOKIES
SWEET CAROLINE
APPLE CINNAMON DIP
Diets in Review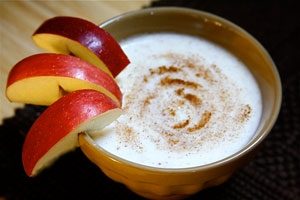 dietsinreview
1 cup non-fat Greek yogurt
1/2 cup applesauce
1 tablespoon honey
1/8 teaspoon vanilla extract
1/8 teaspoon cinnamon
Combine all of the above listed ingredients in a small bowl. Chill and serve.
BLUEBERRY MUFFIN BREAD
(Adapted from Frugal Mom Eh)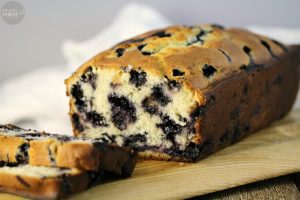 frugalmomeh
1 cup granulated sugar
1/2 cup butter
2 eggs
1 TBSP vanilla
1 cup milk
2 cups flour
2 tsp baking powder
2 cups fresh blueberries, washed and dried
Preheat your oven to 350 degrees F. Grease a 9 inch loaf pan. Cream together the butter and sugar.
Add the eggs, vanilla and milk beating well.
Add the dry ingredients and beat until well combined.
Add blueberries and mix by hand gently with a spatula being careful not to crush the berries.
Pour batter into your loaf pan and bake for 60-75 minutes or until a cake tester comes out clean.
Allow to cool in pan for 10 minutes before removing to finish cooling.
COUNTRY HAM AND BISCUITS

I'm going to heat the ham up on our grill the day of the game, and then quickly assemble the sandwiches right before family and friends arrive.
CROCK POT BREAKFAST CASSEROLE
(Adapted from fav family recipes)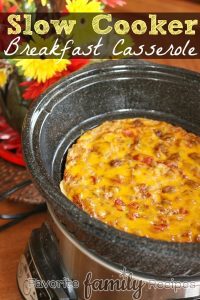 favfamilyrecipes
1 lb hot pork sausage
12 eggs
1 cup milk
salt and pepper, to taste
1 pkg (2 lbs) potatoes o'brien (hash browns with diced onions and peppers)
1 tomato diced
2 cups cheddar cheese shredded
Brown sausage in skillet until cooked through and crumbled.  Set aside.
In a large bowl, beat eggs together with milk. Add salt and pepper.
Stir in sausage, potatoes, tomato, and cheese.
Spray crock pot with cooking spray, and pour in egg mixture.
Cook on low heat for 6-8 hours.
Top with sour cream, salsa, scallions…
CINNAMON ROLL COOKIES
(The Kitchen is My Playground)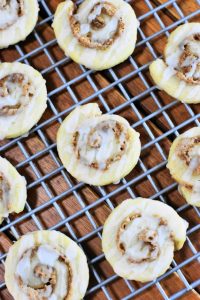 thekitchenismyplayground
1 8 oz pkg cream cheese
1/2 lb butter
1/4 cup sugar
1/4 tsp salt
1 tsp vanilla
2 cup flour
Filling:
1/4 cup sugar
1 1/2 tsp cinnamon
1 egg white
1 TBSP water
Glaze:
1 cup confectioners sugar
1 1/2 TBSP hot water
For the Dough: Bring cream cheese and butter to room temperature; cream together until fluffy. Add 1/4 c. granulated sugar, salt, and vanilla. With mixer on low, add the flour, mixing until just combined.
Dump dough onto a well-floured board; roll it into a ball. Cut dough ball in half and wrap each half in plastic wrap. Refrigerate 1 hour.
After chilling, roll each dough half into a 9×6-inch rectangle.
For the Filling:Whisk together the egg white and water until foamy.
In a separate bowl, whisk together the cinnamon and 1/4 c. granulated sugar.
Brush egg white mixture onto the surface of the rolled out dough; sprinkle evenly with the cinnamon-sugar mixture.
Starting with the 9-inch side of the dough rectangle, roll each into a log, pressing gently to seal the edge. Wrap each roll in plastic wrap and chill in the refrigerator for about 20 minutes.
Preheat oven to 350. Remove dough logs from the refrigerator and unwrap. Using a serrated knife, gently cut dough logs into 1/2-inch thick slices. Transfer to a baking sheet.
Bake at 350 for 15-18 minutes. Cool.
For the Glaze:Combine confectioners' sugar and hot water until smooth. Drizzle over the top of cooled cookies. Let glaze set to dry.
SWEET CAROLINE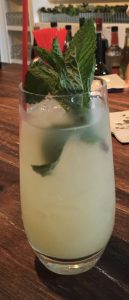 Our family loves this drink so much, we offered it as one of two signature drinks to guests at our daughter (Caroline's) June 24th wedding this year!  It's yellow (thus a perfect Georgia Tech drink) and refreshing, so it's perfect for a game day drink in the south!
For one drink:
1 1/2 oz Vodka
1/2 oz St Germaine
1 1/2 oz yellow grapefruit juice
Club soda (to fill the glass)
Mint sprig for garnish
Combine Vodka, St Germaine and grapefruit in a cocktail shaker with ice. Shake well and strain over fresh ice. Top with soda. Garnish with a spring of mint.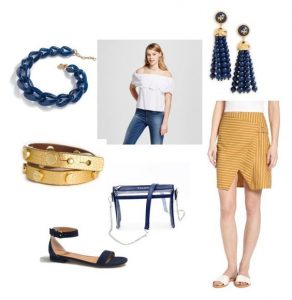 Skirt: Nordstrom
Earrings: Tory Burch
Shoes: J Crew
Top: Target
Necklace: J Crew Factory
Bracelet: Mine (Tory Burch)
Bag: Parson's
*All images are mine unless otherwise credited.
SaveSave
SaveSave