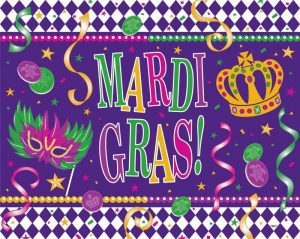 chicagotimes
Now that football season is officially over, I'm looking for something to celebrate! I'm in Atlanta, Georgia – a long way from New Orleans, but – I can still enjoy good food in the comfort of my home. So grab some friends, family, neighbors and sample this menu:
Laissez les bons temps rouler!!!!
(let the good times roll!)
aka FAT TUESDAY – FEBRUARY 28, 2017
OYSTERS BIENVILLE
SHRIMP ETOUFFEE
BANANAS FOSTER
SAZERAC
OYSTERS BIENVILLE
(Adapted from epicurious)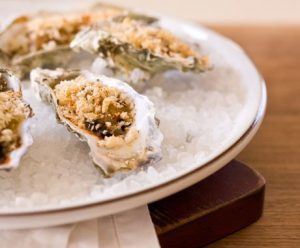 epicurious
This recipe is from famed Antoine's in New Orleans.
1 bunch shallots, finely chopped
2 TBSP butter
2 TBSP flour
1/2 cup chopped mushrooms
2/3 cup chicken broth
1 egg yolk
Ice cream salt
1/3 cup dry white wine
Salt and cayenne pepper to taste
2 dozen oysters on the half shell
1/2 cup seasoned bread crumbs
1/4 cup grated Parmesan cheese
Sauté the chopped shallots in the butter and slowly stir over a very low heat until the onions are well cooked, but not brown. Sprinkle the shallots with the flour and cook until the flour begins to brown. Add the chicken broth and the mushrooms and mix well. Beat the egg yolk into the wine and add to the chicken broth mixture, beating all the while. Season with the salt and cayenne, and cook over a low heat for 15 minutes.
Heat a pan of ice cream salt in a 400-degree oven for 15 minutes. Place the oysters on the half shell in the hot ice cream salt and return to the oven for about 5 minutes. Spoon the sauce over each oyster and sprinkle with a mixture of the bread crumbs and cheese. Return to the oven and bake until the bread crumb mixture is lightly browned. Two dozen oysters served this way will serve four.
RATATOUILLE
(Adapted from Emeril Lagasse)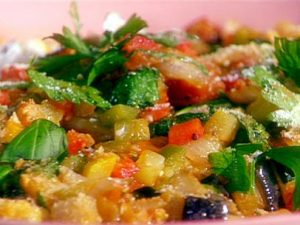 foodnetwork
1/4 cup olive oil, plus more as needed
1 1/2 cups small diced yellow onion
2 tsp minced garlic
2 cups medium diced eggplant, skin on
1/2 teaspoon fresh thyme leaves
1 cup diced green bell peppers
1 cup diced red bell peppers
1 cup diced zucchini squash
1 cup diced yellow squash
1 1/2 cups peeled, seeded and chopped tomatoes
1 tablespoon thinly sliced fresh basil leaves
1 tablespoon chopped fresh parsley leaves
1/2 tsp red pepper flakes
Salt and freshly ground black pepper
Set a large 12-inch saute pan over medium heat and add the olive oil. Once hot, add the onions and garlic to the pan.
Cook the onions, stirring occasionally, until they are wilted and lightly caramelized, about 5 to 7 minutes. Add the eggplant and thyme to the pan and continue to cook, stirring occasionally, until the eggplant is partially cooked, about 5 minutes.
Add the green and red peppers, zucchini, and squash and continue to cook for an additional 5 minutes.
Add the tomatoes, basil, parsley, red pepper flakes and salt and pepper, to taste, and cook for a final 5 minutes. Stir well to blend and serve either hot or at room temperature.
SHRIMP ETOUFFEE
(Adapted from Emeril Lagasse)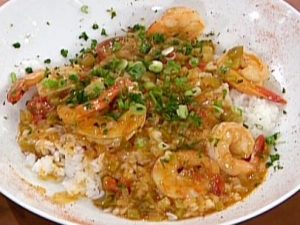 foodnetwork
6 TBSP unsalted butter
1/2 cup all-purpose flour
4 cups chopped onions
2 cups chopped green bell peppers
2 cups chopped celery
2 TBSP minced garlic
1 (14.5-ounce) can diced tomatoes
2 bay leaves
2 tsp salt
1/2 tsp cayenne pepper
2 TBSP Essence, recipe follows
1 quart shrimp stock
3 pounds medium shrimp (21 to 25 count per pound), peeled and deveined
1/4 cup chopped parsley leaves
Steamed white rice, for serving
1/2 cup thinly sliced green onion tops, for garnish
Melt the butter in a large Dutch oven set over medium heat. Add the flour and stir continuously to make a roux. Stir the roux over medium heat until the color of peanut butter, 5 to 7 minutes. Add the onions, bell peppers, celery, and garlic to the roux, and cook, stirring often, for 10 minutes. Add the tomatoes to the pot and season with the bay leaves, salt, cayenne, and 1 tablespoon of the Essence. Cook the tomatoes for 2 to 3 minutes and then whisk in the shrimp stock.
Bring the mixture to a boil, and reduce to a simmer. Cook the etouffee, stirring occasionally, for 45 minutes. Season the shrimp with the remaining tablespoon of Essence and add them to the pot, stirring to evenly distribute. Cook the shrimp for 5 to 7 minutes, or until they are cooked through. Add the chopped parsley to the pot and stir to combine.
Emeril's ESSENCE Creole Seasoning (also Bayou Blast):
2 1/2 TBSP paprika
2 TBSP salt
2 TBSP garlic powder
1 TBSP black pepper
1 TBSP onion powder
1 TBSP cayenne pepper
1 TBSP dried oregano
1 TBSP dried thyme
Combine all ingredients thoroughly. Can be made and stored in an airtight container in advance.
Shrimp Stock:
1 lb (about 1 quart) shrimp shells and heads
1 cup coarsely chopped yellow onions
1/2 cup coarsely chopped celery
1/2 cup coarsely chopped carrots
3 smashed garlic cloves
1 bay leaf
1 tsp black peppercorns
1 tsp dried thyme
2 tsp salt
Place the shrimp shells and heads in a large colander and rinse under cold running water for several minutes.
Combine the shrimp shells and remaining ingredients in a heavy 6-quart stockpot, add 4 quarts water, and bring to a boil over high heat. Skim to remove any foam that rises to the surface. Reduce the heat to medium-low and simmer, uncovered, for 45 minutes, skimming occasionally.
Remove the stock from the heat and strain through a fine-mesh sieve into a clean container; let cool completely. Refrigerate the stock for up to 3 days or freeze in airtight containers for up to 2 months.
BANANAS FOSTER
Brennan's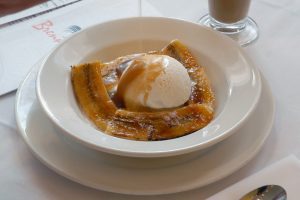 brennans
1/4 cup (1/2 stick) butter
1 cup brown sugar
1/2 tsp cinnamon
1/4 cup banana liqueur
4 bananas, cut in half lengthwise, then halved
1/4 cup dark rum
4 scoops vanilla ice cream
Combine the butter, sugar, and cinnamon in a flambé pan or skillet.
Place the pan over low heat either on an alcohol burner or on top of the stove, and cook, stirring, until the sugar dissolves.
Stir in the banana liqueur, then place the bananas in the pan.
When the banana sections soften and begin to brown, carefully add the rum.
Continue to cook the sauce until the rum is hot, then tip the pan slightly to ignite the rum.
When the flames subside, lift the bananas out of the pan and place four pieces over each portion of ice cream.
Generously spoon warm sauce over the top of the ice cream and serve immediately.
SAZERAC
Esquire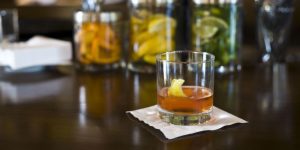 esquire
1 Sugar Cube
2 1/2 oz. rye whisky
2 dashes Peychaud's bitters
1 dash Angostura Bitters
absinthe
lemon peel
old-fashioned glass
In an Old-Fashioned glass (not a mixing glass; it's part of the ritual), muddle a sugar cube with a few drops of water.
Add several small ice cubes and the rye whiskey,* the Peychaud's bitters, and the Angostura bitters.**
Stir well and strain into a second, chilled, Old-Fashioned glass in which you have rolled around a few drops of absinthe (no substitute really works, but you can try either a mix of Pernod and green Chartreuse, or Absente) until its inside is thoroughly coated, pouring off the excess.
Garnish with a twist of lemon peel (some insist that this be squeezed over the drink and discarded; Handy wasn't so picky).
* Esquire says: Use the good stuff, if you can find it: Van Winkle Family Reserve Rye (13 years old), or Sazerac Rye (18 years old).
** Optional. It's not in the original recipe, but it's traditional nonetheless, and it's not bad.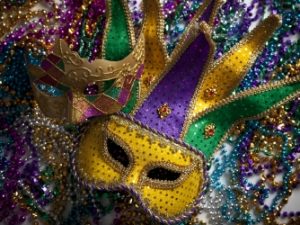 Here are a few fun facts about Mardi Gras (from the Chicago Times) I thought were interesting:
* Thank Pope Gregory XIII for adding the event to the calendar
in 1582
on the day before Ash Wednesday, which Lent, the 40 days of fasting and prayer leading up to Easter Sunday.
* Another name for Mardi Gras is "Shrove Tuesday." The word "shrove" comes from the "shrive," which means "to confess." Going to confession is an unofficial practice of Catholics to prior to starting the 40 day spiritual journey of Lent.
* International names for Mardi Gras include: Martes de Carnaval in Mexico, Fastan in Sweden, Martedi Grasso in Italy, J'Ouvert in Trinidad, and Karneval in Germany.
* Like many holidays we celebrate today, the festivities include evidence of pagan tradition. Feasting and masquerades, which are important parts of today's Mardi Gras celebrations, were also parts of the ancient Roman festivals of Saturnalia and Lupercalia.
* It wouldn't be Fat Tuesday without
purple, gold and green beads
, but how did those colors come to be symbolic with the holiday? T
he King of the first daytime carnival in 1872 selected those colors based on their associated meaning and he would toss them to people he thought fit that meaning.
Purple = justice
Gold = power
Green = faith
* New Orleans was not the first American city to host a parade for the occasion. That was Mobile, Alabama. Louisiana is where the celebration originated in North America, though, and for that we can thank France for sending the LeMoyne brothers in 1699 to defend France's claim in Louisiana, as they brought the holiday with them.
* New Orleans held its first Mardi Gras parade in 1837. Floats appeared 20 years later.
* Lawmakers in Louisiana made Mardi Gras a legal state holiday in 1875. It is still observed in parts of the state and is also a state holiday in Alabama and Florida.
* Masks are a fun part of Mardi Gras, but if you're riding on a float, don't leave home without one. It is
illegal
to ride on a Mardi Gras parade float in New Orleanswithout wearing a mask.
* Mardi Gras may be the day before Lent, but it also marks the
end of Carnival season
, which begins Jan. 6.
* It is also known as Pancake Day or Paczki Day.