The teams are playing in the brand new Mercedes Benz Arena (which will be the Atlanta Falcons' new home). Excited for college football but also really looking forward to seeing and touring the new stadium.  It's an 8:00pm kickoff in Atlanta, Georgia.
VS
We won't be bringing our RV, but we WILL be tailgating!  I'm preparing food that's easily made in advance and that will be OK transporting in coolers and then tasting good in the hot sun.
Here's what I'm bringing:
SMOKED SALMON DIP WITH BAGEL CHIPS
Martha Stewart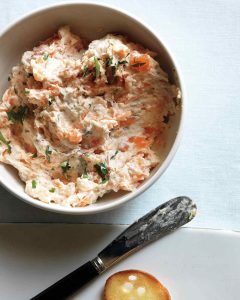 marthastewart
1/4 cup mayonnaise (I use Hellman's)
4 oz cream cheese
1 TBSP capers, rinsed and drained
1 TBSP red onion, diced small
2 tsp fresh lemon juice
1/2 tsp prepared horseradish
2 oz plus 2 more oz thinly sliced smoked salmon, coarsely chopped
1 TBSP chopped fresh parsley
Bagel chips, for serving
In a food processor, combine mayo, cream cheese, capers, red onion, lemon juice, horseradish, and 2 ounces smoked salmon.
Process until smooth, about 20 seconds. Transfer to a small bowl, and stir in remaining 2 ounces smoked salmon. Top with fresh parsley and serve with bagel chips.

PORK TENDERLOIN SLIDERS
(Adapted from Southern Living)
Sauce
2 cups mayo
2 TBSP minced fresh chives
1 1/2 TBSP white wine vinegar
1 1/4 tsp ground ginger
1/4 tsp salt
1/4 tsp paprika
Combine all ingredients; cover and chill at least 8 hours or up to 4 days.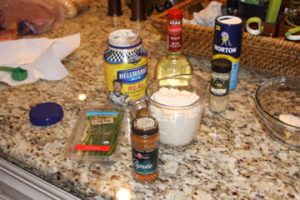 Photo Credit: Cate Bogue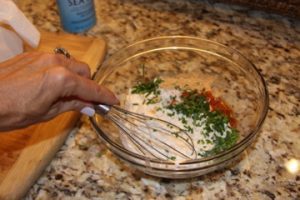 Photo Credit: Cate Bogue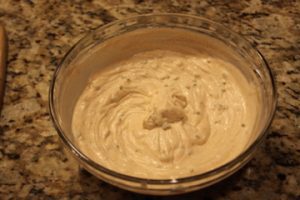 Photo Credit: Cate Bogue
Tenderloins
3-4 (3/4 lb) pork tenderloins
1/2 cup olive oil
3 TBSP grated onion
3 TBSP white wine vinegar
3/4 tsp garlic powder
1/2 tsp salt
1/2 tsp chili powder
1/2 tsp dried oregano
Small rolls (such as Hawaiian)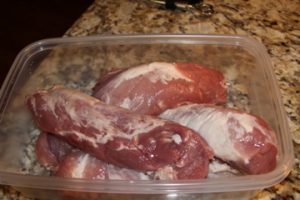 Photo Credit: Cate Bogue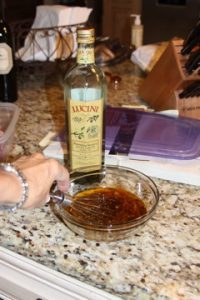 Photo Credit: Cate Bogue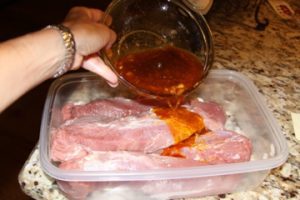 Photo Credit: Cate Bogue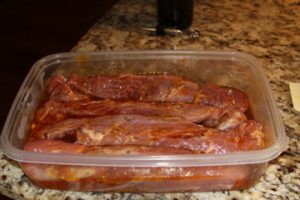 Photo Credit: Cate Bogue
Trim fat off tenderloins. Place in large baggie or container.
Combine oil and remaining ingredients and pour over tenderloins. Seal bag or cover container and marinate in refridgerator at least 8 hours (up to 2 days).
Remove from marinade, reserving marinade. Place on rack in the oven and roast at 425 degrees for 10 minutes. Reduce heat to 350 degrees and bake an additional 30-40 minutes (or until meat thermometer is at 160 degees), basting occasionally with marinade. Let stand 10 minutes.
Slice and serve with rolls and sauce. Can be refrigerated at this point and are delish cold.




























BROCCOLI SALAD
1 cup mayonnaise
⅓ cup sugar
2 tbsp red wine vinegar
1 tsp celery seed
2 heads of broccoli cut up into florets
¾ lb bacon, cooked and chopped
½ cup toasted slivered almonds
2 green onions, thinly sliced
1 cup chopped celery
1½ cups red seedless grapes, halved
Whisk together mayonnaise, sugar, red wine vinegar, and celery seed in a small bowl. Place in refrigerator for at least 30 minutes or up to 3 days.
Combine broccoli, bacon, toasted almonds, green onions, celery and grapes in a large serving bowl.
Toss the dressing with the rest of the salad ingredients just before serving (so the ingredients stay crunchy) and stir.
BUTTERSCOTCH BLONDIES


I've been making these bars since I was a teenager – they've held the test of time.  I still LOVE them!
3⁄4 cup butter (softened)
3⁄4 cup firmly packed light brown sugar
1⁄2 cup sugar
2 eggs
2 cups flour
1 teaspoon baking soda
1⁄2 teaspoon salt
1 2⁄3 cups butterscotch morsels (or one large bag)
1 cup walnuts or pecans chopped (optional)
Preheat oven to 350 degrees F. Grease 13 x 9 inch baking pan. Beat butter and sugars in a large mixing bowl until creamy.
Add eggs, and beat well.
Stir together flour, baking soda and salt, and then add to butter mixture.
Stir in butterscotch morsels and chopped nuts, if using.
Spread into prepared pan.
Bake 30 to 35 minutes until top is golden brown and center is set. Cool completely in pan on wire rack.
Cut into bars.
CITRUS COOLERS

This drink sounded like the perfect solution to a hot weather game, AND it has GT colors (yellow!).
2 oz Vodka
1 oz strained fresh lemonade
1/2 oz strained clementine juice
splash of lime juice
Mix all ingredients together and serve over ice.  Alternately can be served "up" after shaking ingredients in a shaker.  ***Can also add a splash of club soda to lesson the "punch" of the alcohol!
NOW – onto the important decision of WHAT TO WEAR???!!!!!
It's indoors, so that eliminates the worry about being in the hot sun in Atlanta, Georgia.  But, there will be a bit of walking, so probably no cute wedges.  Here's what I've come up with – an outfit that's super cute, fashion-forward, yet comfy all at once.  I'm wearing a velvet top (HUGE for fall 2017!) as well as a new CLEAR bag (since the new NCAA rules demand a see-through bag only to enter the stadium).  And I actually found a pair of flat sandals that are stylish AND comfortable.  See below.
GO JACKETS!
*Top (Nordstrom)
*Shoes (J Crew)
*Skirt (J Crew)
*Necklace (J Crew)
*Bracelets (mine – old Tory Burch and Honesty)
*Earrings (J Crew)
*Purse (mine – but similar one here)


*All photos are mine unless otherwise noted.