YAY! Football season is upon us FINALLY! We've got a 1PM kickoff for our first home game, so we'll start tailgating around 11AM. Can't wait to cheer on our team and catch up with friends and family!
Football wise we lost a heartbreaker to Louisville at Mercedes Benz stadium last week. Hoping for a big win this week!
GEORGIA TECH YELLOW JACKETS
VS
SOUTH CAROLINA STATE BULLDOGS
ATLANTA, GA
MENU:
VODKA PUNCH
SMOKED TROUT SPREAD with crostini
VIDALIA ONION DIP with chips
PORK BBQ SANDWICHES WITH SLAW
MEDITERRANEAN CHICKEN QUINOA SALAD
BIRTHDAY SURPRISE CAKE (since it's my husband's birthday!)
VODKA PUNCH
aka "DOWN THE BULLDOGS JUICE!"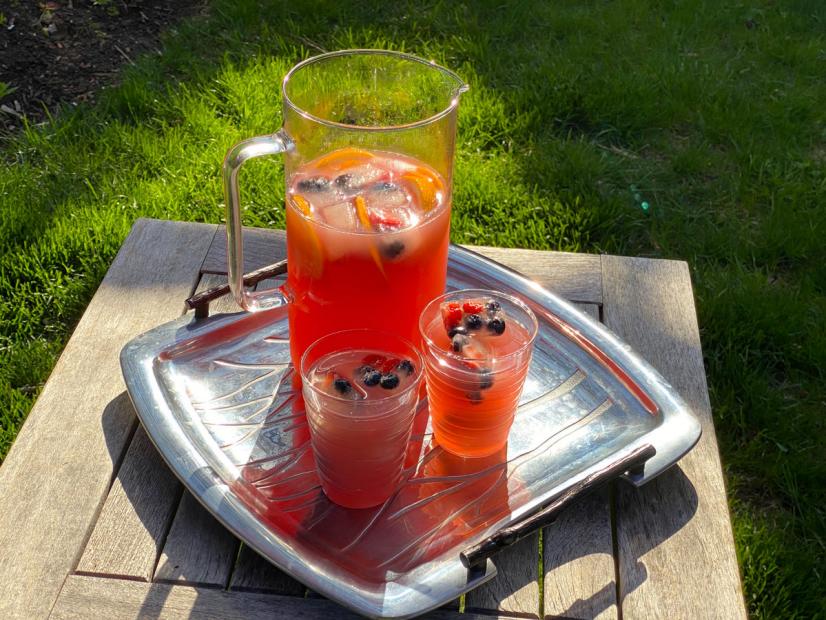 (Adapted from Michael Symon)
Makes 4 drinks, so adjust the measurements depending on how many you're serving. I'm making enough for 20 people, so I'm putting those measurements in parentheses.
8 oz vodka (40 oz for 20 drinks)
3/4 cup cranberry juice (3 3/4 cups for 20)
3/4 cup pineapple juice (3 3/4 cups)
3 oz orange liqueur, such as Grand Mariner or Cointreau (~ 1 3/4 cups)
One 7.5-oz can ginger ale (5 cans)
Berry-Lemonade Ice Cubes, recipe follows
Club soda, for serving
Orange slices, for serving
Berry-Lemonade Ice Cubes:


Fresh blueberries, blackberries or quartered strawberries, for the ice cube trays
2 cups lemonade or limeade
DIRECTIONS:
Add the vodka, cranberry juice, pineapple juice and orange liqueur to a pitcher and stir to combine. Pour in the ginger ale.
Fill 4 highball glasses with the Berry-Lemonade Ice Cubes and pour the punch evenly among the glasses. Serve topped with club soda and an orange slice. (Alternatively, pour the vodka punch into mason jars with lids and store, covered, in the refrigerator, adding ice and garnishes before serving.)
Berry-Lemonade Ice Cubes:
Make the ice cubes the night before: Sprinkle the berries into an ice cube tray. Top with the lemonade or limeade and place in the freezer until frozen, at least 4 hours. Pop the ice out of the tray and store in a resealable plastic bag. Makes about 16 ice cubes.
SMOKED TROUT SPREAD
I've got some amazing smoked trout, so I'll be making a cool smoked trout dip to serve with crostini. This spread is great on bagels as well! It's SO GOOD!
2 (8-ounce) pkgs smoked boneless trout
1/4 cup minced red onion
1 (8-oz) pkg cream cheese, softened (I always use Neufchatel)
2 to 3 TBSP lemon juice
1/4 tsp ground red pepper
1/4 tsp salt
Crostini or crackers
Remove skin from fish; break into pieces.
Mince the red onion. Add onion and cream cheese to a food processor, and blend.
Add trout, lemon juice, cayenne and salt, and pulse until mixed, stopping to scrape down sides.
Serve with crostini or crackers.
VIDALIA ONION (OR CARMELIZED ONION) DIP
(Adapted from Martha Stewart)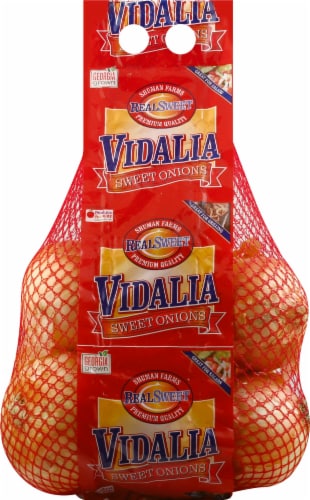 It's that time of year again! Time to eat as many sweet delicious Vidalia onions as possible. They're at peak at the end of summer, so it's an ideal time to fix this yummy onion dip.
1 TBSP Extra Virgin Olive Oil
2 Vidalia onions (1 pound total), finely chopped
Coarse salt and ground pepper
1 cup reduced-fat sour cream
2 oz reduced-fat bar cream cheese, room temperature
1 1/2 tsp white-wine vinegar
1/4 cup finely chopped chives
Potato chips, for serving
In a large skillet, heat oil over medium. Add onions; season with salt and pepper.
Cook, stirring frequently, until golden brown and caramelized and reduced, 25-35 minutes.
Let cool to room temperature.
In a medium bowl, combine onions, sour cream, cream cheese, vinegar, and chives; season with salt and pepper.
Chill dip until slightly thickened, about 1 hour; or cover and refrigerate up to 2 days. Serve with chips.
PULLED PORK SANDWICH WITH SLAW
(Adapted from Closet Cooking)
1 (3 pound) pork butt
1 cup bbq sauce (whatever is your favorite)
4 buns
2 cups coleslaw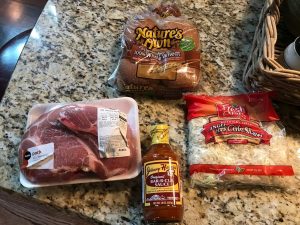 Put the pork in the slow cooker, pour 1/2 cup of the bbq sauce over it and cook on low heat for 8 hours.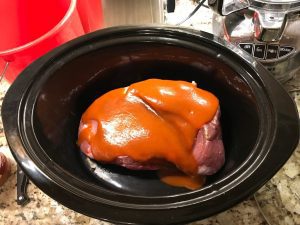 Remove the pork from the slow cooker and let cool.
Meanwhile, skim the fat from the juices, place the juices in a sauce pan and simmer to reduce.
Mix as much of the juices as you want into the remaining bbq sauce.
When the pork is cool enough to work with, shred it with a pair of forks.
Mix the pulled pork with the bbq sauce mixture. Serve immediately on buns with coleslaw and additional bbq sauce.
***Can easily make the BBQ Pork in advance and freeze. Simply thaw and reheat before your tailgate.
MEDITERRANEAN CHICKEN QUINOA SALAD
2 cups shredded chicken
1 cup uncooked quinoa, rinsed
2 cups water
1 can (15 oz) chickpeas, rinsed and drained
1 cucumber, seeded and chopped
1 red bell pepper, chopped
1/2 cup chopped red onion, soaked in vinegar for 20 minutes
3/4 cup kalamata olives, sliced
1 cup arugula
8 oz Feta, crumbled
1/4 cup extra virgin olive oil
1/4 cup lemon juice
1 TBSP red wine vinegar
1 shallot, minced
1/2 tsp salt
Freshly ground black pepper
Cook the quinoa: Combine the rinsed quinoa and the water in a medium saucepan. Bring the mixture to a boil over medium-high heat, then decrease the heat to maintain a gentle simmer. Cook, uncovered, until the quinoa has absorbed all of the water, about 15 minutes, reducing heat as time goes on to maintain a gentle simmer. Remove from heat, cover, and let the quinoa rest for 5 minutes.
In a large serving bowl, combine the chicken, chickpeas, cucumber, bell pepper, onion, kalamata olives and arugula.
Set aside.
In a small bowl, combine the olive oil, lemon juice, vinegar, garlic and salt.
Whisk until blended, then set aside.
Once the quinoa is cool, add it to the serving bowl, and drizzle the dressing on top. Toss until the mixture is thoroughly combined. Season with black pepper, to taste, and add salt if needed. Top with crumbled feta. For best flavor, let the salad rest for 5 to 10 minutes or overnight before serving. Serve chilled or at room temperature.
DESSERT: Since the tailgate and game are on my husband's actual birthday, I'm fixing a cake that HE specifically ordered. It'll be a fabulous celebration! This guy:
KEY LIME CAKE
(Adapted from comfortfoodideas.com)
Cake:
1 cup butter
1/2 cup water
1/2 cup key lime juice
2 cups flour
1 tsp baking soda
1 tsp salt
2 cups sugar
2 eggs
1/2 cup sour cream
1 tsp vanilla extract
Key Lime Syrup:
2 TBSP key lime juice
2 TBSP sugar
Key Lime Cream Cheese Frosting:
1/2 cup Butter (softened)
8 oz Cream Cheese (softened)
4 – 4 1/2 cups Powdered Sugar
1 tsp vanilla extract
2 TBSP Key Lime Juice
Zest of 1 lime
Lime zest for topping, if desired
Preheat oven to 350 degree F, and prepare a 9×13 sheet pan with Bakers Joy (or another baking spray with a flour base)
In a saucepan over medium heat, melt butter. Add water and key lime juice to butter and bring to a boil. Once boiling, remove butter mixture and allow to cool.
Next, combine flour, salt, and baking soda in a mixing bowl and whisk together. Then, add sugar and combine.
Add sour cream and one egg at a time – beating between each addition.
Add vanilla, then slowly add in the butter mixture. Mix well.
Pour batter into prepared pan, and bake for 25 minutes or until a toothpick comes out of the center of the cake clean.
While the cake cooks, in a small sauce pan, add key lime juice and sugar, and heat until all sugar is dissolved.
Once you take the cake out of the oven, quickly poke holes over the cake using a fork or long skewer or straw.

Pour or brush sugar mixture over the cake and allow to completely cool.
In a clean mixing bowl, add the butter and cream cheese and mix on medium high until light and fluffy.
Reduce mixer speed and begin adding 1/2 cup of powdered sugar at a time mixing well between each addition
Add vanilla, key lime juice zest to icing, gradually increase the speed of the mixer back to a medium-high setting and allow to continue mixing for another 1-2 minutes making sure that all powdered sugar has been incorporated. Don't over mix.
Frost the sheet cake, and top with lime zest if desired. Can easily be made ahead and frozen.
***NOW that food and drinks have been decided, it's time to figure out the OUTFIT:
It'll be very hot more than likely so I'm going with something light and breezy like this simple dress from J Crew:
https://www.jcrew.com/p/BR476?color_name=solar-yellow&N=X-SMALL
It runs large, so go down one size. It'll be perfect to cheer on the YELLOW Jackets! Add some gold jewelry and either wedges or cute tennis shoes, and you're set!
GO JACKETS!!!
And…Georgia Tech won!
A few pics from the tailgate with 23 people:
Sydney's loving her first tailgate party:
Next up:
A road trip to Auburn! Been awhile since we've been to an Auburn football game, so we are super excited to travel there! Our daughter (AU grad) and family will be going and tailgating with us~ WAR EAGLE!