So – our daughter just got married and following a year of wedding planning and an intense (but very very fun) wedding week, my husband and I headed to our oasis – THE BEACH. We enjoyed some great food (as usual) but I wanted to share these 2 recipes which ended up being our favorites. We even fixed them again for family over July 4th! Hope you like them as much as we do!
SMOKED FISH DIP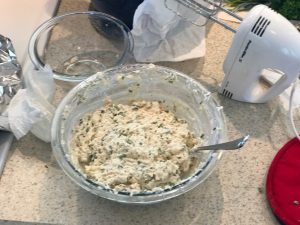 catebogue
2 lbs fresh fish (cod, haddock, grouper or your favorite white flaky fish)
Extra virgin olive oil
~ 1 TBSP Liquid Smoke
1 cup good mayo (like Hellman's or Dukes)
1 package of Boursin cheese
8 oz cream cheese (I use 1/3 less fat)
1/2 cup chopped sweet onion (I use Vidalia)
1/4 cup chopped fresh chives
1/4 cup chopped fresh parsley
1 TBSP chopped fresh thyme
1 TBSP hot sauce (I use tabasco)
Freshly ground pepper and sea salt to taste
Season fish with salt, pepper and drizzle some olive oil over. Then drizzle the tablespoon or so of Liquid Smoke all over the fish.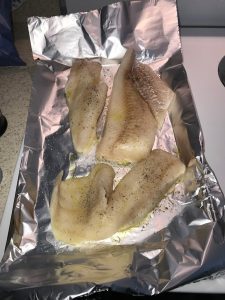 catebogue

Bake at 300 degrees until fully cooked and flaky (~ 20-25 minutes or so).
Cool fish and shred with your hands (making sure there are no bones or skin).
Add fish to a food processor with all remaining ingredients and puree until fairly smooth (or use a hand mixer). Add additional mayo if needed to get a spreadable consistency.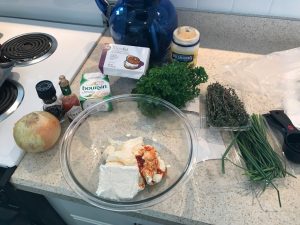 catebogue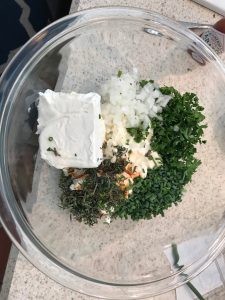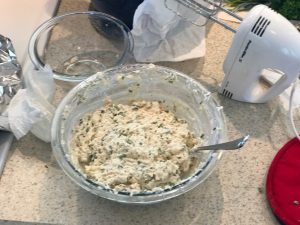 catebogue
Serve with chips, crackers and/or fresh raw veggies. I also like to top each serving with a bit of hot sauce!
ROASTED SHRIMP WITH GREEN GODDESS DRESSING
(Adapted from Ina Garten)

This recipe is absolutely fabulous! Of course the shrimp is tastier when it's freshly caught like we were able to enjoy in Florida, but it's still great with shrimp you can buy at your local grocery store or specialty food store like Whole Foods or Fresh Market. The secret is the green goddess dressing though – to die for! My guests were eating it by the spoonful! It's of course also fabulous as a salad dressing.
For the shrimp:
2 lbs large shrimp (14 to16 shrimp per pound)
1 TBSP good olive oil
1/2 tsp kosher salt
1/2 tsp freshly ground black pepper
For the Green Goddess Dressing:
1 cup mayonnaise (I use Hellman's or Dukes)
1 cup chopped scallions, white and green parts (6 to 7 scallions)
1 cup chopped basil leaves (18 to 20 leaves)
1/4 cup freshly squeezed lemon juice
2 cloves garlic
2 tsp anchovy paste
2 tsp kosher salt
1 tsp freshly ground black pepper
1 cup sour cream
2 stalks celery, cut into sticks
Preheat the oven to 400 degrees F.
Peel and devein the shrimp, leaving the tails on.
Place them on a sheet pan with the olive oil, salt, and pepper and spread them in one layer.
Roast for 8 to 10 minutes, just until pink and firm and cooked through. Set aside to cool.
For the dressing, place the mayonnaise, scallions, basil, lemon juice, garlic, anchovy paste, salt, and pepper in a blender or food processor, and blend until smooth.
Add the sour cream and process just until blended.
Use immediately or refrigerate until ready to use. Serve as a dip for the shrimp with the celery sticks.
THE BEACHWALKER
We were at the beach with my brother and sister in law and had brought me some fresh mangos, and we decided we needed to create a specialty drink to commemorate the weekend (and the fact that our daughter had just gotten married the prior weekend)!
Here's what we came up with (makes roughly 4 drinks):
In a blender add:
~ 5 oz good rum
1/4 cup cream of coconut
1/2 cup orange juice
1 cup chopped mangos or ~3/4 cup mango puree (can also use frozen mangos here)
Blend all with ice in a blender until smooth. ENJOY! You can be cute and top with an orange or pineapple slice.
M&M BARS
I made this dessert up to use up left over mini-M&Ms and Semi-sweet chocolate morsels. You can't mess it up unless you overcook it. SO good! They are the PERFECT "bar" consistency.
2/3 cup butter, softened
2 cups brown sugar
3 eggs
1 tsp vanilla extract
2 3/4 cups flour
2 1/2 tsp baking powder
1 tsp salt
2 cups chocolate chips or M&Ms or whatever you have on hand
Preheat oven to 350 degrees F. Grease a 9×13 pan or place parchment paper down.
Beat the butter and sugar until creamy. Add the eggs and vanilla and beat again.
Stir together the flour, baking powder, and salt and stir into the butter mixture until a soft thick dough forms. Stir the chips in by hand. Then spread the mixture in the pan.