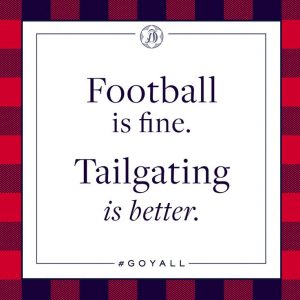 goyall
We are heading to GAINESVILLE!  I live in Atlanta but am a Florida girl at heart!  I was born in Gainesville, Florida and am a diehard Florida fan.
We are headed down to Gainesville to the Florida vs LSU game with our family and will visit my niece and nephew who are students at UF.
AND – it's my adorable nephew's birthday!!!Can't wait!
HAPPY BIRTHDAY TO HENRY! ?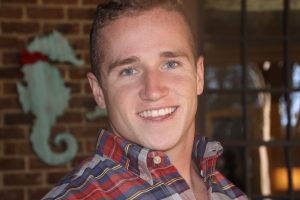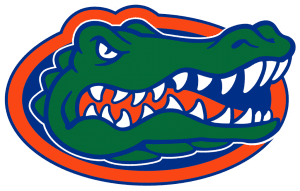 vs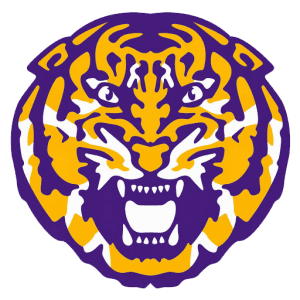 SATURDAY, OCTOBER 6, 2017
@ 3:30PM
AT
Steve Spurrier-Florida Field at Ben Hill Griffin Stadium
GAINESVILLE, FLORIDA
Our "tailgate" this game is going to be a bit all over the place – we're traveling with family and also visiting more family and friends at their tailgates.  But, we're staying in an airbnb in Gainesville, so we will enjoy some good food with our group of family and friends before and after the game there.
MENU:
GREEK MEZZA PLATTER
BROCCOLI TOMATO SALAD
PORK TENDERLOIN SLIDERS
TEXAS BROWNIES
CITRUS COOLERS
PROCIUTTO DIP
(Adapted from Ursula's Cooking School)

Easiest appetizer in the world, AND it's my personal favorite. I got it from my mother years ago, and it's still my "go to" for a quick delicious appetizer.  The saltiness of the prosciutto mixed with the creaminess of the cream cheese and sour cream = OMG!  I usually have all these ingredients on hand, so it's a great little appetizer to throw together when unexpected company is coming over.  It literally takes about 5 minutes to prepare (although it's better when prepped in advance to allow the flavors to combine well). ENJOY!
3-4 oz thinly sliced regular prosciutto or Speck, cut into pieces
8 oz softened cream cheese
8 oz sour cream
1 TBSP dry minced onion
1 TBSP dry chives
1 1/2 tsp Lemon Pepper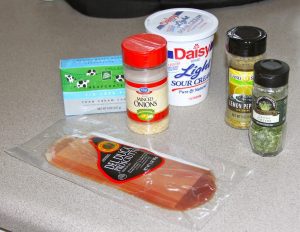 Photo Credit: Cate Bogue
Mix cream cheese and sour cream in a food processor. Add remaining ingredients and pulse just to blend.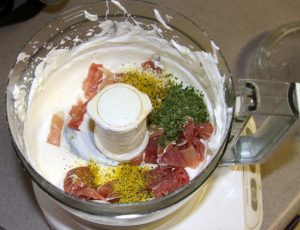 Photo Credit: Cate Bogue
Chill to let flavors marry; then serve with crackers.
I've packed mine in a Rubbermaid container and will carefully transport chilled to the tailgate party.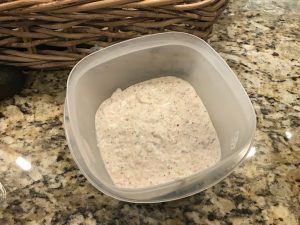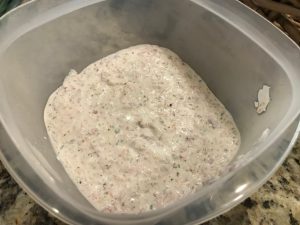 GREEK MEZZA PLATTER
(Adapted from Ina Garten)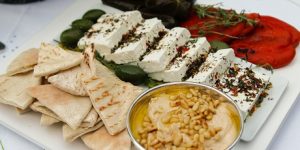 foodnetwork
I saw this appetizer on a recent Food Network episode, and it sounded so fabulous – the perfect "pick up and go" food that's quick to prepare.  On a platter, you'll arrange the following (directions below):
Marinated Herbed Feta, (recipe below)
6 roasted red peppers, store – bought
10 stuffed grape leaves, store – bought
1 cup hummus, store – bought
1 TBSP pine nuts, toasted
Extra Virgin Olive oil
Toasted Pita Chips, for serving (recipe below)
4 sprigs fresh thyme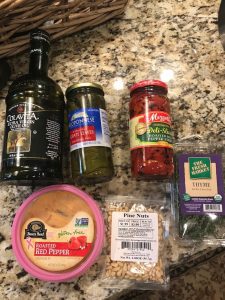 Marinated Herbed Feta

1 ½ tsp dried thyme
½ tsp dried fennel seeds
½ tsp crushed red pepper flakes
1 ½ lbs greek feta, drained and sliced 1/2 inch thick
3 sprigs fresh thyme
½ cup good green olives with pits
½ cup extra virgin olive oil
Kosher salt and freshly ground black pepper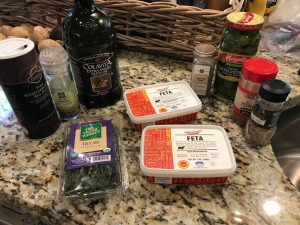 Marinated Herbed Feta
Combine the dried thyme, fennel seeds, and red pepper flakes in a small bowl.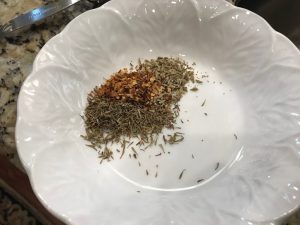 Lay the feta slices overlapping on a 9 × 9-inch square serving plate (I'm using a container that I can transport easily though).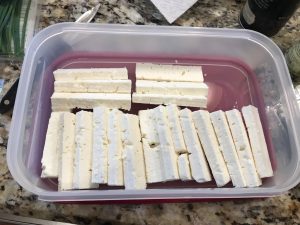 Sprinkle the feta with the entire herb mixture.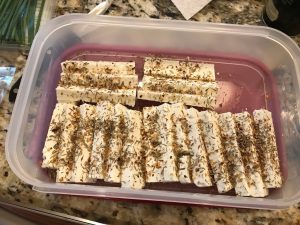 Nestle the thyme sprigs and olives among the feta slices.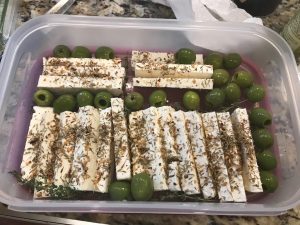 Drizzle with the olive oil and sprinkle with 1/2 teaspoon salt and 1/4 teaspoon black pepper.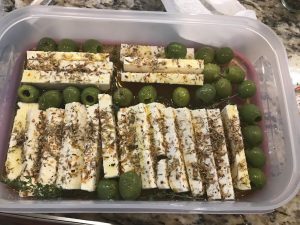 Cover the dish with plastic wrap and refrigerate for at least 4 hours or 1-2 days. Serve at room temperature for best flavor.
Toasted Pita Chips
3-4 loaves pita bread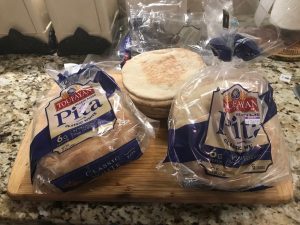 Preheat the oven to 350 degrees F. Slice the pita bread into 8 triangles, and place them on a sheet pan.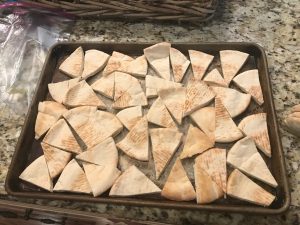 Place the sheet pan in the oven and toast the bread for 10 minutes.

To Serve:
Arrange the marinated feta, red peppers, stuffed grape leaves and a small bowl filled with the hummus on a platter. Sprinkle the pine nuts over the hummus and add a drizzle of olive oil. Place the pita chips on the platter and arrange the sprigs of thyme over the red peppers, for decoration.
SaveSaveSaveSaveSaveSaveSaveSaveSaveSaveSaveSaveSaveSave
SaveSaveSaveSave
SaveSaveSaveSave