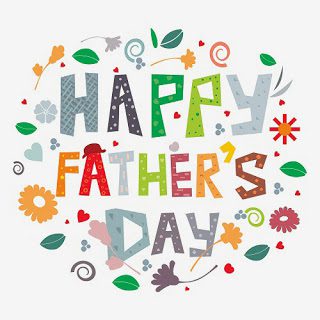 Finally! It is summertime! We'll be having a super casual get-together at a nearby lake to celebrating the Dad in our lives this coming weekend.
I thought we'd call this celebratory meal a "best of" meal. Here's the menu:
BEST BURGER
BEST COLE SLAW
BEST ROASTED TOMATOES
BEST SAUTÉED MUSHROOMS
BEST BAKED SWEET POTATO "FRIES"
BEST SKILLET PEACH COBBLER
BEST BURGER
(Adapted from Bobby Flay)
Simple fresh ingredients and a grill. It's all you need for the perfect burger. Top with whatever condiments suit your fancy. The key here is the beef chuck – it ensures a juicy burger. Another key: do not over form the burger into anything too tight (which is what a meatloaf resembles). Loosely formed burgers = juicy ones. Also, resist the urge to continuously flip the burger! Leave it alone a bit. Place it on a hot grill and leave it 3-5 minutes (depending on how well you like it), then flip it ONCE for another 4-5 minutes or so, and you're done!
2 lbs ground chuck
Kosher salt and freshly ground black pepper
1 1/2 TBSP canola oil
4 slices cheese (I usually go with blue cheese)
4 hamburger buns, split; toasted, if desired (I am using French Brioche here)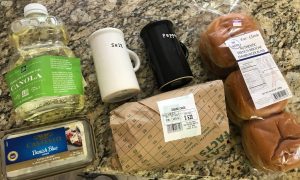 catebogue
Divide the meat into 4 – 6 equal portions (about 6-8 oz each). Form each portion loosely into a 3/4-inch-thick burger and make a deep depression in the center with your thumb. Season both sides of each burger with salt and pepper.
USING A GRILL: Heat a gas grill to high or heat coals in a charcoal grill until they glow bright orange and ash over. Brush the burgers with the oil. Grill the burgers until golden brown and slightly charred on the first side, about 3 minutes for beef. Flip over the burgers. Cook beef burgers until golden brown and slightly charred on the second side, 4 minutes for medium rare (3 minutes if topping with cheese; see step 3) or until cooked to desired degree of doneness.
Add the cheese, if using, to the tops of the burgers during the last minute of cooking and top with a basting cover, close the grill cover, or tent the burgers with aluminum foil to melt the cheese.
Sandwich the hot burgers between the buns and serve immediately with whatever condiments you love (pickles, lettuce, mustard, mayo etc).
BEST COLE SLAW

This cole slaw recipe I adapted from Gwyneth Paltrow and it's my all-time favorite. Just a few simple ingredients, and it needs to be made just before eating, so the cabbage is still crunchy.
4-6 cups shredded cabbage (or 1 bag of coleslaw mix)
Veganaise (I use a heaping serving spoonful)
Salt to taste (at LEAST 1 tsp, but you may prefer more)
Fresh squeezed lime juice to taste (at least the juice of 1 lime, which is roughly 2 TBSP)
Mix all together and enjoy!
BEST ROASTED TOMATOES
(Adapted from Ina Garten)
I'm sort of obsessed with this recipe these days. It goes with everything and is not only a great "side" it also can go ON the burger. So flavorful and yummy and colorful.
2 pints grape or cherry tomatoes, halved
Extra Virgin Olive Oil
2 tsp minced garlic
1 tsp dried oregano
S & P
Place the halved tomatoes cut side up on a baking sheet. Drizzle (generously) with olive oil. Strew the minced garlic all over the tomatoes and then season generously with salt and pepper. Bake at 425 degrees F for roughly 20 minutes. You want them to "pop" and caramelize. Allow them to sit a bit before devouring. ***Can also drizzle 1-2 TBSP balsamic vinegar for a different kick of taste.
Bake for 15-20 minutes or until tomatoes are wrinkling and beginning to release juices. Serve warm or at room temperature.
BEST SAUTÉED MUSHROOMS
8-12 oz sliced mushrooms (button or bella)
2 TBSP butter
2 tsp Worcestershire sauce
2 TBSP red wine
Melt the butter in a pan; add mushrooms, worcestershire and wine. Sauté for 15-20 minutes or until mushrooms are soft. Serve alongside the burgers or on top!
BEST BAKED SWEET POTATO "FRIES"
(Adapted from All Recipes)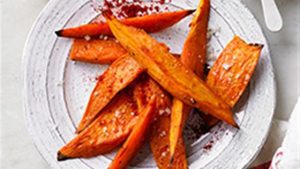 allrecipes
These baked sweet potato wedges LOOK like their fried cousin, but they're oh so much healthier. Serve alongside ketchup if you must!
2-3 large sweet potatoes, peeled, cut into 1×3-inch wedges
3 TBSP extra virgin olive oil
1/2 tsp sea salt
1/2 tsp freshly ground black pepper
1/4 tsp paprika
1/4 tsp garlic powder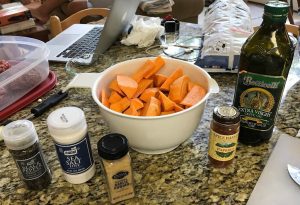 Position rack in upper third of oven and preheat oven to 425 degrees F. Spray baking sheet with non-stick spray.
Place sweet potatoes and oil in large bowl, toss lightly. Sprinkle with salt, pepper and paprika.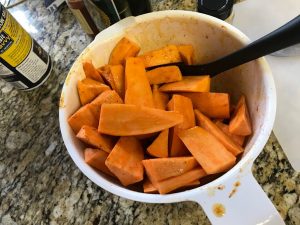 cate bogue
Arrange potatoes in a single layer on prepared baking sheet, being sure not to overcrowd.
Bake until tender and golden brown, turning occasionally. Cooking time is 18 to 24 minutes. Cool 5 minutes before serving.
BEST SKILLET PEACH COBBLER
(Adapted from Epicurious)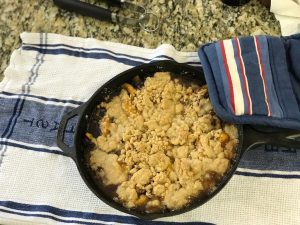 catebogue
Topping:
1 cup all-purpose flour
2/3 cup (packed) light brown sugar
1/2 tsp kosher salt
1/2 cup (1 stick) chilled unsalted butter, cut into pieces
Assembly:
1 1/2 cups pecans
2 TBSP unsalted butter, room temperature
2 1/4 pounds peaches (about 7 medium), cut into 1/2″ wedges
1/3 cup (packed) light brown sugar
1/4 cup granulated sugar
3 TBSP fresh lemon juice
1/2 tsp garam masala
1/2 tsp kosher salt
CAST IRON SKILLET

catebogue

Topping:
Whisk flour, brown sugar, and salt in a medium bowl. Rub in butter with your fingers until clumps form and no dry spots remain.

catebogue

Assembly:
Preheat oven to 350°F. Toast pecans on a rimmed baking sheet, tossing once, until slightly darkened in color, 8–10 minutes. Let cool, then coarsely chop.

catebogue

Rub generously the bottom and sides of a 10″ cast-iron skillet with butter.
Toss pecans, peaches, brown sugar, granulated sugar, lemon juice and salt in a large bowl to combine.

catebogue

Transfer to skillet and crumble topping, breaking up into large pieces, over filling.
Do Ahead: Crisp can be made 1 day ahead. Store lightly covered at room temperature.
TO ALL THE DAD'S OUT THERE!!!
Here's what our guy hopes to enjoy all weekend: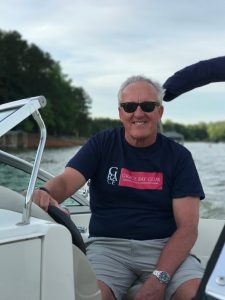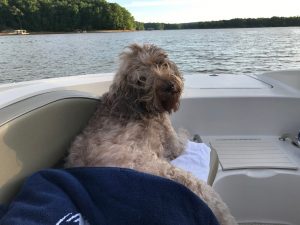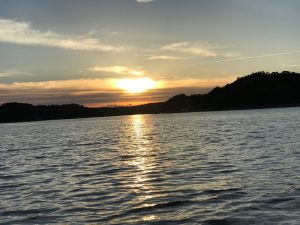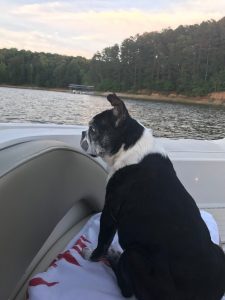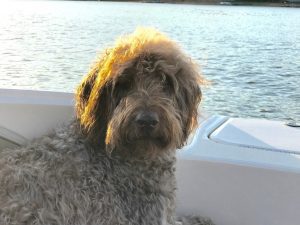 SaveSaveSaveSaveSaveSaveSaveSave
SaveSaveSaveSaveSaveSaveSaveSave
SaveSave
SaveSaveSaveSaveSaveSave
SaveSave
SaveSaveSaveSave
SaveSave
SaveSave